Cabrera, Fielder lead Tigers' offense in rubber game
Miggy gets first triple since 2010, Prince reaches all four times at bat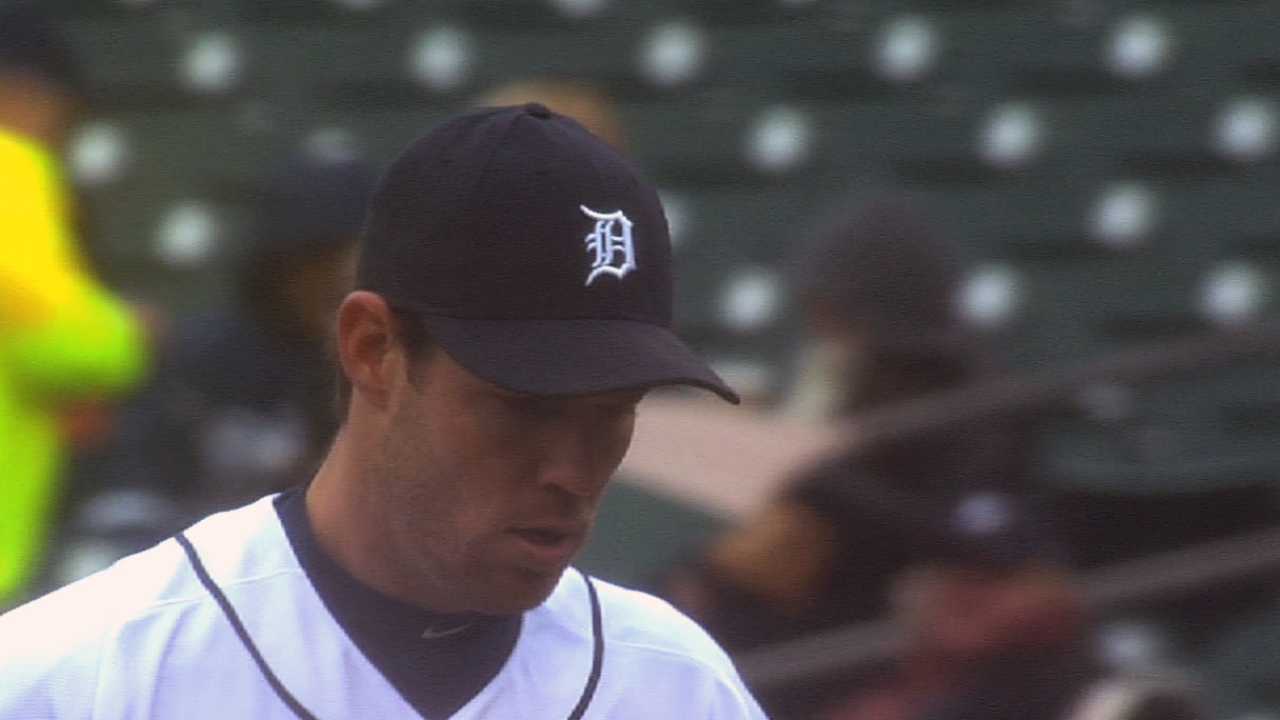 DETROIT -- The Tigers couldn't hold onto a five-run lead Wednesday, so they doubled it on Thursday. They didn't slug their way past the Blue Jays, they sprinted by them.
By the late innings of the chilly, rainy 11-1 rubber-game win at Comerica Park, the only suspense left was whether the weather would allow them to get in nine innings, which it did. The disappointment of Wednesday's loss was a distant memory.
The lead was insurmountable. The way they put it together was rather incredible.
"Speed," Miguel Cabrera said with a smile, then a laugh.
On a day with a 35-degree first-pitch temperature -- the coldest for a Tigers home game since 1996, according to STATS -- and a steady, often wind-blown rain, the Tigers warmed up by staying in motion. They bounced back from Wednesday's disappointment by running the bases time and again.
The sight of Cabrera standing on third in the opening inning, unchallenged, after taking off from second arguably set the theme for the day. It's not that rare -- he actually stole third last year and did it one other time as a Tiger. This one, though, was uncontested.
Josh Johnson didn't even deliver a pitch to the plate. Catcher J.P. Arencibia couldn't throw to third, because nobody was covering.
"I'm not a fast runner, so I need to be a little bit smart," Cabrera said. "If I have a chance to do something, I have to make sure I'm going to be safe, 100 percent. Because [if it's] 90 percent, I'm going to be out. I have to be sure."
Once Victor Martinez sent a ground ball through the left side shortly after that, Cabrera had manufactured a run. He had reached base on a two-out walk and moved to second when Johnson lost Prince Fielder out of an 0-2 count.
If Cabrera had stayed on second, suffice to say, his chances of scoring on Martinez's hit would have been a lot less than 90 percent.
"Cabrera is really a very good baserunner," manager Jim Leyland said, "and so is Prince Fielder. They're not obviously the fastest guys, but they're pretty instinctive on the bases."
Said Cabrera: "It worked out good. If I'm out at third base, it's going to be a big mistake."
When he was safe, it was a surprise. When he ended up on third base with a triple an inning later, it was a rarity.
Not since July 6, 2010, when Cabrera hit a drive to the depths of Comerica Park off Baltimore's Jason Berken, had he hit a triple. He had been good for two triples a season annual through 2008. When his second-inning drive to the out-of-town scoreboard in right-center field eluded Rajai Davis' sliding attempt at the warning track, Cabrera was headed to third standing up.
As many feats as he had accomplished in his potential Hall of Fame career, he had never tripled and stolen a base in the same game. Somehow, he did it in some of the most miserable conditions on a ball field.
"That's impressive," said Austin Jackson, the American League's leader in triples in each of the last two seasons. "That's just another thing that makes you look up and say 'Wow, this guy, he can do it all.'"
The only other extra-base hit for the Tigers was Fielder's double in a four-run fifth. Among the rest of their 14 hits was a bunt single from Omar Infante that refused to roll foul down the first-base line and three Jackson singles.
It was the first time since 1976 the Tigers put up 11 runs and 16 hits in a game with just two extra-base hits, neither of them home runs, according to baseball-reference.com. Johnson, Cabrera's former Marlins teammate, absorbed six runs on seven hits while recording just four outs.
"They took it to us all series really," Jays manager John Gibbons said. "It seems like everybody in that lineup is hitting about .350."
They pulled it off with an assault of aggressive baserunning, not just from Cabrera. Torii Hunter went from first to home on both of Detroit's extra-base hits. Alex Avila went from first to second on Infante's second-inning sacrifice fly, which allowed him to score on Jackson's bloop single a few pitches later.
"We played the game well today, man," Hunter said. "For the conditions we had, we ran the bases well, we had timely hitting, played good defense, pitching was great today. For these kind of conditions, wet, cold, rainy, I was pretty impressed. That was fun."
For those conditions, too, Doug Fister pitched masterfully.
The 6-1 lead after two innings was the same margin the Tigers enjoyed after five on Wednesday before the Jays jumped on Rick Porcello and the Tigers bullpen. Fister took middle relief out of the mix with the longest outing by a Tigers starter this season.
Fister (2-0), who struggled through Spring Training before delivering five innings of three-run ball in Detroit's home opener, looked unaffected by the weather in eight innings of one-run ball. His five strikeouts included an array of breaking balls most Tigers pitchers have struggled to throw in the cold.
The only extra-base hit among the eight he allowed was Jose Bautista's wind-blown double that just eluded Hunter's diving attempt.
"A lot of it is mindset, staying with what works on a normal day, whether it's 92 degrees or 35 degrees," Fister said. "Let's stick with what we're trained to do. You find a little fine-tune adjustment through throwing it. It's different in the bullpen. It's different in the game."
There was a lot different about Thursday.
"That's a good win after a tough one like yesterday," Leyland said. "To come out like we did under those conditions, it's pretty impressive. I'm proud of them."
Jason Beck is a reporter for MLB.com. Read Beck's Blog and follow him on Twitter @beckjason. This story was not subject to the approval of Major League Baseball or its clubs.