Johnson struggles as Blue Jays lose rubber game
Right-hander allows six runs in shortest start of career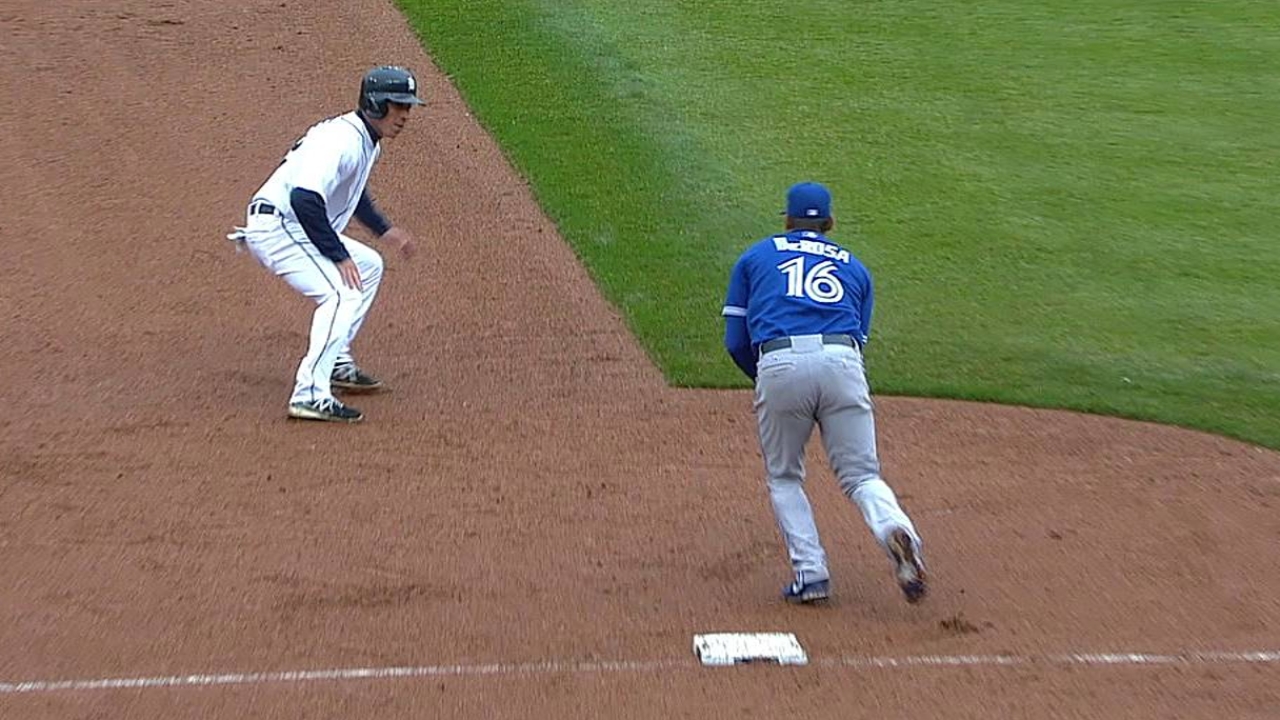 DETROIT -- The starting rotation was expected to be a major strength for the Blue Jays this season, but through the first nine games it has turned into a glaring weakness.
The sample size is still small and the expectation is that things will turn around in the near future, but there's no denying the starters have yet to live up to the hype.
Toronto's pitching woes continued on Thursday afternoon, as right-hander Josh Johnson surrendered six runs in the shortest start of his career and the Blue Jays were defeated, 11-1, by the Tigers at Comerica Park.
"We have to pitch deeper into games, not give up runs in the first inning," Johnson said after his disappointing outing. "We can't dig ourselves some holes, and once that happens all of a sudden the hitting will come around just like yesterday when we put up runs in a hurry."
The Blue Jays' starters have a Major League worst 7.59 ERA and have yet to record an out in the seventh inning. Through the past turn in the rotation, no one from the starting staff even completed five innings.
That's put an extra burden on a bullpen that has been overworked despite the fact it has been carrying an extra man with third baseman Brett Lawrie on the 15-day disabled list. The expectation was that the club would return to seven relievers this weekend, but after the bullpen had to pitch 6 2/3 innings on Thursday even that has come into question.
The lack of reliable defense behind the pitchers has also been a major concern but the performance should still be better. Johnson didn't shy away from that, and while the cold weather at Comerica Park could have been used as an excuse he made sure to put the onus on himself.
"I haven't thrown my slider for a strike yet so far," Johnson said. "Curveball, seemed like they were on that. Fastball was down but it was just down the middle. I threw some alright pitches and got some ground balls but just didn't make it through.
"I wish I could go 100-120 pitches just to help save the bullpen a little bit. But when you give up five, six hits in a row, and six runs in 1 1/3 innings, it's not really going to work out."
Johnson retired the first two batters he faced but everything went downhill from there. He walked two in the first inning before surrendering an RBI single to Victor Martinez as Detroit took an early 1-0 lead.
The issues carried over into the second, and this time Johnson was unable to escape the jam. He allowed singles to four of the first five batters in the inning before Miguel Cabrera delivered the biggest blow, an RBI triple to the gap in right-center field.
Prince Fielder followed with an RBI single, and when it was all said and done Johnson had surrendered six runs on seven hits and two walks. Johnson has made 146 starts in his career and this went down as his shortest. It marked the first time he didn't pitch at least two innings since his days as a reliever in 2006.
"He had a tough go of it and they're hot, they're swinging the bats," Blue Jays manager John Gibbons said. "They took it to us all series really. It seems like everybody in that lineup is hitting about .350.
"But [Johnson] couldn't really get a feel for anything, it's definitely not what we needed, but what a difference a day makes. We didn't get a whole lot of innings out of any of our starters [this series] so we had to go to our bullpen a lot. Tough day."
The story wasn't much better for the Blue Jays on offense. The club was held in check by right-hander Doug Fister, who allowed only one run on eight hits while striking out five.
One of the only bright spots occurred in the second when Rajai Davis was hit by a pitch, stole second and scored on a sacrifice fly by Mark DeRosa. Other than that, the lone scoring opportunity came in the third when the Blue Jays put the first two batters of the inning on base but had Melky Cabrera thrown out at the plate.
"That's a huge momentum builder for everybody, whether it's me as a pitcher or anybody else standing around," Fister said of Andy Dirks' throw from left that caught Cabrera. "For us to score that inning, come back and put up a zero, I think that's a big thing. That's one of the things my college coach would always harp on, made it a huge focus. Score first, but put up a zero right after that. I think that says a lot for the team."
With the loss, the Blue Jays' dropped to 3-6 and they've lost three consecutive series to open a season for the first since they lost four straight in 1978. The club went five series without a win in 1998, but one was a split.
"Really nothing's clicked, nothing's really working together yet," Gibbons said of his team's season. "Today was ugly. That was tough conditions to play in but Fister hung in there and did a pretty good job.
"I've been saying this a lot lately but we need a good outing on the mound. If we get a good solid outing, we'll be fine."
Gregor Chisholm is a reporter for MLB.com. Read his blog, North of the Border, and follow him on Twitter @gregorMLB. This story was not subject to the approval of Major League Baseball or its clubs.