Axelrod struggles; White Sox swept out of DC
Righty walks four, allows six runs over 3 2/3; Rios' hit streak at 15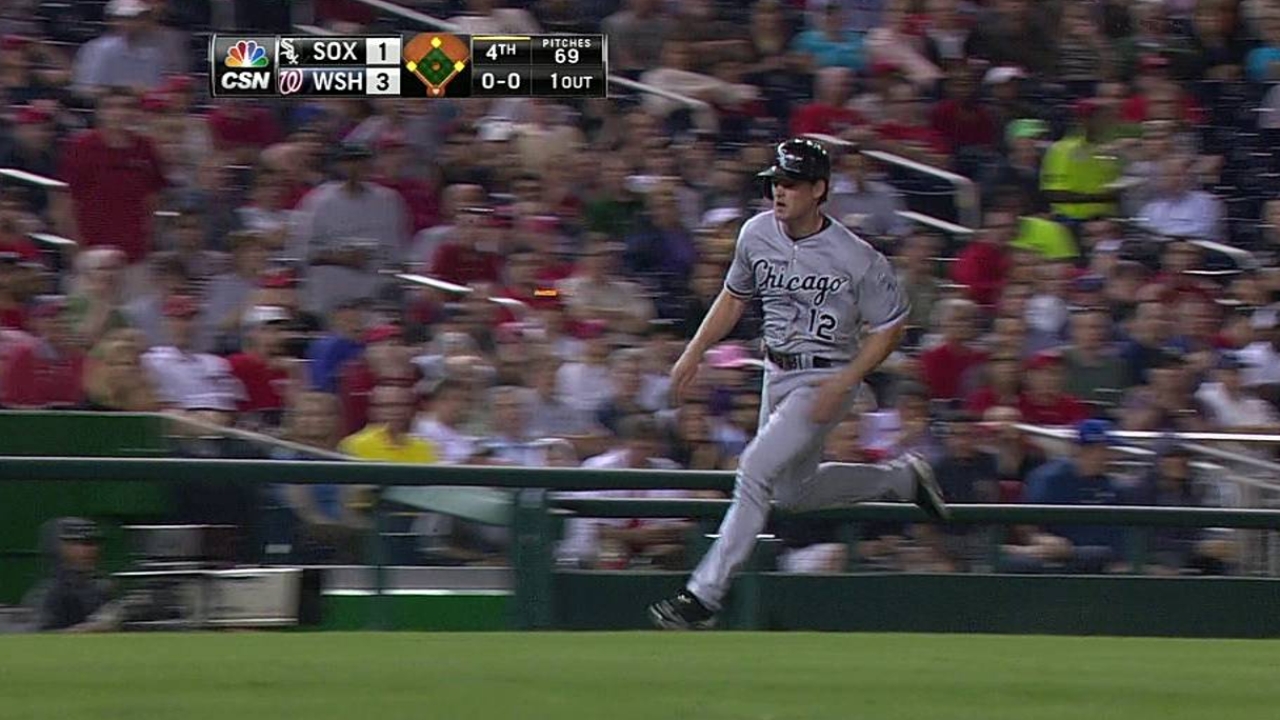 WASHINGTON -- The White Sox three-day trip to the nation's capital won't exactly rank as their most memorable experience of the 2013 campaign.
Washington's 7-4 victory at a windy and somewhat chilly Nationals Park on Thursday completed the Nationals' three-game sweep and dropped the South Siders (4-5) below .500 for the first time this season. Off the field, the White Sox found out Thursday that second baseman Gordon Beckham will be out of action for the next six weeks after he has surgery for a fractured hamate bone in his left wrist sustained on a swing during the second inning of Tuesday's series opener.
Pitching coach Don Cooper missed the entire series dealing with a bout of diverticulitis and will not be with the team in Cleveland or Toronto on the remainder of this three-city, 10-game road trip. Getting swept actually might stand as the easiest situation for the White Sox to overcome.
"It was a tough three days," said White Sox captain Paul Konerko, who finished 2-for-4 and reached base three times Thursday. "We didn't play terribly. We just got beat out there. They did every little thing, all the parts of the game; we weren't bad at them, we were OK at them. They were just a little bit better in every area and that's why they won the games."
"We left a few guys on early, swung it good in the middle and nothing really happened after that," White Sox manager Robin Ventura said. "It's one of those that this is a tough team. You have to take advantage of everything if you are going to beat them."
White Sox starter Dylan Axelrod (0-1) picked up his first Major League hit Thursday, a bunt single during a two-run fourth. As far as good news for the right-hander, it pretty much ended there.
After matching Felix Hernandez pitch for pitch on Saturday in Chicago, he needed 103 pitches just to cover 3 2/3 innings. Forty of those pitches came in the opening inning. Axelrod gave up six runs on seven hits, while striking out two and walking four. His final undoing came in the fourth, when the Nationals broke a 3-3 deadlock with three runs.
Nationals starting pitcher Dan Haren started the rally with a one-out double to right-center. After a Denard Span flyout, Jayson Werth singled to left to put runners on the corners. Ventura made a mound visit with Bryce Harper coming to the plate, probably advising Axelrod and catcher Tyler Flowers to stay away from a first-pitch fastball to the notorious free swinger.
Axelrod opted for a slider that dove inside toward Harper's back foot and resulted in a go-ahead run-scoring wild pitch. Ventura tried to argue with home-plate umpire Tom Hallion that the ball hit Harper but to no avail.
"That ball bounced kind of funny, but it was hard to tell from my angle," Axelrod said. "That's why we thought it might have hit him, it kind of bounced straight up. Nobody really knew for sure."
Ventura was then faced with the decision of facing Harper with a runner on second or intentionally walking him to get to cleanup hitter Ryan Zimmerman. The White Sox manager elected to walk Harper, a move promptly followed by Zimmerman's two-run double to right on a 3-2 slider.
In making that call, Ventura didn't totally base it on the righty-righty matchup with Zimmerman vs. Axelrod.
"Well, I think Harper is hot," Ventura said. "It's one of those that the swings he was having earlier off of Axe, you are just rolling the dice either way. You just take your chance and he got him."
"There's really not anyone in our lineup you'd rather pitch to," Zimmerman said. "Obviously Bryce is hot right now and he's hitting the ball great, but there's not many breaks anywhere in our lineup, so I think it's just more kind of the matchup that they did."
Plenty of chances existed for the White Sox to score against Haren (1-1), who yielded 10 hits over five innings and 101 pitches. Alejandro De Aza (2-for-5), Jeff Keppinger (2-for-4) and red-hot Alex Rios (2-for-4), who extended his hitting streak to 15 games, reached base seven times. But De Aza scored the group's only run on Adam Dunn's sixth-inning opposite-field double down the left-field line against reliever Ryan Mattheus that missed a game-tying, three-run homer by a few feet.
One of their best opportunities came with runners on second and third and one out in the third, but Dunn struck out swinging on three pitches. And with the bases loaded after Konerko was hit by a pitch, Alexei Ramirez struck out swinging on three pitches as well.
A 3-for-13 showing with runners in scoring position Thursday actually raised the White Sox total to 4-for-29 in the series and to 9-for-58 on the season. But when Konerko took a called third strike with runners on second and third and the White Sox trailing by a 6-4 margin in the sixth, the White Sox were pretty much out of chances and experienced their first Interleague sweep since the Cubs in 2008.
"You just have to be able to withstand all that and keep going," Ventura said. "It's one of those you find out what you are made of and keep going the next day. There's no break. You keep going. You are going to play good teams."
Scott Merkin is a reporter for MLB.com. Read his blog, Merk's Works, and follow him on Twitter @scottmerkin. This story was not subject to the approval of Major League Baseball or its clubs.