Big inning again proves insurmountable for Angels
In search of early turnaround, Scioscia calls first team meeting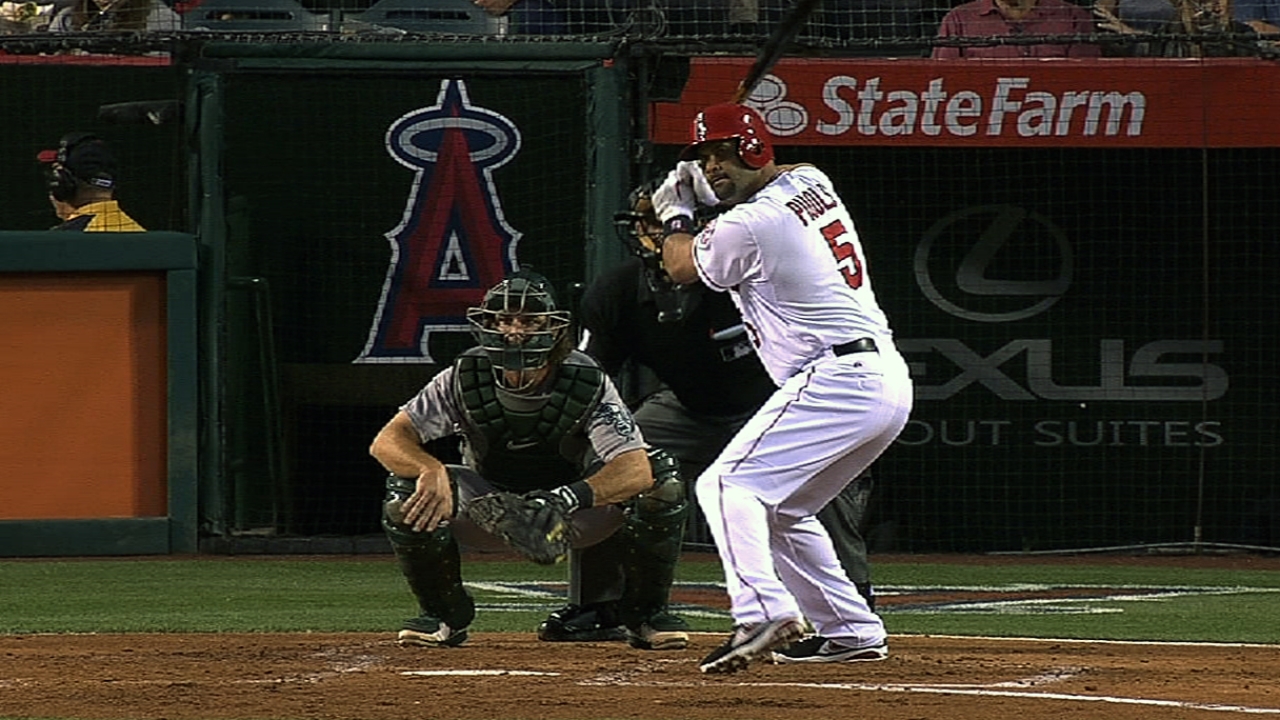 ANAHEIM -- By the eighth inning, the Angels found themselves down by seven runs, Mike Scioscia emptied out his bench and fans began filing out of Angel Stadium, paving the way for audible chants of "Let's go Oakland!" and leaving one prevailing thought on the minds of most Angels fans:
Is this really happening again?
Are the Angels, with all their hype and all their promise, on their way to another bad start and yet another uphill battle?
Through the first eight games, Jered Weaver has broken his non-pitching elbow, Erick Aybar has injured his left heel, Josh Hamilton has five hits, the offense is a Major League-worst 9-for-75 with runners in scoring position and the Angels have two victories.
Their sixth loss of this young season, 11-5 to an A's team that has won seven straight, followed an all too familiar script: A subpar outing by the starting pitcher, struggles with men on base by the offense and, for the second straight night, a bullpen meltdown.
It's only eight games, and 95 percent of the season remains, but this was the bad start the Angels wanted -- needed -- to avoid. They're now in last place in the American League West and below the Astros in the standings, even if only for one day.
And they've already called their first team meeting.
"The talent's in that room," said Scioscia, the orchestrator of that meeting. "I think once we get going, get that confidence level to be where it needs to be, we're going to get into our game and play our game more often. We have nobody to think about but our own club."
The sense of urgency comes from recent memory. Last year, the Angels struggled to score runs, could barely hold leads and -- minus Mike Trout -- lost 14 of their first 20 games, putting themselves in a hole they never climbed out of.
But Albert Pujols -- batting .346 and having a far better April than his homerless one last spring -- is trying to keep 2012 in the past.
"We don't go and look back and dig on the old dirt that we already buried," Pujols said after going 4-for-4 with two doubles, becoming the 35th player to notch 1,000 career extra-base hits. "Last year was last year. This is 2013. We need to stay focused and concentrate on this year. That's how I look at it, and I think I can speak for the rest of our ballclub."
Ryan Madson is still on the disabled list, Garrett Richards is taking Weaver's place in the rotation and no starting pitcher has gone more than six innings yet -- including Joe Blanton, who was charged with six runs in five-plus frames Wednesday. That meant Mark Lowe and Dane De La Rosa, a couple of scrap-heap pickups in late March, were coming out of the bullpen to pitch in high-leverage situations in the sixth.
The result: Five runs, one night after Kevin Jepsen allowed the same in a back-breaking seventh.
Howie Kendrick's clutch two-run single the previous half-inning put the Angels within one, but Lowe walked Yoenis Cespedes with the bases loaded, then De La Rosa did the same to a red-hot Brandon Moss, just before giving up a two-run single to Seth Smith and a run-scoring hit to Josh Donaldson, putting the Angels in a 10-4 hole.
"We got shut down the first two games, and we've been swinging the bat well ever since," A's manager Bob Melvin said. "It can be very contagious. Guys here will work counts, work at-bats and pass it on to the next guy, and that's how everyone's getting to hit. That's the way it's been here the last six or seven games, and we feel like our lineup is deep enough to where we can score any inning."
The Angels' lineup should be, too, but that has hardly been on display. On Wednesday, against a rather ineffective Tommy Milone and a collection of relievers, they went just 2-for-16 with runners in scoring position.
"The one thing that's hurting us is hitting with runners in scoring position," Scioscia said. "We're getting the opportunities. We're getting guys on base, and we need to cash in on those."
The perception, too, is that they need to hurry.
But looking at the calendar could make you think differently.
"Everything always looks worse when it's the start of the year," said Blanton, who allowed 10 hits, didn't strike out anyone and has a 9.00 ERA through two starts. "Everybody's always really good to start the year or real bad. There's not a middle ground. Everything is blown out of proportion -- this guy's great or this guy's horrible. It's a long season, and it's about trying to keep that even pace."
Then again, Blanton wasn't here last year.
Alden Gonzalez is a reporter for MLB.com. Read his blog, Gonzo and "The Show", and follow him on Twitter @Alden_Gonzalez. This story was not subject to the approval of Major League Baseball or its clubs.