Padres unable to overcome Stults' slow start
Rally comes up short after Alonso flies out with winning run on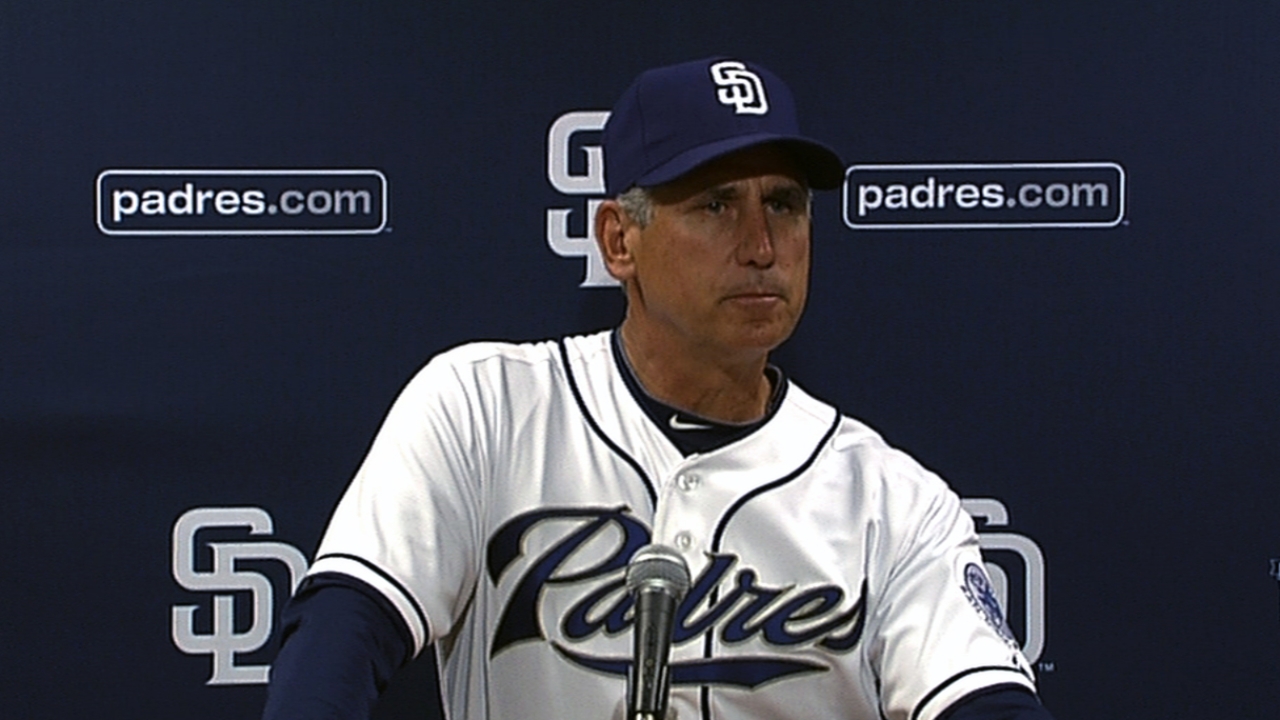 SAN DIEGO -- Having exhausted most of his bench options Wednesday, Padres manager Bud Black had to get creative with his defensive alignment in the ninth inning against the Dodgers.
How creative?
For starters, it meant having first baseman Yonder Alonso play second base to start the inning, though he eventually moved to third base and then back to second base before the inning was over.
Get all that?
"Desperate times sometimes call for desperate measures," Black said.
The Padres would certainly know as much, as no matter their late-inning theatrics and a two-run rally in the final inning, they fell to the Dodgers, 4-3, before a crowd of 22,843 at Petco Park.
Seemingly buried early after starting pitcher Eric Stults (1-1) allowed home runs to Carl Crawford and A.J. Ellis in the first two innings, the Padres -- down 4-1 in the ninth -- got an RBI single from Will Venable off of Dodgers closer Brandon League to pull within two.
After another run scored on a passed ball, that put the game in the hands of Alonso, whose journey around the diamond in the top of the frame was necessitated because Black had used all but backup catcher John Baker in the first eight innings.
But with two outs and two runners on, Alonso got just under a fastball from League, hitting a towering fly ball to left field to end the game.
"I was battling there. I knew he would try to get me to chase a pitch," Alonso said. "I got my pitch, but I just missed it. I just got a little under it. An inch more, an inch less and it might have been different."
When the dust settled after the wild finish, the Padres (2-6) were left to digest another short and ineffective start by a pitcher -- and this time it came from an unlikely source.
Stults, who is still the only Padres starting pitcher with a victory this season, couldn't replicate the five scoreless innings he tossed against the Mets last week. He allowed a home run to Crawford on the second pitch of the game and a two-run home run to Ellis as the Dodgers (5-3) took a 3-0 lead.
"It was a battle," said Stults, who needed 101 pitches to get through five innings. "Early on, I got hurt on a couple of pitches I left up. But they're a good hitting team."
Stults allowed four earned runs in five innings, as the cumulative ERA of Padres' starting pitching rose to 6.34. And while the Padres still aren't quite two turns through the rotation yet, they're averaging fewer than five innings a start.
The damage Stults allowed Wednesday came against one of his former teams -- and some very familiar faces.
"I love Stultzie, he's one of my oldest friends in baseball. I've known him all the way to A-ball at Vero Beach," Ellis said. "We're friends, our families are friends, our kids are friends with his kids. I'm so happy he made a Major League team. But when it's time to play the game, the Dodgers are more important than anything else."
As for the short and ineffective outings by his starting pitchers, Black admitted some concern after the game.
"It's still early, but you don't like to see this," Black said. "We're going to keep an eye on this. We need to get some length out of our starters."
The offense, aside from the nine-run explosion Tuesday, has suffered, as well. That was again the case facing Dodgers pitcher Chad Billingsley (1-0), who allowed one run on five hits in six innings. The right-hander had three walks and three strikeouts.
The Padres managed three runs on 11 hits -- four of them by catcher Nick Hundley, tying his career high. The Padres have now scored three or fewer runs in six of their eight games.
All told, the Padres were 2-for-11 with runners in scoring position and left 10 baserunners on. Yet for all their shortcomings, they were still in position to tie the game or even win it in the last inning.
"A hell of a game," Black said. "We hung in there. We strung together some kits in the ninth ... and our guys played to the end. We put their closer in peril."
Corey Brock is a reporter for MLB.com. Keep track of @FollowThePadres on Twitter. This story was not subject to the approval of Major League Baseball or its clubs.