Dodgers' blasts back sharp Billingsley in return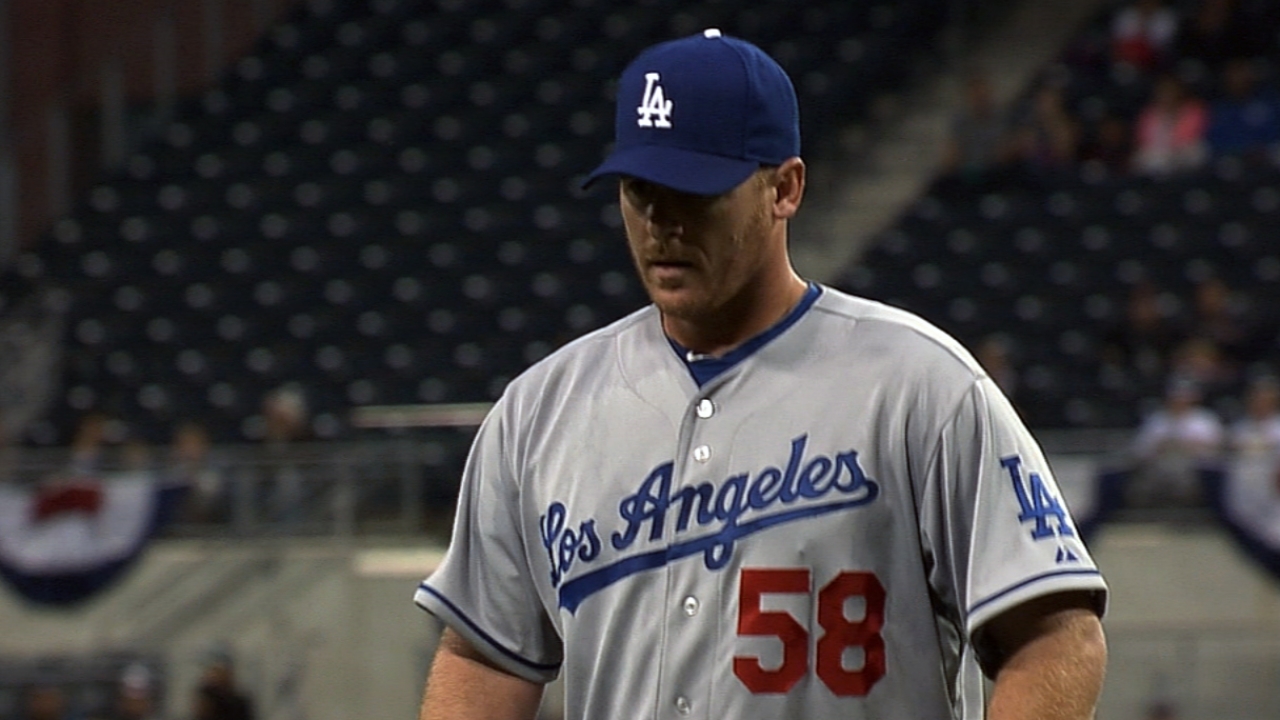 SAN DIEGO -- Pardon the interruption, but Chad Billingsley was back dealing and winning Wednesday night.
Matt Kemp and Luis Cruz each had multiple hits, Carl Crawford and A.J. Ellis slugged home runs, Mark Ellis drove in a run and saved another with his glove.
So after the Dodgers barely held on to a 4-3 win over the Padres, manager Don Mattingly didn't want to hear about San Diego's frantic ninth-inning comeback against closer Brandon League that just fell short, or that his club wasted three more bases-loaded at-bats to go 0-for-11 in those juicy situations.
"Don't come in here and rain on my parade," said Mattingly. "We got a win out of that."
Billingsley came off the disabled list to throw six solid innings. Returning from a bruised index finger suffered while bunting in Spring Training, he won his seventh consecutive decision dating back to last August, when his season was rudely interrupted by a partially torn elbow ligament.
Choosing platelet-rich plasma injections and rest over Tommy John surgery, Billingsley recovered from the elbow only to have his Spring Training jumbled by the bunting mishap.
In this game, he threw fastballs in the low 90s while mixing in an occasional curveball with no damage to a fingernail weakened from the bruise. He allowed five hits with three walks, three strikeouts while throwing 94 pitches.
"It definitely feels great to be back out there," said Billingsley. "I was pitching with my fastball and had good command, a good changeup and a good curveball. I made big pitches when I needed to and got a double play to help me out."
Billingsley is grateful for the successful blood treatments on his elbow last year.
"Otherwise, I'd be sitting [home] in Arizona," he said. "Thank God for giving me the opportunity to come back and pitch healthy and get a win."
Ronald Belisario rebounded from a rocky outing Tuesday night with a scoreless inning, then Kenley Jansen got out of a jam when left fielder Skip Schumaker, a defensive replacement for Crawford, made a diving catch on Mark Kotsay's two-out blooper.
League wound up with one of the uglier saves, allowing two runs on three hits (including the fourth of the game by Nick Hundley), with one of the runs scoring on what should have been the final out of the affair.
It was a strike-three to Chris Denorfia, but the splitter dived under the glove of Ellis, between his legs and to the backstop, with Denorfia reaching first on the passed ball and the tying run taking second.
"He made a great pitch, and the game should have been over," said Ellis. "I've got to keep it in front of me. I know it's a split-finger fastball, and I hung him out there for another 12 pitches. Fortunately, he picked me up."
League put out the fire, getting Yonder Alonso to fly out.
While Ellis allowed that run, his two-run homer was the big blow of the game, giving Billingsley a 3-0 lead in the second inning. It also came at the expense of Padres starter Eric Stults, a former Dodger and one of Ellis' best friends.
"He's trying to get me out," Ellis said when asked if he had mixed feelings about the home run. "I love Stultzie, he's one of my oldest friends in baseball. I've known him all the way to A-ball at Vero Beach. We're friends, our families are friends, our kids are friends with his kids. I'm so happy he made a Major League team. But when it's time to play the game, the Dodgers are more important than anything else."
Billingsley contained the Padres until the fourth inning, when Will Venable led off with a walk, was doubled home by Denorfia, followed by a walk to Alonso. But Jedd Gyorko bounced into a double play and Alexi Amarista lined out to Crawford in left.
The Dodgers added a run in the fifth on a one-out triple by Crawford and an RBI single up the middle by Mark Ellis on a 2-2 pitch after working back from an 0-2 hole.
Crawford, hitting .464, is playing like the All-Star he was with the Rays. The homer he hit leading off the game was the seventh of his career, and first since 2007.
"Yeah, I feel more like the guy I was in Tampa," Crawford said. "I just want to play good baseball. I'm not trying to prove nothing to me, to you, to Boston. Just play good baseball, that's it."
San Diego threatened again in the fifth with a one-out single by Hundley and a two-out chop single off the plate by Everth Cabrera. But Ellis ranged behind second base to grab a bouncer by Venable and threw him out to end the inning.
Ken Gurnick is a reporter for MLB.com. This story was not subject to the approval of Major League Baseball or its clubs.