Machado, Flaherty ignite five-run rally to sink Sox
Down by two in ninth, struggling hitters propel Orioles to thrilling win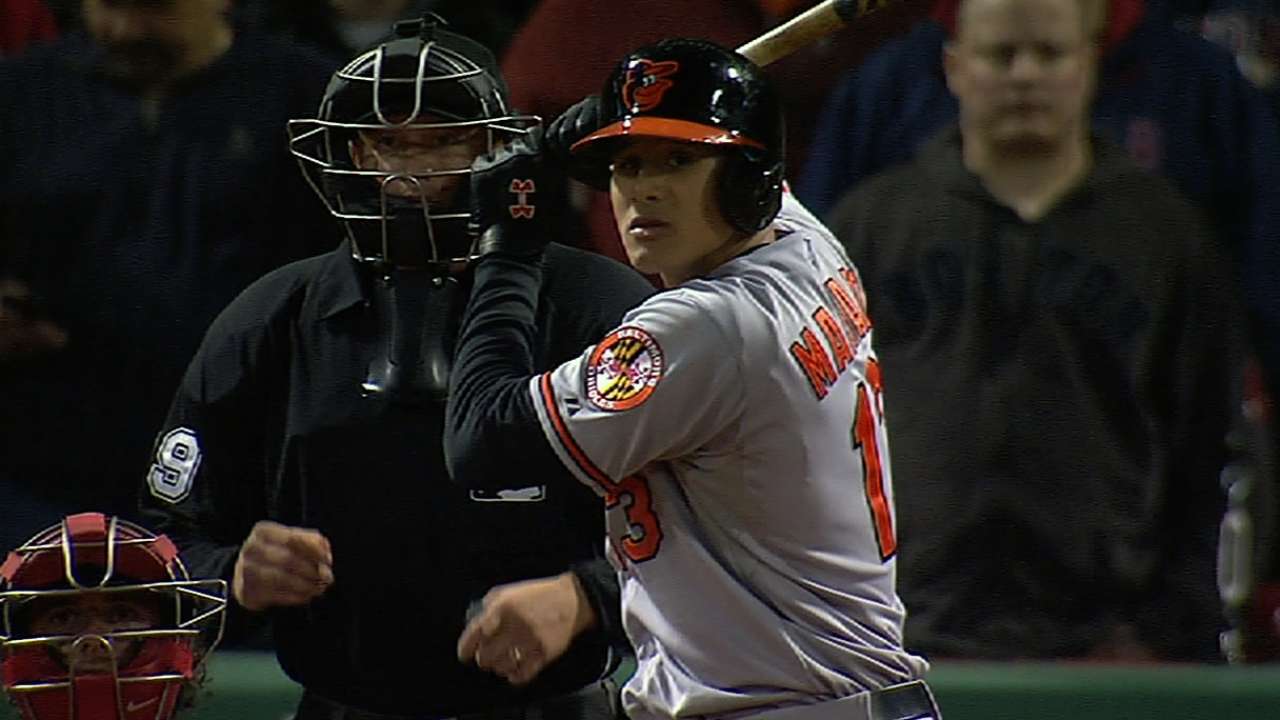 BOSTON -- Orioles third baseman Manny Machado, one of several players off to an unexceptional start, had one hit in his last 18 at-bats when he dug in against Red Sox closer Joel Hanrahan, with two outs, the bases loaded and Wednesday's game on the line.
Second baseman Ryan Flaherty had three strikeouts and not a hit on the season, going 0-for-17 until he stepped up with the Orioles down a run and down to their final out.
Despite the dire circumstances, the scuffling players stepped up big for Baltimore, with Flaherty's two-out single sparking a ninth-inning rally and Machado's three-run homer putting the finishing touches on an 8-5 series-evening win against the Red Sox at soggy Fenway Park.
The season is still young, but the victory, which snapped a three-game skid and erased the ill effects of Boston's back-to-back homers off reliever Tommy Hunter in the sixth, shouldn't be understated for an Orioles club that pulled back to .500.
"We were freaking out pretty good," starter Jake Arrieta said of the group in the clubhouse watching the ninth inning unfold on television. "It really doesn't matter when we get a win like this during the season. They're all big, especially second game in Fenway of the season. Fans are pumped up, team's pumped up. To get to their closer like that in the ninth is big."
The Orioles, who have double-digit strikeouts in their last two games, rallied from a two-run hole and overcme some abysmal offensive production to do it, particularly in the bottom of the order.
Things got started when Chris Davis, who has carried the offense in the season's early going, hit his fifth home run of the season to pull the O's within one.
"I started off with a tough battle with Davis there," said Hanrahan, who suffered his first blown save of the year. "I threw him a couple of good breaking balls that he fouled off, and he got that one to start it off. I've just got to put guys away."
Flaherty kept the Orioles' hopes alive in poking a ball through the hole at shortstop, after Hanrahan had retired Matt Wieters and J.J. Hardy.
"He got the show started," Machado said of Flaherty, who had nine strikeouts in his first 17 at-bats. "It gave us that little rally we needed."
Nolan Reimold, part of a designated hitter group that has gone 1-for-26 this season, worked a walk to put the tying run in scoring position for leadoff man Nate McLouth, who worked a free pass on a full-count to load the bases and bring up Machado. After Hanrahan's wild pitch scored pinch-runner Alexi Casilla, Machado, who had one prior RBI on the season, turned loose for the three-run shot.
"That was pretty special," Flaherty said of Machado's first homer this season, which he watched sail into the Monster Seats from his view in the opposing dugout. "To see Manny, and he hadn't had a hit, and then he comes up and wins the game. It was huge. It was kind of a team inning."
"You can see the frustration on his face in the previous at-bats a little bit," manager Buck Showalter said of the 20-year-old Machado. "It's because they want to contribute. It's the reason Ryan and Manny want to contribute, they want to do something for our team. It's not personal. They want to be a contributor."
"That's why I feel good about these guys. They want to do better for the right reasons."
A 43-minute delay following the fifth inning chased Arrieta and Ryan Dempster from the game and brought on Hunter, who struck out the first two batters he faced before Daniel Nava went deep and Jarrod Saltalamacchia following with his first of the season.
"It's frustrating for Tommy, because he has too good of stuff to have that happen to him as often as it does," Showalter said of Hunter, who surrendered an American League-leading 32 homers last year and has given up 3 in 3 2/3 innings this season. "But you also see the three or four hitters he will go through that he will look as good as you want to see. It's up to us and him to figure out a way to minimize that from happening."
Arrieta also needs to figure out a way to minimize the walks, with the 27-year-old issuing four walks, two of which came around to score, and three hits in the 69-pitch outing.
"I talked to [pitching coach Rick Adair] in between innings and I think it was pretty obvious that I was thinking about the wrong thing in that situation," said Arrieta. "Rather than just be smooth, throw the ball down in the zone, I was way too worried about throwing a strike there."
Arrieta got a double-play to end the third and strand a pair of runners and was coming off a 1-2-3 fifth when play was halted.
The O's scored a first-inning run without a hit, capitalizing on outfielder Shane Victorino's error -- which put runners safely on second and third -- and using Nick Markakis' groundout to take an early lead. Markakis hit his first homer of the season, a solo shot to open the fourth, and the O's got another run off Dempster on Wieters' single and Jackie Bradley Jr.'s error in left field, which scored Adam Jones, who has hit safely in all eight of the team's games.
Troy Patton and Darren O'Day, who got the win, followed Hunter with scoreless innings, with closer Jim Johnson coming in to record his third save.
Brittany Ghiroli is a reporter for MLB.com. Read her blog, Britt's Bird Watch, and follow her on Twitter @britt_ghiroli. This story was not subject to the approval of Major League Baseball or its clubs.