One strike from victory, Hanrahan implodes
Handed two-run lead in ninth inning, Red Sox closer allows five runs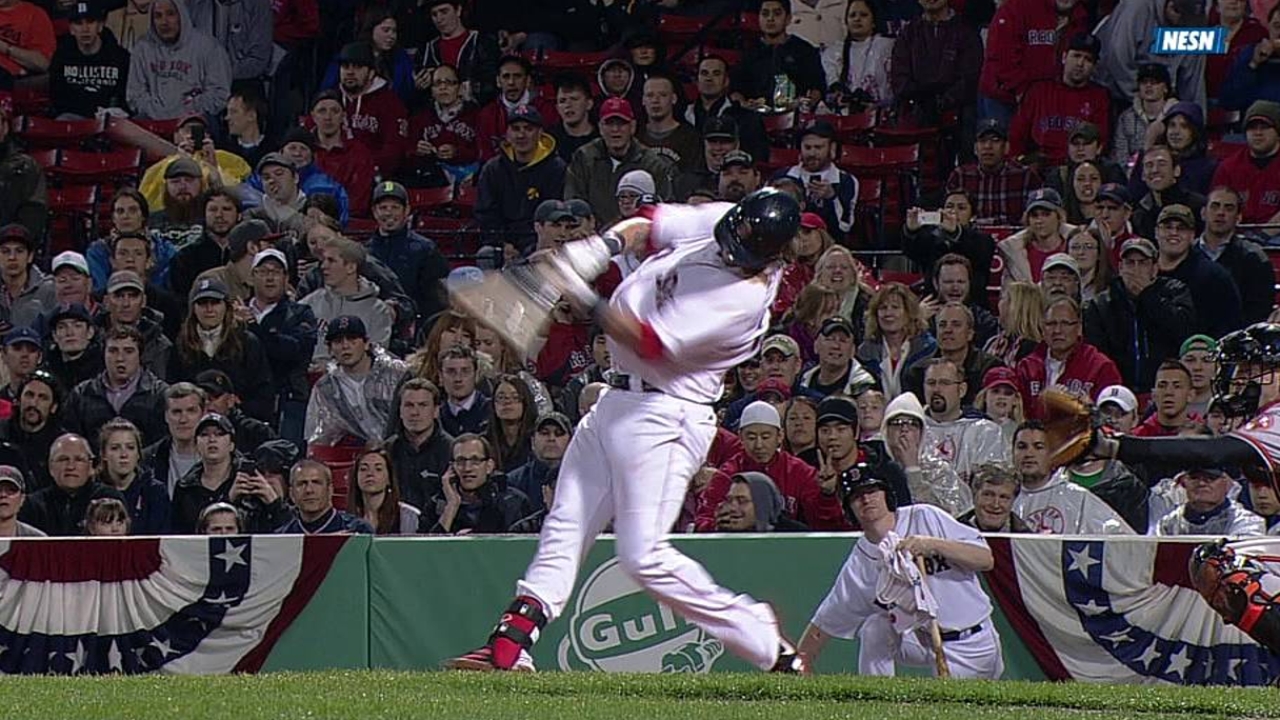 BOSTON -- Joel Hanrahan was one strike from handshakes and a victory line. He was one strike away from converting his fourth consecutive save opportunity. He was one strike away from avoiding the worst part of being a closer.
However, Wednesday night was an occasion when Hanrahan did not get the job done. In fact, the new closer had a stunning implosion that led to the Red Sox taking an 8-5 loss to the Orioles.
Hanrahan wasn't going to be perfect. No closer is, not even Mariano Rivera, but the true test of what kind of closer the Red Sox acquired over the offseason will be told by how Hanrahan bounces back from a night like this, when he came on with a 5-3 lead and was touched up for three hits, five runs and two walks over two-thirds of an inning.
"That's the life of a reliever," Hanrahan said. "One day you're the goat, the next day you're the hero. That's just how it goes. I'll come in tomorrow ready to go."
Before getting to that, Hanrahan was forced to rehash what he hopes will wind up as his worst outing of the season.
It started innocently enough as Hanrahan gave up a leadoff shot in the ninth to Chris Davis that slimmed Baltimore's deficit to 5-4.
"I started off with a tough battle with Davis there. I threw him a couple of good breaking balls that he fouled off, and he got that one to start it off. I've just got to put guys away," Hanrahan said.
Hanrahan was also taken deep by Adam Jones to open the ninth on Monday, but Hanrahan battled back to secure Boston's 3-1 victory during Boston's home opener.
There was no reason to think Hanrahan wouldn't do so again, particularly when he breezed through the next two hitters, striking out Matt Wieters and inducing J.J. Hardy into a foul popup to Will Middlebrooks.
Hanrahan had a 2-2 count on Ryan Flaherty and the Red Sox could taste victory, but Flaherty hung in with a single to left to keep the Orioles alive.
Pinch-runner Alexi Casilla came on and stole second, putting the tying run in scoring position. Nolan Reimold drew a walk and it was clear that Hanrahan was losing his hold on the game. Nate McLouth also drew a walk to load the bases.
Once the Orioles had rallied for that long, you figured something bad was about to happen for the Red Sox, and it did, as Hanrahan uncorked a game-tying wild pitch.
"Well, again, he gets the two outs and then walks Reimold, follows it up with the walk to McLouth," said manager John Farrell. "It's not like he's trying to. I just thought he overthrew a couple of fastballs, particularly the first pitch to Machado for the wild pitch. We're not running from him."
If the wild pitch seemed like a bad development for Hanrahan, things got far worse on the next pitch, when he served up a three-run homer to Manny Machado on a 95-mph fastball. Machado's game-turner silenced the Fenway faithful, which was a non sell-out crowd (30,862) for the first time since May 14, 2003.
"We went with the first-pitch cutter, tried to get a ground ball or something to make him put it in play," Hanrahan said of the wild pitch. "At that point, I was probably overthrowing a little bit and threw it in the dirt. I tried to keep it at that. Next pitch was a fastball up and in that he turned on. It was tough day."
Though the Red Sox have several relievers who have elite stuff, Farrell has no doubt that Hanrahan is still his best option for the ninth inning.
"He's obviously our closer," Farrell said. "I think coming over and learning this league, understanding that there's power up and down the lineup, particularly the top half, and this club, they can drive the ball out of the ballpark. I think as Joel is making his way through the American League, particularly the American League East, location is key, particularly in those late-inning moments."
Before Hanrahan's meltdown, it seemed like Daniel Nava was in the process of being the hero again.
With the game locked in a 3-3 tie with two outs in the bottom of the sixth, Nava ripped an opposite-field solo shot to left. Jarrod Saltalamacchia followed by hitting a laser beam into the bleachers in right-center, and the game was handed over to Boston's usually trusted bullpen.
Junichi Tazawa (scoreless seventh) and Andrew Bailey (shutdown eighth) did their jobs, but Hanrahan was not so fortunate, blowing his first save in a Boston uniform.
If anyone could relate to Hanrahan, it was Bailey, who has been a closer for most of his career.
"Yeah I think I've been in his shoes and it's not fun," Bailey said. "He's the ultimate professional, so I know that he's our guy and he'll be back out there tomorrow. And you know as soon as he leaves here tonight, you forget about it. You got to turn the page and get ready to win a series tomorrow."
Ryan Dempster went five innings in his Fenway debut, giving up three hits and three runs while walking two and striking out seven, but his night ended after a 43-minute rain delay.
"Ryan's got the ability to pitch and control damage," said Farrell. "Multiple times tonight with his split and his slider, he got a key strikeout in some moments. Rain cut short his outing. He would have gone back out for that sixth inning."
In the end, it was the Orioles who were smiling after a soggy night at Fenway.
"We were freaking out pretty good," Orioles starter Jake Arrieta said of the group in the clubhouse watching the ninth-inning unfold on television. "It really doesn't matter when we get a win like this during the season. They're all big, especially second game in Fenway of the season. Fans are pumped up, team's pumped up. To get to their closer like that in the ninth is big."
Ian Browne is a reporter for MLB.com. Read his blog, Brownie Points, and follow him on Twitter @IanMBrowne. This story was not subject to the approval of Major League Baseball or its clubs.