Improved defense on display for Rays early in season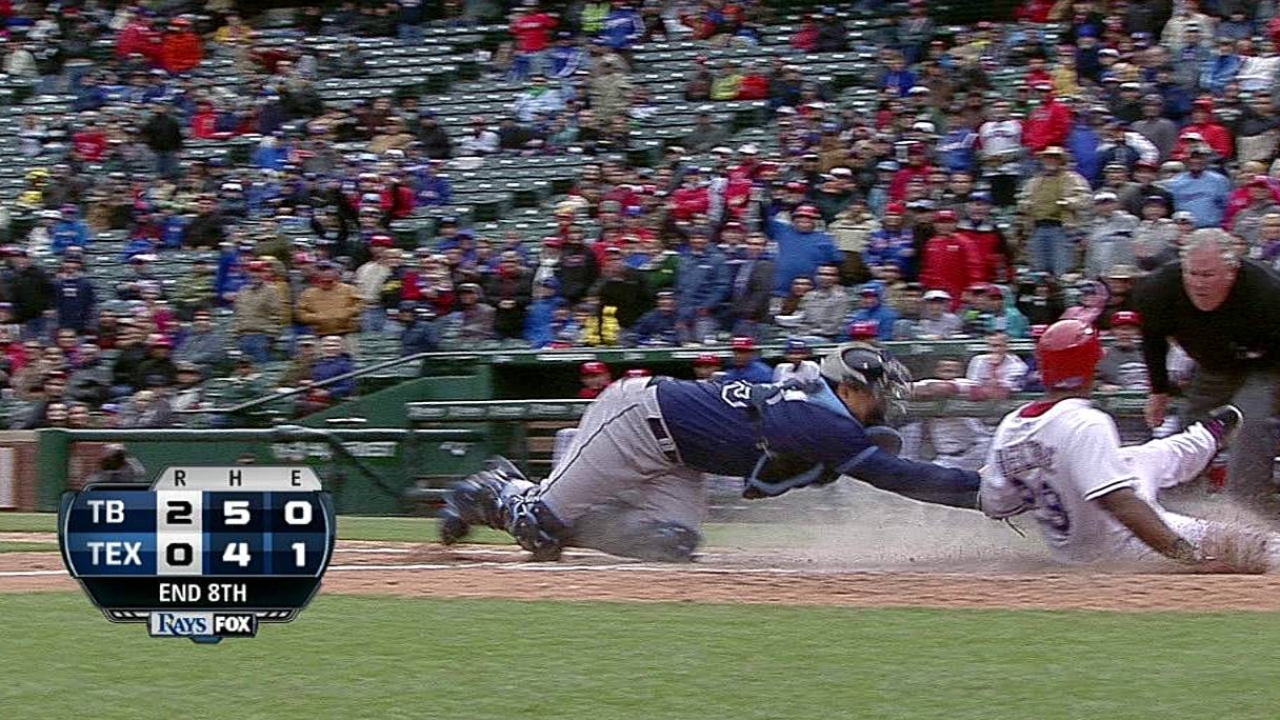 As they did in most offseasons, the Rays experienced turnover in the ranks. Now, with a slightly more than a week's worth of games in the books, both players and management were asked what they think of the new group at this early juncture.
"There have been a lot of positives, and a few things that haven't been as positive," said executive vice president of baseball operations Andrew Friedman. "But we try not to get too high or too low, especially after one week. I think our thoughts coming into the season still hold."
In particular, the defense appears to be much improved. Wednesday afternoon's game featured a Ben Zobrist strike to the plate to complete an inning-ending double play in a 2-0 win over the Rangers. And it seems as though solid defense has been present in every game thus far.
"The one thing that hurt us last year was defense," right-hander Joel Peralta said, "and so far it's been great. As soon as a couple of guys start getting hits, we're definitely going to win a lot of games."
Tampa Bay's defense went from the best in the American League in 2011 to the worst in '12. Key acquisitions for 2013 include infielder Kelly Johnson, shortstop Yunel Escobar and first baseman James Loney; all are good glove men.
"The thing that's been fun to watch is our defense," Friedman said, "and seeing a lot of the ordinary plays converted into outs. The exceptional plays certainly helped us win the games that we did."
Manager Joe Maddon cited the improved defense as well. The Rays went 55 innings before making their first error of the season.
"Defense has been really good throughout," Maddon said. "We've had a couple of rundowns we completed successfully. We've been making routine plays routinely. … It's even happening in the outfield. Sam [Fuld made] some good plays, Desmond [Jennings] at the wall. So there's been some good outfield stuff also. It's been good."
Bringing in Escobar appears to have been a particularly solid move. His addition has solidified the shortstop position in the same fashion that bringing in Jason Bartlett did in 2008. Maddon praised Escobar's adaptability to all the shifting Tampa Bay does every game.
"Yunel's been able to grasp on to that and move along," Maddon said. "And I think he's kind of liking it, because he's ended up in the right spot a lot of times. Ground balls to the middle, he's been there. Ground balls in the hole, he's been able to [go to] that side. He's been able to come in on the ball and make an easy throw to first base. A lot of subtle positioning has helped also."
Another major improvement on defense came through having a healthy Evan Longoria back at third base.
"Those first two games were probably as impressive of a defensive display as you'll see," Friedman said. "Oftentimes that comes with opportunity, and [Longoria] got a lot of opportunity and made exceptional plays -- to his backhand, to his glove hand, coming in. Basically, anything and everything you'd want to see, we had an opportunity to see. And it was great in that it's what we expected. We felt like he was in a really good place, health-wise. But it's always a little bit reassuring once you see it play out in the field."
Longoria has been impressed with the way the team has "handled a lot of things."
"We've put together some great late-game rallies," Longoria said. "We've shown a lot of fight -- a lot of heart. And those things are going to be things we need down the road. I think the one thing that stands out in my mind right now is that our starting pitching hasn't been very good, and we know they're going to be good. And that's the scary thing. And that's the thing that excites me and continues to make me believe every day that this team is a playoff and championship team. So that being said, I'm excited to see how the rest of the year plays out."
And though the team has a losing record to this point, the feeling inside the clubhouse is one of cohesiveness.
"The atmosphere here is really good," Peralta said. "We have confidence we're going to do better. We're just waiting to take off -- pitching, hitting and defense at the same time."
Added reigning AL Cy Young Award winner David Price: "We look good. I like this team. I like it a lot."
But even though Price likes the unit, he is not satisfied with the starting pitching to this point.
"Us as a group of starting pitchers, especially me, we can definitely throw better," Price said. "We've done fine, for the most part, giving ourselves a chance to win. But we hold the bar extremely high here. We're not pitching the way we want to as a group. … We always want to get better, and that's something we're striving to do as a staff -- limit more runs."
In addition, the offense has not begun to click just yet. The Rays finished the three-game series against the Rangers having gone 3-for-25 with runners in scoring position.
Maddon sees better things for the offense.
"I really believe that this group can turn into more of a swarming-type offense reminiscent of my time with the Angels in 2002, winning the World Series," Maddon said. "That group did not strike out often either. Once that group got going, man, it would be a swarming-type offense, which I see this group becoming also as we get it in gear. So for right now, the contact hasn't been hard enough to be that group, but it will be."
Considering many of the good things the team has shown with 153 games to go, there is a lot for fans to like about this year's team.
"I think the vibe among the group is extremely positive," Friedman said. "The new guys fit in extremely well. And we're looking forward to the next six months."
Bill Chastain is a reporter for MLB.com. This story was not subject to the approval of Major League Baseball or its clubs.