Gattis, Francisco power Braves' sixth straight win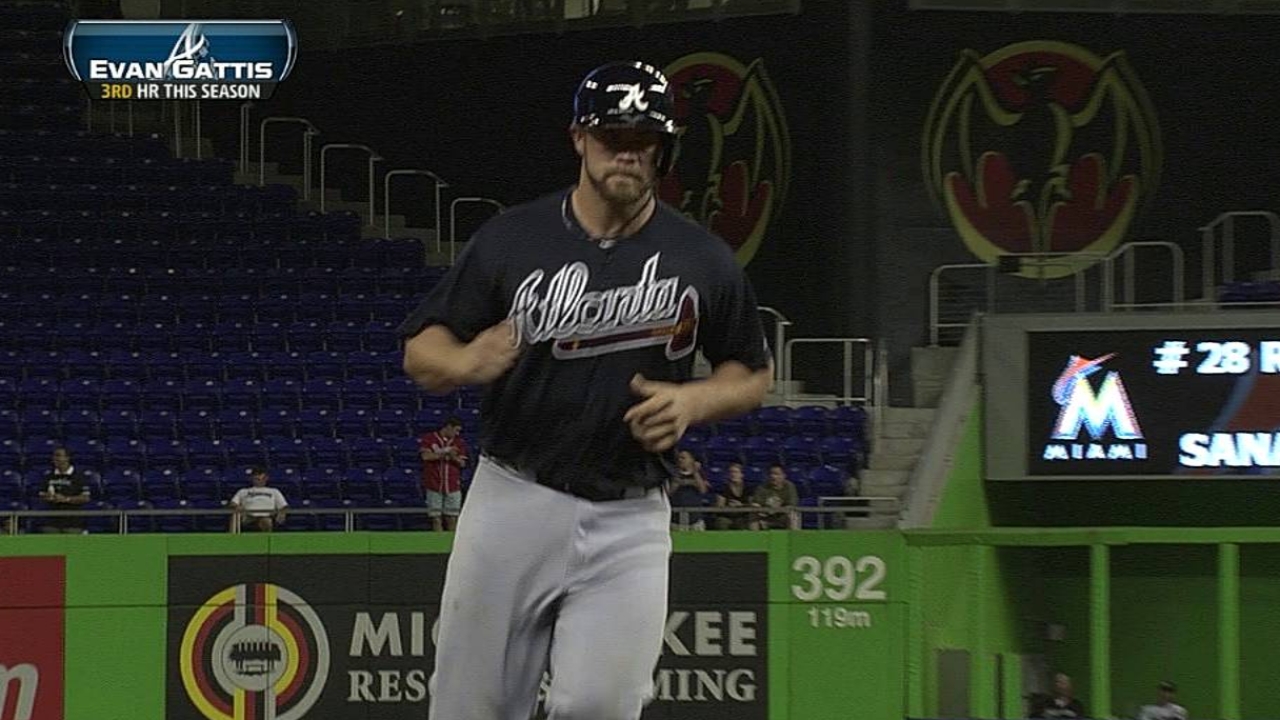 MIAMI -- The Braves' Opening Day lineup included five players who have notched at least one 20-homer season during their Major League careers. None of those players has the incredible raw power possessed by Evan Gattis and Juan Francisco.
Fortunately for the Braves, the value of that power extends beyond impressive batting practice displays.
Gattis and Francisco displayed their massive strength with a pair of monstrous home runs during a six-run fifth inning that helped the Braves completed a three-game sweep with Wednesday night's 8-0 win over the Marlins at Marlins Park.
"Gattis' ball when he hits the ball has a different sound," Braves starting pitcher Mike Minor said. "Off the bat, it almost sounds like the bat is breaking. When Juan hit that ball, I didn't even think he got it from what I've seen in [batting practice]. Then it landed like 500 feet or something. I think both balls were pretty impressive."
While Gattis and Francisco stole the show, the Braves cruised toward their sixth straight win with significant contributions from Minor, who scattered five hits over 5 2/3 scoreless innings, and Jordan Schafer, who celebrated his first start of the season with the fourth four-hit game of his career.
"He had a nice night for a guy who it has taken me nine games for me to put him [in the lineup] to get him some at-bats," Braves manager Fredi Gonzalez said in reference to his decision to rest struggling center fielder B.J. Upton to get Schafer some playing time.
This proved to be another stroke of good fortune for the Braves, who are 8-1 for the first time since the 1994 team began the season with a 13-1 record. They outscored the Marlins 13-2 during this series and surrendered just one earned run. Now Gonzalez can only hope this momentum carries through this weekend's key division matchup against the Nationals.
After being held scoreless through the first four innings, the Braves released their frustrations against Marlins starter Alex Sanabia, who had not allowed run in the previous 10 innings he had completed this season.
Gattis began the powerful assault with a line drive three-run homer that landed in the swimming pool located beyond the left-center-field wall. Seven pitches later Francisco turned on Sanabia's first-pitch fastball and hit it off the second-level facade beyond the center field wall.
"Real men hit the baseball," Schafer said. "That's not little kids. Even in [batting practice] the way the ball comes off their bat is unbelievable. You don't see that very often."
Francisco's two-run homer, which appeared to travel at least 450 feet, capped the fifth-inning eruption that actually began with a bunt single from Schafer, who also doubled in the sixth inning. The former top prospect, who has accepted his role as a bench player, entered the game with just one previous at-bat this season.
"I have to stay within myself," Schafer said. "I can't try to hit the ball off the 502 sign like Juan. Unless I'm hitting from second base, that is not going to happen."
Two weeks after learning that he would be on a Major League roster for the first time, Gattis now finds himself serving as the Braves' primary catcher in Brian McCann's absence and the cleanup hitter in Freddie Freeman's absence. The 26-year-old rookie has hit .391 (9-for-23) with three home runs and a double.
"I had never homered into a pool before," Gattis said. "So notch that one. I got another one."
Francisco's long blast served as his first home run of the season. He is now serving as the everyday third baseman while Chris Johnson plays first base in Freeman's absence.
"Pretty much one through eight [in the lineup], we've got guys who can put the ball out of the ballpark," Minor said. "A lot of times we can put up big innings. We're not really worried about it throughout the game if we have zeros on the board because at any time we can put one out of the ballpark."
On the way to scoring at least seven runs for the third time this season, the Braves provided more than enough support for Minor, who has surrendered just one run in the 13 innings he has compiled through his first two starts. The 25-year-old left-hander, who pitched around leadoff doubles in the second and third innings, has compiled a 2.02 ERA in his past 17 starts.
Mark Bowman is a reporter for MLB.com. This story was not subject to the approval of Major League Baseball or its clubs.