Hefner once again haunted by Phillies as Mets fall
First six batters to face Mets' starter reach base as Philly takes series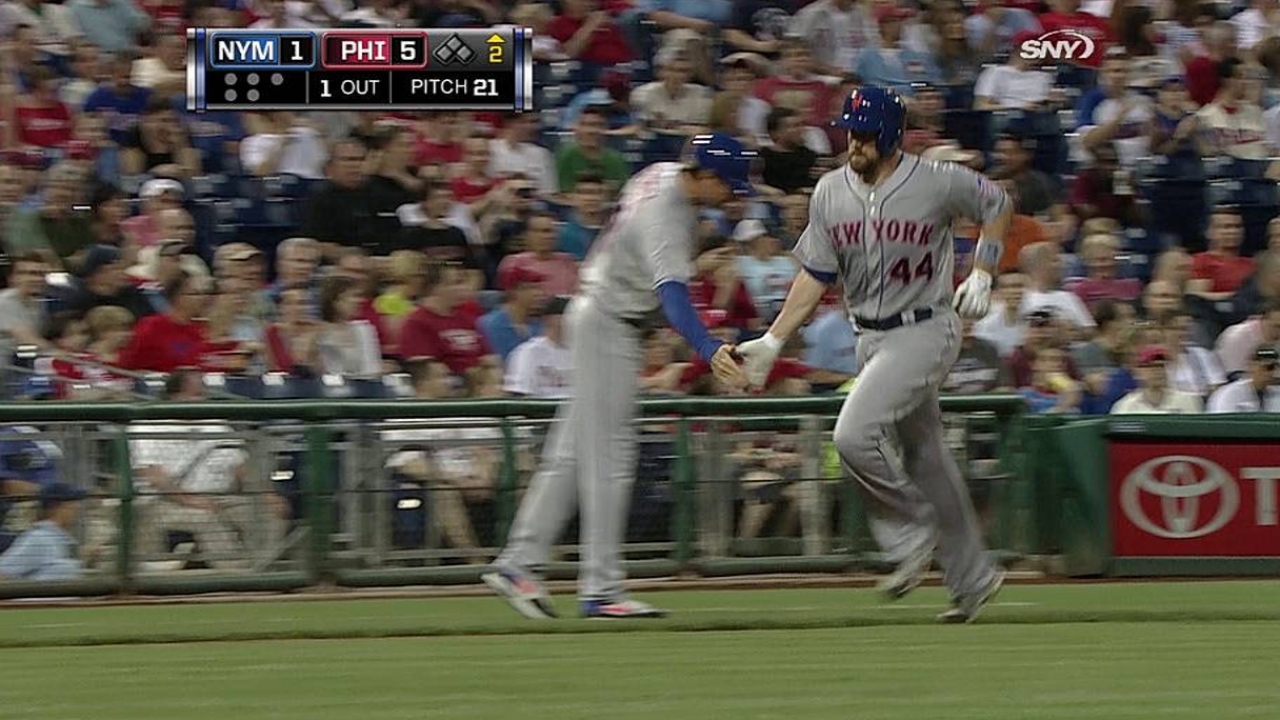 PHILADELPHIA -- Hours after the carnage, as Jeremy Hefner stood by his locker and prepared to dissect what went wrong in Wednesday's 7-3 Mets loss to the Phillies, a television reporter apologized for not having her camera in place.
"They've probably seen enough of me, anyway," Hefner shrugged.
It was that type of day for Hefner, who relived a portion of the nightmare he endured against the Phillies last September. The first six batters to face him Wednesday reached base safely at Citizens Bank Park, resulting in five first-inning runs and a deflating, lopsided loss.
"I know I'm good enough to beat these guys," Hefner said. "I just didn't execute my pitches."
Hefner actually recorded a quick first-inning out when leadoff man Ben Revere walked and was caught stealing. It turned out to be the high point of his night. Jimmy Rollins followed with a double, Chase Utley hit a two-run home run, Ryan Howard singled, Michael Young walked and Domonic Brown hit a mammoth three-run homer into the second deck in right field, spotting the Phillies a five-run lead.
For a time, that did not actually seem insurmountable. The Mets plated their first run on John Buck's homer half an inning later, then loaded the bases with one out. But rather than pinch-hit for Hefner, manager Terry Collins elected to let his struggling pitcher bat. Phillies starter Kyle Kendrick promptly struck out Hefner and Jordany Valdespin, ending the Mets' best threat to do significant offensive damage.
"We had guys on bases," Collins said. "We swung the bats OK. We just didn't get a hit when we could have gotten back in the game and made it a game."
Hefner at least rewarded his manager by retiring six in a row from the first through third innings, escaping a bases-loaded jam when Valdespin made a shoestring catch to end the third. But it was far too little, far too late for Hefner, who took his first loss of the season.
Following a 27-minute rain delay, the Phillies put the game out of reach on Laynce Nix's pinch-hit, two-run homer off LaTroy Hawkins in the sixth.
Buck continued to serve as a bright spot for the Mets, hitting his fifth homer of the season off Kendrick in the second. That number was significant, considering Mets catchers combined to hit five homers all last season. The solo shot also marked the first time in Buck's career that he has homered in three consecutive games.
Lucas Duda added a fourth-inning solo shot off Kendrick, who scattered six other hits over six innings. Valdespin rapped out two of them, finishing 3-for-5, and Duda added a second homer off Mike Adams in the eighth. It was Duda's third career multi-homer game and his second against the Phillies.
But, as Collins noted, more significant hits never came.
"I had to battle," Kendrick said. "I had to pitch as deep as I could and just battled, made pitches. I gave up a couple runs but was able to keep us in the game."
For Hefner, the brief and ineffective outing harkened back to last Sept. 20, when he started at Citi Field, faced seven Phillies batters and allowed all of them to score. Following that game, Collins said he was "embarrassed" by the play of his team, while Hefner added that "words can't even describe how embarrassing that is."
"Obviously, a start like that will never leave you," Hefner said. "But I had moved past it."
Trouble is, the Mets have now endured two extremely short starts in a row, receiving three ineffective innings from Dillon Gee in Tuesday's loss and another three from Hefner on Wednesday. As a result, the Mets taxed their bullpen to the tune of 10 innings in two nights in Philadelphia; an off-day Thursday will help them recover in advance of this weekend's series in Minneapolis, but it still represents a troubling trend.
After Jon Niese and Matt Harvey, who have been brilliant, the Mets have endured their share of early-rotation trouble. The strength of last year's team was starting pitching, and the Mets will need that to remain a strength if they have any designs on competing in the stacked NL East.
Second baseman Daniel Murphy, whose baserunning blunder in the fifth inning encapsulated the Mets' sloppy play, chalked Wednesday up to "just a funky day."
The Mets can only hope it was not the start of something more sinister.
Anthony DiComo is a reporter for MLB.com. Follow him on Twitter @AnthonyDicomo. This story was not subject to the approval of Major League Baseball or its clubs.