Homers come early, often for Phillies in win vs. Mets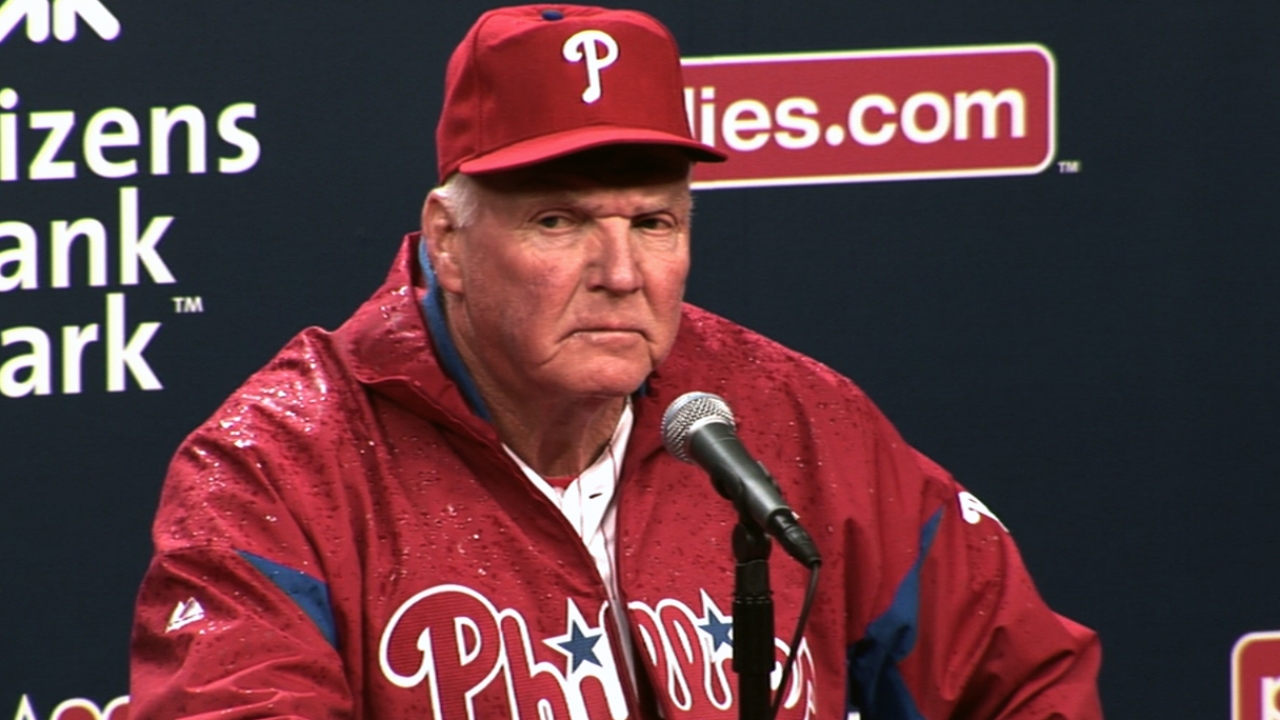 PHILADELPHIA -- It's a start.
The Phillies took two of three from the Mets this week following Wednesday's 7-3 victory at Citizens Bank Park. It is a series they needed to win if they expect to keep pace with the Nationals and Braves in the National League East. It is a series that tempered the panic already brewing in Philadelphia following a 2-5 start.
"It's not about how you start; it's about how you finish," said Phillies first baseman Ryan Howard, who has seen his share of slow starts in Philadelphia, including a 4-11 start in 2007, an 8-10 start in 2008 and a 6-8 start in 2009. "I'd rather have a slow start and finish up strong and be in the playoffs and go deep in the playoffs in October and everything. It takes a little bit to get going for us sometimes, but as long as we get going, that's all that matters."
The Phillies, who improved to 4-5, can get even healthier with a strong weekend against the lowly Marlins in Miami. The Nationals and Braves are a combined 6-0 against the 1-8 Marlins, who have had former Phillies infielders Placido Polanco and Greg Dobbs hitting cleanup behind slugger Giancarlo Stanton.
"We're playing good," Phillies right-hander Kyle Kendrick said. "We're scoring a lot of runs. It's nice on the starters. We've just got to keep our team in the game. But heading down to Miami, we're feeling good right now after winning the series."
The Phillies have scored 25 runs in their past four games. Poor pitching from Cole Hamels and Roy Halladay cost them two of those games, but they are encouraged they are swinging the bats well.
They dashed to a 5-0 lead in the first inning against Mets right-hander Jeremy Hefner, who had been haunted by the Phillies before.
Hefner allowed the first six batters to reach base, including a two-run home run to center field from Chase Utley and a three-run home run into the second deck in right field from Domonic Brown. Hefner had experienced this nightmare before. He allowed the only seven batters he faced to reach base in his last start against the Phillies on Sept. 20 at Citi Field, where he allowed six hits, seven runs and one walk in a 16-1 loss. And in his appearance against the Phillies on July 4 at Citi Field, he allowed five hits and three runs in 1 1/3 innings in relief.
Hefner's line from the July 4 relief appearance through the first six batters he faced Wednesday: 1 1/3 innings, 15 hits, 15 runs.
That is a robust 101.25 ERA.
"Obviously a start like that will never leave you, but I had moved past it," said Hefner, referring to his Sept. 20 start. "I know I'm good enough to beat these guys. I just didn't execute my pitches."
"We're just not missing our pitches," Brown said about the offense. "We're preparing the right way, making sure we're having fun and doing the little things when guys get on base."
Kendrick held the lead Wednesday, unlike Friday when he could not hold a four-run lead in a 13-4 loss to the Royals.
Phillies manager Charlie Manuel likes to say Kendrick is at his best when he pitches with a quick tempo. He lacked that tempo early Wednesday but settled and pitched well enough to win. He allowed eight hits, two runs, two walks and two home runs with six strikeouts in six innings for a quality start -- just the fourth in nine games for the Phillies.
"I was just trying to find a tempo and get into a quick rhythm," Kendrick said. "The first couple innings, I threw a lot of pitches. I know that. But I was able to settle down and have some quicker innings and get through six."
The Phillies need Kendrick, who stayed in the game following a 27-minute rain delay in the fourth, to come up big consistently, considering the uncertainty surrounding Halladay. Perhaps he can. He had a 3.62 ERA in 40 starts from 2011-12, which ranked 33rd out of 109 pitchers with 40 or more starts in that stretch.
Laynce Nix provided some insurance runs in the sixth when he knocked a pinch-hit, two-run home run to right-center field. It was the third pinch-hit homer of Nix's career and the Phillies' first of the season.
"We're getting better," third baseman Michael Young said. "The last couple games, we've played the style of baseball we've envisioned playing. We've had a high energy level. We're playing hard. We're forcing the issue out there. That's the main thing. Obviously, you want to get as many wins as you can, but your style of play is the most important thing. That's how you rack up the Ws."
Todd Zolecki is a reporter for MLB.com. This story was not subject to the approval of Major League Baseball or its clubs.