Floyd falters after early success in loss to Nats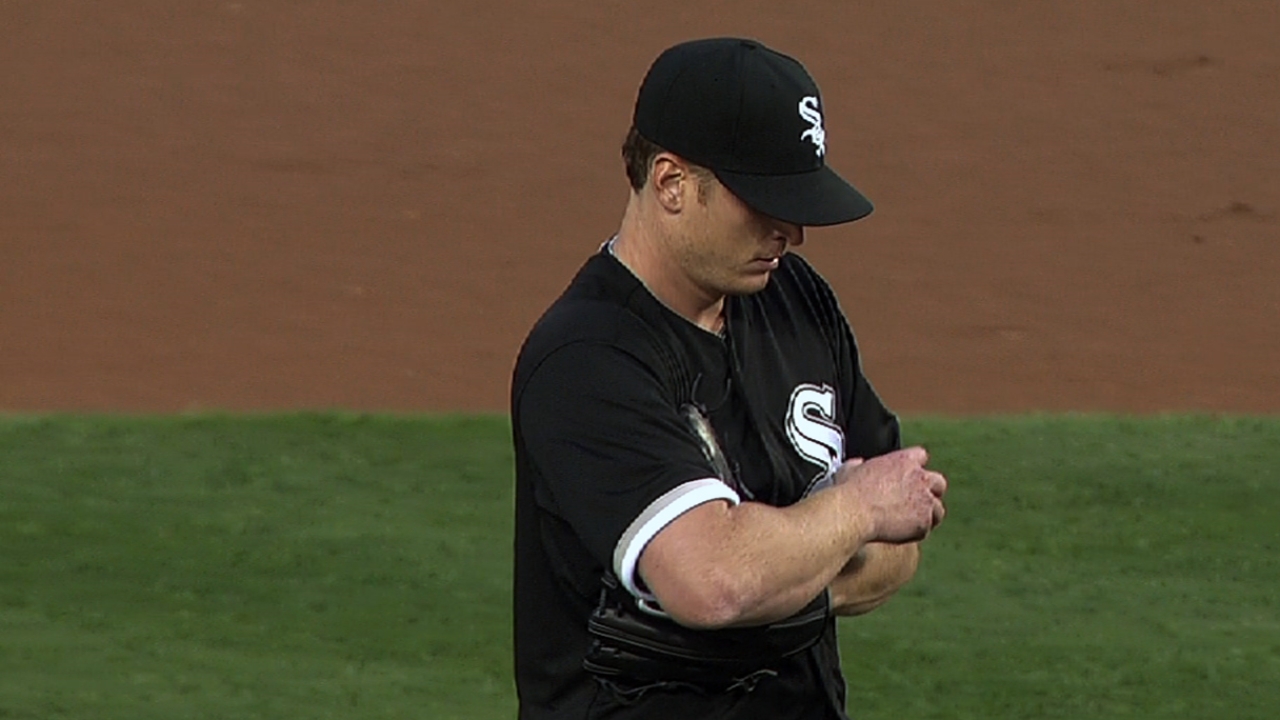 WASHINGTON -- Gavin Floyd looked like a No. 1 starter for three innings of Wednesday's 5-2 White Sox loss to the Nationals.
He recorded four strikeouts, allowed a two-out Ian Desmond double in the second and issued a leadoff walk to eight-hole hitter Kurt Suzuki, who he stranded at third.
But from the fourth to the sixth innings, Floyd had the distinct look of a hurler who wasn't going to be good enough to top Washington starter Jordan Zimmermann or a loaded Nationals lineup on this muggy night.
Floyd yielded five runs on eight hits over the next 2 1/3 innings, as he lost his second consecutive start to begin the season. The White Sox lost their second of three games against the Nationals in the first Interleague and road action for the South Siders, who slipped to 4-4.
"You get to that fifth, sixth inning, and it's hard to get through it," said White Sox manager Robin Ventura. "They just put a lot of pressure on you. They swing the bat pretty good and they have good speed. Once they get on, they move around, and he couldn't get out of it."
"It's something to look at, re-evaluate -- maybe different location would be better," said Floyd, who thought he made pretty good pitches, even ones that were struck solidly. "Early on, I was cruising, and then one hit after the other and tried to keep making pitches."
The White Sox actually took a 1-0 lead in the first on Jeff Keppinger's single, Alex Rios' double and Adam Dunn's RBI groundout.
Rios has hit in 14 straight games dating back to 2012. His streak of four consecutive games with a homer ended, leaving him one short of the franchise record, but he drove in the team's second and final run in the sixth with a groundout.
As much as jumping out to an early lead becomes a boon for White Sox pitchers, the overall early theme for the team's offense is they could have had more. Rios opened the fourth with a single, but left too early on a break for second and was caught stealing after Zimmermann stepped off the mound, and a leadoff single by Conor Gillaspie in the fifth was erased by a Tyler Flowers double-play grounder.
Ventura's crew finished 0-for-6 with runners in scoring position Wednesday and is 1-for-16 over the first two games of the series. For the season, the White Sox are 6-for-45 in these RISP situations.
"We've had opportunities in a lot of games to jump out to either an early lead or tie some games up or blow a game open with big hits that we really aren't getting right now," said Dunn, who got the start in left and made a nice running catch in the seventh against his former club. "We had second and third, one out, and we only get one. Again, [Zimmermann] has to make a living too. He's out there battling and he made some good pitches."
"I had a really good fastball, and me and [catcher Kurt Suzuki] just stuck with that all night," Zimmermann said. "We threw a lot of fastballs inside and got a lot of broken bats, and when I had to mix in some off-speed [pitches], it was pretty good. I gave up a few hits and got some ground balls when I needed them."
Bryce Harper tied the score on the first pitch of the fourth, launching a second-deck shot to right for his fourth homer of the year. The Nationals (6-2) added another run in the frame via Desmond's double and a Danny Espinosa single.
Their lead grew to 3-1 in the fifth on Ryan Zimmerman's single, and after Alejandro De Aza came home on Rios' sixth-inning grounder to cut the lead to 3-2, the Nationals knocked Floyd from the game with two in their half. Espinosa doubled home Desmond, who tripled, and Denard Span's single that trickled under Alexei Ramirez's glove with a drawn-in infield scored Espinosa.
Floyd struck out seven and walked three, throwing 84 pitches in 5 1/3 innings. Zimmermann was just a little bit better, giving up two runs on seven hits over seven innings, fanning four.
"You know, his fastball was really good," Dunn said. "Obviously, his velocity was there, but he was spotting up pretty good and putting it in tough places to hit."
Nate Jones and Hector Santiago combined to throw 2 2/3 innings of scoreless relief, striking out four. But for the White Sox to win on this night, they need Floyd to finish as well as he started.
"His velocity is fine. Maybe the command he needed to have he didn't have in the middle," said Ventura of Floyd, who got touched up for three runs in the fifth inning of his first start against the Royals. "That's a tough lineup. You can go through it one time, maybe twice, but they're tough that third time through.
"Starters have to be able to get through that sixth inning. As a starter, that's kind of what you need to do to get us to that point. Otherwise you wear the bullpen out for the whole trip."
Scott Merkin is a reporter for MLB.com. Read his blog, Merk's Works, and follow him on Twitter @scottmerkin. This story was not subject to the approval of Major League Baseball or its clubs.