Nats recover from slow start to back Zimmermann
Offense breaks out in middle innings as righty cruises through seven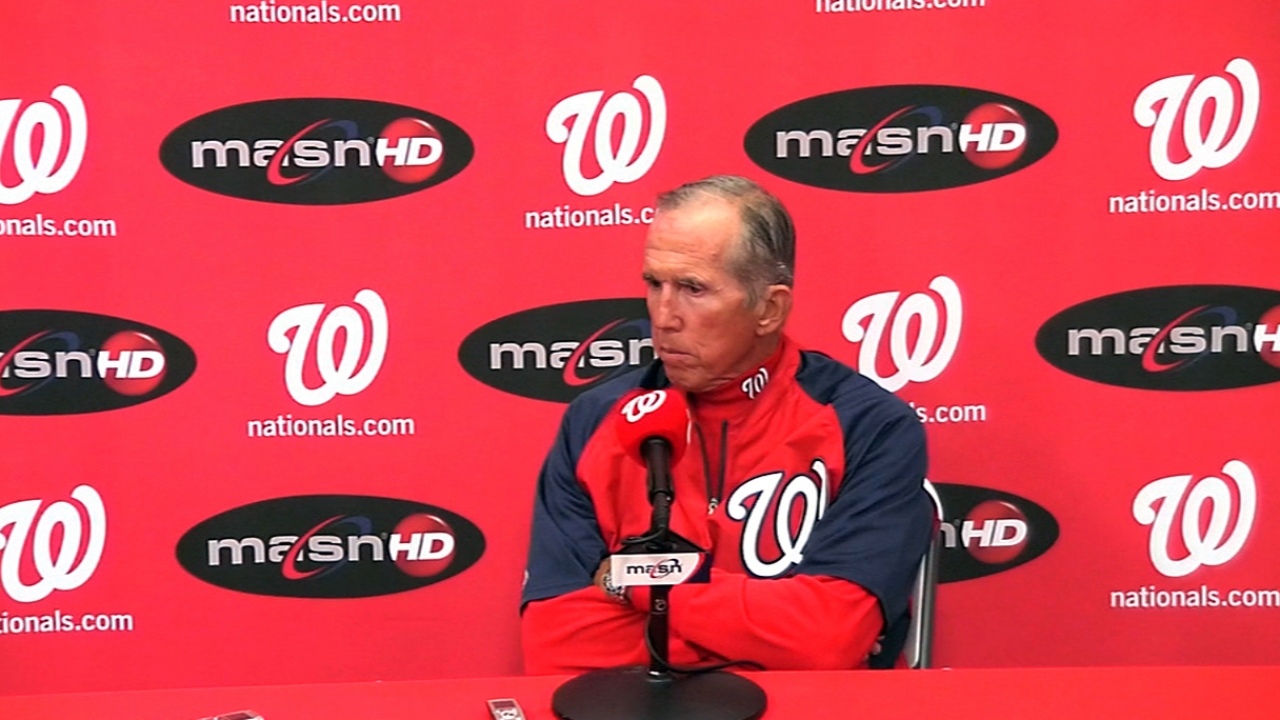 WASHINGTON -- The umpires were late. The bats were quiet. And through three innings on Wednesday night, the Nationals had only one hit.
But starting pitcher Jordan Zimmermann was never worried.
"These guys," he said, "they're going to score some runs sooner or later."
That's what happened against the White Sox. Bryce Harper homered -- again -- to lead off the fourth inning and spark a nine-hit, five-run spree over the next three frames. That push -- fueled by Harper, Ian Desmond and Danny Espinosa -- gave Washington its second win in as many nights against the White Sox, 5-2, before a crowd of 24,586 at Nationals Park.
"It's easy to take the mound when you've got the lineup we have, and team's are going to have a hard time shutting them down all game," Zimmermann said. "When they score runs like that, it's a lot easier to pitch."
Zimmermann used his fastball effectively to strike out four over seven innings. He allowed just two earned runs on seven hits and threw 90 pitches, showing the efficiency the Nationals look for and expect out of their No. 3 starter.
"It starts with Jordan," said Desmond, who finished 3-for-4 with two doubles and a triple. "He was working quick, getting quick outs, getting us back in the dugout, and the other guys around me were hitting, too."
Everybody knows about the power at the heart of the Nationals' lineup with Adam LaRoche and Harper, who had his seventh multi-hit performance in eight games and his team-leading fourth home run of the season. But what may surprise -- and scare -- some teams is just how deep Washington's lineup really is.
On Wednesday night, it was the sixth, seventh and eighth spots in the order that did the damage. Desmond had three hits, and six of his past seven have now gone for extra-bases. Espinosa had a single and a double and drove in two runs. And Kurt Suzuki got on base three times, all walks.
"All the way up and down," White Sox manager Robin Ventura said. "They're good up and down the lineup. Those guys in the middle are tough at-bats. They play good defense and they have some speed. You look at those first four, and they're names you know, but the rest of that lineup is pretty solid."
The pitching has proven to be pretty solid, too. Zimmermann cruised through seven innings, but Johnson opted to lift him in favor of Drew Storen in the eighth. The Nationals skipper said that, at this point in the season, seven innings of two-run baseball is more than enough. Zimmermann has not lost a start at home since May 17, 2012.
The Nationals matched Zimmermann's stellar pitching with a stellar offensive effort. Harper's home run, which landed in the second deck of the right field seats, just above the bullpen, and Desmond's three extra-base hits were the highlights, but all of the starters contributed in one way or another. Every batter except Zimmermann and pinch-hitter Tyler Moore reached base for the Nats.
"It wasn't like I was the only one," Desmond said. "Hitting barrels is contagious, and a lot of guys are finding the barrel right now."
The game's first pitch was delayed by 15 minutes because the umpires got caught in traffic and "it delayed their preparation for the game." But the late start didn't prevent the Nationals from improving to 5-0 at home this season.
"It didn't seem to bother Zim too much," Johnson said with a smile. "He pitched a great ball game."
Tom Schad is an associate reporter for MLB.com. This story was not subject to the approval of Major League Baseball or its clubs.