Mariners hit hard by Astros, injury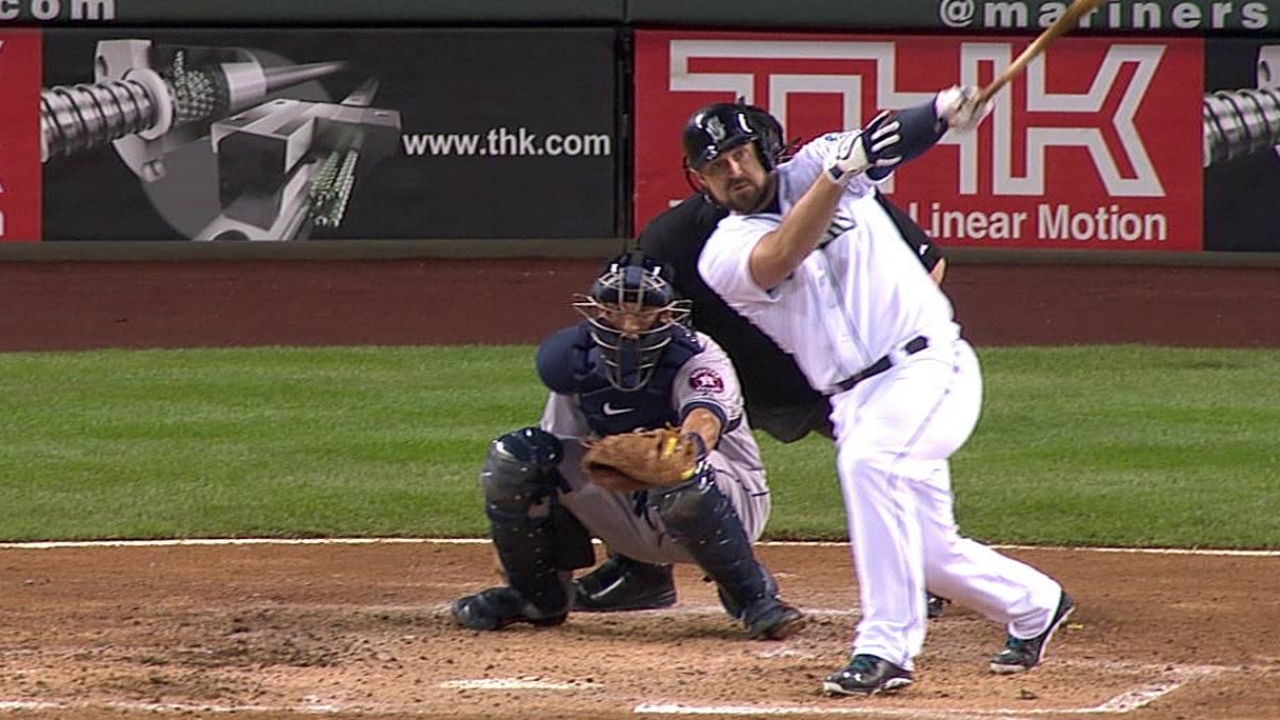 SEATTLE -- The Mariners lost a game, a series and maybe a little bit more.
Wednesday's 8-3 defeat to the Houston Astros, who had entered Safeco Field with a record of 1-6 and at the bottom of the American League West, cost the Mariners a key home series within their division, but it also might have cost them something that could be far more valuable -- at least for a little while.
Outfielder Michael Saunders, one of the team's most improved players over the last year and an integral part of the top of the batting order, sprained his right shoulder while making a lunging catch at the right-field wall to rob the first batter of the game, Astros second baseman Jose Altuve, of extra bases.
Saunders stayed on the outfield grass while being attended by medical staff and walked off slowly with his right arm hanging limply at his side. The early prognosis was for Saunders to miss "some time," possibly a disabled list stint, although Mariners manager Eric Wedge said after the game that he was holding out hope that the DL could be avoided.
Nevertheless, it was a big blow in the literal and figurative sense.
"I thought if anything, it should have given us momentum," Seattle shortstop Brendan Ryan said. "A guy, first play of the game, makes a play like that and he goes down, it should be about making that play worth something.
"Aside from him getting hurt, momentum's on our side. Let's use it and hope he's OK. It didn't work out that way."
And it didn't take long.
The Astros strung together two big innings early, scoring three times in the second against Mariners starter Blake Beavan, with the key hit being a two-run home run to center field by Houston outfielder Rick Ankiel. The Astros scored twice more in the third, with Carlos Pena singling in a run and J.D. Martinez doubling in another.
Beavan, who struggled in his 2013 debut in a no-decision in Chicago, did the best he could by sticking around for 5 2/3 innings and 102 pitches, and his scoreless work in the fourth and fifth at least allowed the Mariners to get within 5-2 on a homer by Kelly Shoppach in the third and a Shoppach RBI double off the top of the wall in the fifth.
"You've got to be a little smarter out there and get back to what I was doing the second half of last year, which was using my slider in and out to lefties, dropping my curveball in there when I needed it to, and putting my changeup in the back pocket for when I needed to shake things up," Beavan said.
Franklin Gutierrez got some momentum going for the Mariners and the crowd of 10,493 by leading off the bottom of the sixth with a home run that chased Astros starter Brad Peacock, but Houston seized the momentum right back in the seventh against Seattle reliever Carter Capps.
Jason Castro hit a one-out double and Chris Carter hit a monstrous two-run home run to left-center field, Carter's third blast in the last two games.
Lefty reliever Bobby LaFromboise made his Major League debut for the Mariners, pitching a scoreless top of the ninth.
Now the Mariners must figure out how they'll proceed without Saunders for the immediate future, and how they'll bounce back from a disappointing two games in which the Astros outscored them, 24-12, and racked up 37 hits in two games.
"I'm happy with the way things are coming along," Houston manager Bo Porter said. "That's why there was no panic, no worry. We believe in these guys in this clubhouse. They've proven to me and the rest of the staff they are going to hit, and baseball's just one of those games you want to live with the ups and the downs. You just want to continue to pitch the way we've been pitching and play solid defense, because we know the hitting is going to come and go."
Wedge, for one, won't be sad to see the Astros go, even though the team was lightly regarded coming in.
"It's the Major Leagues," Wedge said. "I've said it before. If we play like we're capable of playing, we can beat anybody. If we don't, anybody can beat us. It's as simple as that."
Doug Miller is a reporter for MLB.com. This story was not subject to the approval of Major League Baseball or its clubs.