Astros power to series win in Seattle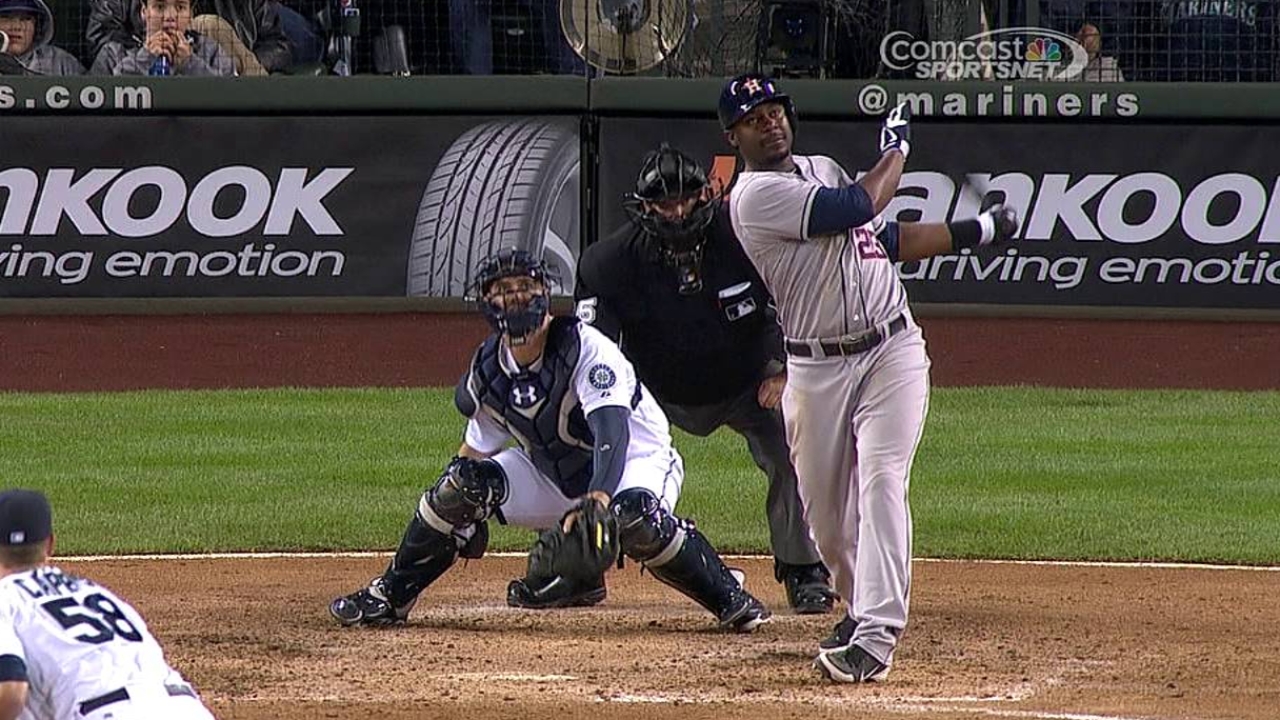 SEATTLE -- The Astros' true offensive identity probably lies somewhere in the middle of the scuffling, strikeout-prone club we saw the first week of the season and the mashers who flexed their muscles in the final two games against the Mariners.
As the Astros packed their bags to head south to face the struggling Angels this weekend in their inaugural trip around the American League West, they can only hope the sudden surge in run production is here to stay.
Coming off one of their biggest offensive performances in years, the Astros clubbed three home runs on Wednesday night, including two-run shots from Rick Ankiel and red-hot Chris Carter, to beat the Mariners, 8-3, at Safeco Field for their second straight victory.
"You always want to score early, especially after the game we had last night and knowing their bullpen was kind of thin," Astros manager Bo Porter said, referring to Tuesday's 22-hit, 16-9 win in which the Astros knocked out the Mariners' starting pitcher in the first inning.
The Astros took two of three games from the Mariners to win a series for the first time this season, scoring 24 runs and racking up 37 hits in the final two games, the most they've had in a two-game span since tying the club record with 39 hits against the Cubs at Wrigley Field Sept. 8-9, 2000.
Carter, who went 4-for-6 with a pair of homers on Tuesday, added three more hits Wednesday, including a two-run homer in the seventh inning that put Houston ahead, 7-3, and kept the Mariners from clawing back from a 5-0 hole.
"The long balls definitely help, they're definitely game-changing and it's good to see Carter kind of getting into a groove," Porter said. "It was good to see Ankiel get that big hit. He had been in a little bit of a funk, but he got back in there today and hit a big two-run homer."
Marwin Gonzalez, who Porter said prior to the game was going to get more playing time at shortstop, homered in the eighth for his second of the series and finished 2-for-3 to raise his batting average to .444. That stretched the Houston lead to 8-3.
The Astros raised their team batting average to .263 from .201 in the final two games against the Mariners and hit eight home runs, swinging the bats the way they did for much of Spring Training. Houston could hardly get anything going offensively after beating the Rangers to start the season, losing six in a row prior to Tuesday's outburst.
"You've got to tip your hats," Mariners shortstop Brendan Ryan said. "They grinded out their at-bats and they pulled out a couple of victories, but when they're finding the barrel that much, they're doing some things right and they're laying off some bad pitches and putting the good ones in play and making us pay. At the same time, not every one of them has to go in the gap or over the fence. That's just the way it goes, I guess."
Astros right-hander Brad Peacock (1-1), making his second start of the season and fourth of his career, worked five-plus innings and allowed four hits, including solo homers to Kelly Shoppach and Franklin Gutierrez, for his first win since 2011, when he was with the Nationals.
"You always want to go five, six innings, but I just tried to keep the ball down tonight, and I did for the most part," Peacock said. "I had a good curveball and changeup and felt like I mixed my pitches well tonight. I just made a couple of mistakes and paid for it."
And he's glad the Astros didn't use up all their offense Tuesday.
"I had a good feeling about today," he said. "They definitely carried it over and swung the bats awesome and played great defense behind me."
Third baseman Matt Dominguez made another terrific defense play, diving to his right to snag a Kyle Seager grounder in the second and throwing him out with a one-hop strike to first base. In the sixth inning, Ankiel made a diving catch of a sinking liner in right field with a runner on first base for a key out.
"It just seems like everybody is doing their job and what they're capable of doing, and hopefully we can continue down this path and keep having fun," Ankiel said.
After a six-run outburst in the first inning on Tuesday, the Astros' offense got going nearly as fast in the finale, scoring three times in the second. J.D. Martinez had a sacrifice fly to get Houston on the board, and Ankiel followed with his homer to center to snap an 0-for-13 drought.
"I've been in a little funk earlier, but that was a good swing and it felt good," Ankiel said. "For myself, too, I'm hoping to continue down that path."
The Astros pushed the lead to 5-0 in the third on an RBI single by Carlos Pena and an RBI double by Martinez that scored Pena all the way from first base.
"Even when a maybe a lot of people around the ballclub were panicking, I never saw any panic from any of those guys in there, and there was never any panic from a staff standpoint and organizational standpoint," Porter said. "We all understand the game of baseball and we know it can be very streaky from an offensive standpoint. Hitting is contagious, just like the same way a few guys get into a slump it can be contagious. It's good to see them keeping the line moving."
Brian McTaggart is a reporter for MLB.com and writes an MLBlog, Tag's Lines. Follow @brianmctaggart on Twitter. This story was not subject to the approval of Major League Baseball or its clubs.