Butler, Francoeur home runs aid Royals' sweep
Davis fires five scoreless innings as KC runs winning streak to four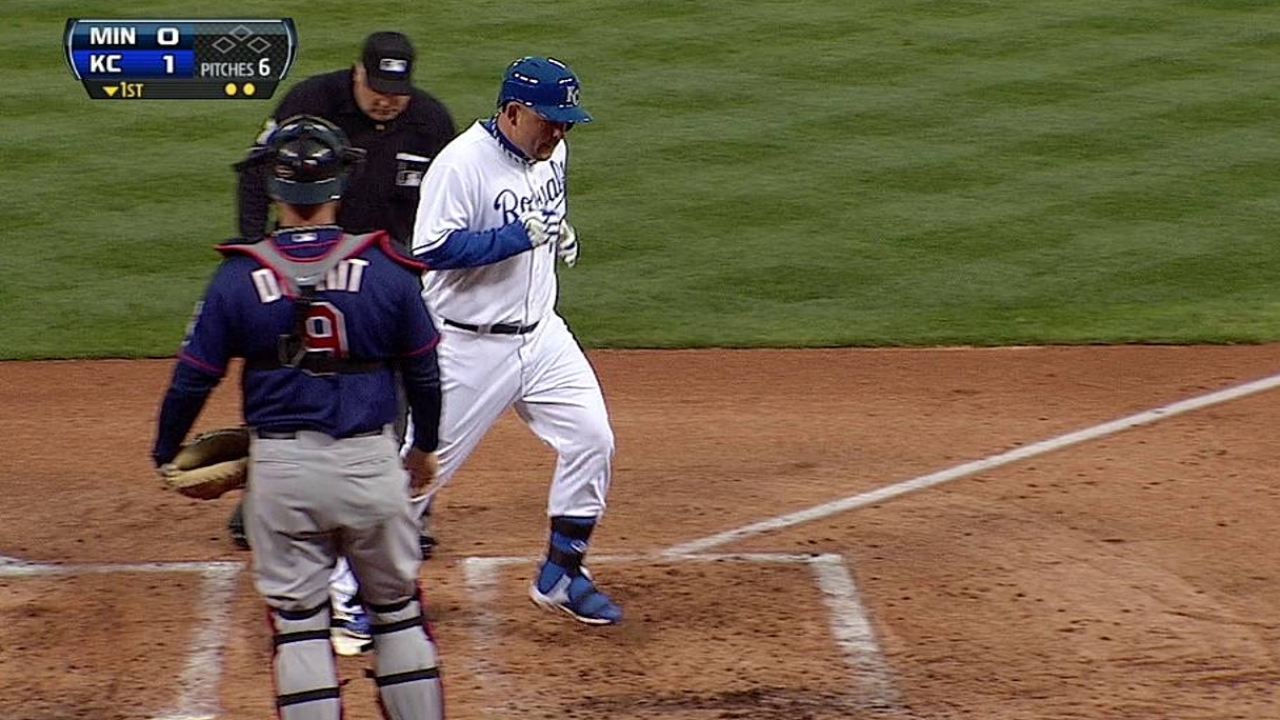 KANSAS CITY -- Hey, this winning streak thing is getting serious for the Royals.
It reached four straight with a 3-0 victory over the Minnesota Twins on Wednesday night. Billy Butler and Jeff Francoeur banged solo home runs for the first-place Royals, who swept the series and have won six of their last seven games.
Sure beats their predicament at this time last year, when they were in the process of losing 12 straight games, 10 of them at home.
"It beats the heck out of our start last year," Francoeur said. "I said from day one, it all starts with pitching. When you have pitching, you're going to win ballgames. When the other team doesn't score, all you have to do is score one."
They certainly had pitching on this wet, cold, bleak evening -- Wade Davis, Bruce Chen and Kelvin Herrera combined on a shutout.
It was windy, rainy and 45 degrees at Kauffman Stadium, 40 years to the day after the ballpark -- then called Royals Stadium -- opened in 39-degree weather in 1973. The Royals had pitching that day, too, as Paul Splittorff went the distance in a 12-1 victory over the Whitey Herzog-managed Texas Rangers.
Butler celebrated the occasion with a home run in the Royals' first inning, a booming 417-foot shot to dead center field. It came against Liam Hendriks, a Minnesota right-hander who rewarded Butler by plunking him in the left arm his next time up.
"It was tough to score and I didn't think anybody'd be able to hit homers tonight," Royals manager Ned Yost said. "Heavy air, damp air and then Billy crushed his over the center-field fence, and then Frenchy got a pretty good piece of it, too."
Francoeur belted his home run to left field leading off the seventh against right-hander Josh Roenicke. After the first out, left-hander Brian Duensing arrived long enough to give up singles to Chris Getz and Alex Gordon. With the rain intensifying, righty Casey Fien took over and was nailed for an RBI single by Alcides Escobar.
Early on, the teams played a lively game of let's-load-the-bases-and-not-score for the 10,069 fans who braved the elements. Davis pitched out of bases-loaded jams in the first inning and again in the second.
"Our at-bats with runners in scoring position were basically non-existent," Twins manager Ron Gardenhire said. "We had some poor at-bats and failed to get the big hits. We gave ourselves chances all day. The weather was what it was -- they did better in it than we did. A frustrating game for me."
In the bottom of the second, the Royals tried their luck on singles by Salvador Perez and Lorenzo Cain, and an error. But all three runners were stranded as Hendriks pitched out of it.
By the time Davis got through five innings, he had a shutout going but he'd thrown 96 pitches -- six strikeouts and three walks will do that -- and Chen came out of the bullpen.
"I didn't make it too easy on myself, but the biggest goal was to keep it where it was. We had the lead and Bruce did a great job coming in behind me," Davis said.
Chen found himself in a jam in the seventh, when leadoff man Aaron Hicks' pop fly in short center field was missed by Cain in the swirling mist for an error. Hicks sped to second base, but there he stayed as Chen got three straight flyouts, one handled securely by Cain.
Trevor Plouffe tripled with one out in the Twins' eighth. Cain got the ball in the tip of his glove webbing, but it fell free when he rammed into the center-field wall. Chen, however, struck out both Chris Parmelee and Brian Dozier.
"[Chen] was really good, really sharp, commanding his pitches, changing speeds," Yost said. "I don't know if you could ask for a better outing than what Bruce Chen gave us tonight."
Yost had put closer Greg Holland in dry dock after his narrow escape in Tuesday night's muddy victory.
"Yesterday was a very high-intensity inning, 27 pitches, I wanted to give him the day off [Wednesday] with the day off [Thursday] and he'll be ready to close against Toronto on Friday," Yost said.
So Herrera pitched the ninth and gave up a two-out double to Joe Mauer, but ended the game with his third strikeout for his second save.
"I like it," Herrera said. "I just want to do my job, wherever they need me. But I like to close games. It's real fun, closing games."
The Royals haven't had a winning record against the Twins since 2003.
"We're a different team than we've been in the last 10 years," Yost said. "So you can throw all that other stuff out the window."
And don't even bring up that 12-game skid of last April.
"That's in the past, too," Yost said. "That's not in our mind anymore."
Dick Kaegel is a reporter for MLB.com. This story was not subject to the approval of Major League Baseball or its clubs.