Pollock's career day lifts D-backs over Bucs
Center fielder homers twice, doubles and makes diving catch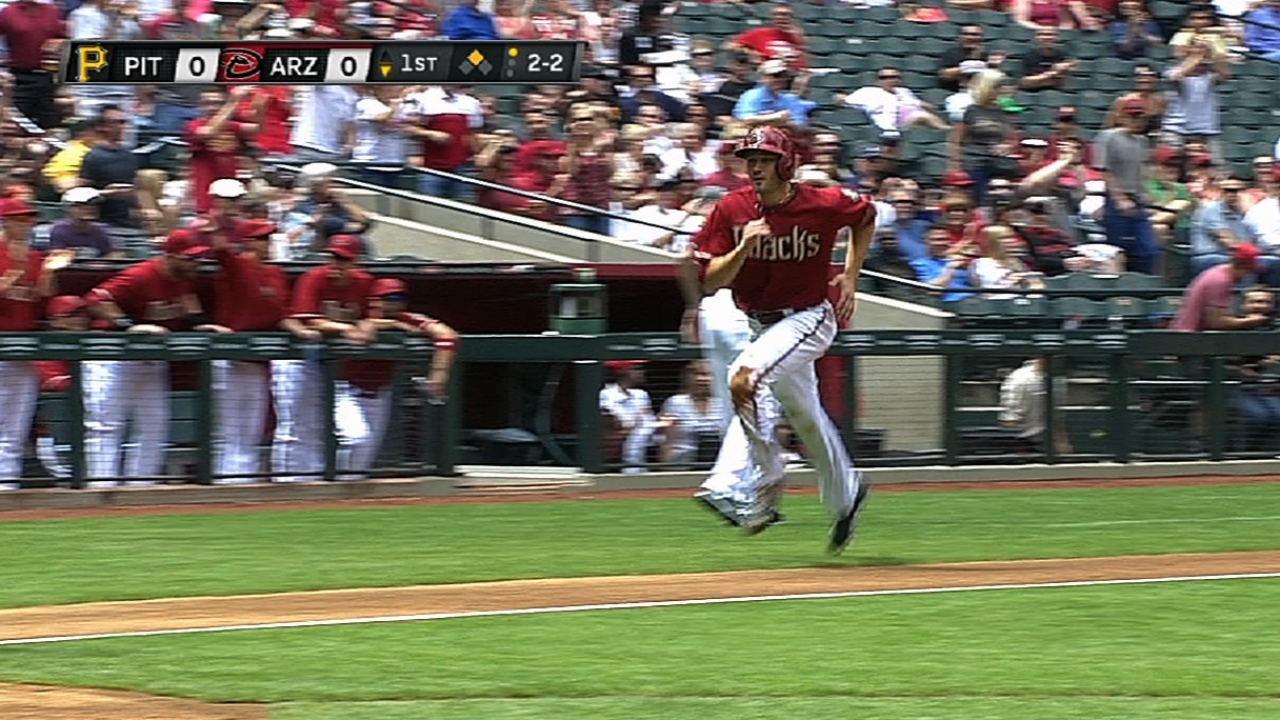 PHOENIX -- A.J. Pollock came into Wednesday's game riding an 0-for-14 streak at the plate.
But the D-backs rookie outfielder wasn't about to change anything.
"You do everything right and you don't get any hits, and you change something and you're doing everything wrong and not getting hits," Pollock said. "I just had to keep reminding myself, 'You've lined out a bunch of times and it's baseball.'"
Pollock's approach paid dividends, as he slugged a pair of home runs to help lead the D-backs past the Pirates, 10-2, at Chase Field.
With the win, the D-backs (6-3) managed to avoid a sweep.
Pollock, who made the team after outfielders Cody Ross and Adam Eaton were forced to start the year on the disabled list, went 3-for-5 with four RBIs. He also made a diving catch in center in the first inning and stole a base.
"We got some balls in some spots we didn't want to," Pirates manager Clint Hurdle said. "He's in the big leagues, you make mistakes to a high-ball hitter, all the pitches were up. And, basically, he's one ball off the barrel from hitting three home runs. A day he'll darn sure remember for a long time."
Despite his struggles at the plate recently, Gibson played a hunch and put the right-handed-hitting Pollock in the No. 2 spot against left-hander Jonathan Sanchez.
"He's better on lefties than he is righties," Gibson said.
There were signs in the first inning that this could be Pollock's day, as well as his team's.
In the top half of the inning Pollock made a diving catch in center and Gerardo Parra made a sliding grab in right for the final two outs as the Pirates stranded a runner on second.
Then in the bottom of the first, after Pollock had doubled, he broke for third on a stolen-base attempt. But he left a bit too early, and Sanchez was able to step off the rubber. He should have had Pollock out at third, but Sanchez rushed his throw and it sailed past third baseman Josh Harrison and Pollock scampered home with the first of a three-run first.
"I was trying to time him up," Pollock said. "I probably hit it a little bit too early and I'm sure the middle infielders said something because I'm pretty sure he was going to the plate if I didn't go that early. So I caught a break and thought maybe it might be my day today after that."
Said Gibson, "He got a little lucky on the stolen base, but you have to give him credit, a lot of guys stop there, you have to pressure the guy and make him make a good throw and Sanchez threw it away. That was also a good sign for us early in the game."
The D-backs scored another three runs in the second, all on Pollock's first homer.
"Just trying to be a good competitor out there and I felt good," Pollock said. "I can't speak for the results, I never really concentrate on the results, but they were there today."
Pollock led off the fourth with his second homer of the game, as the D-backs went on to score four runs in the inning.
It was the first multi-home run game for Pollock since his collegiate days at Notre Dame. He hit two home runs in 81 at-bats last year for the D-backs.
"For me hitting home runs, I don't think it's about power, it's more about how to hit the ball correctly and your approach at the plate," Pollock said. "It's more about getting the right pitch and taking the right swing in the right count."
While the D-backs were scoring runs, starter Wade Miley was keeping the Pittsburgh hitters in check.
"Threw the ball great," Gibson said. "Moved it in and out good, had a good slider, a good changeup."
It was the second straight outstanding outing by Miley, who allowed five hits and two runs over 6 2/3 innings. In his first start of the year against the Brewers, Miley went six innings and allowed one run.
"The defense was great, the offense was even better," Miley said. "I just tried to get us back up there as fast as I could. Just want to get the offense back on the field."
Steve Gilbert is a reporter for MLB.com. Read his blog, Inside the D-backs, and follow him on Twitter @SteveGilbertMLB. This story was not subject to the approval of Major League Baseball or its clubs.