Sanchez's rocky outing thwarts sweep attempt
Veteran lefty allows nine runs; Marte stays hot with two hits, RBI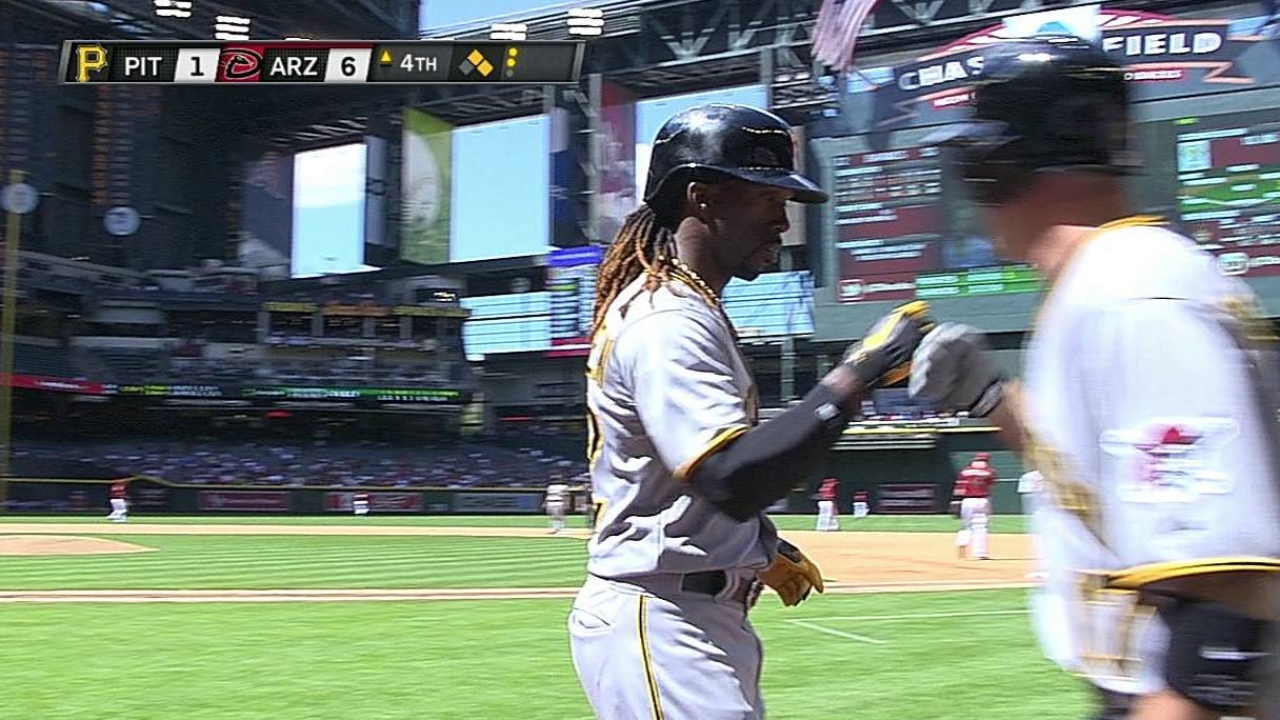 PHOENIX -- Sometimes you're the broom, and sometimes you're the mess.
The Pirates had no trouble deciding which they were on Wednesday, when they entered Chase Field hoping to sweep the D-backs and instead were whisked out of town.
With Jonathan Sanchez looking nothing like the left-hander who impressed in Spring Training and his first start of the season, the Bucs took a 10-2 series-ending loss on the chin. The haymakers were delivered by A.J. Pollock, who drove in four with a pair of homers and added a double for a 10-base day.
"You make mistakes to a high-ball big league hitter," Pirates manager Clint Hurdle said of Pollock, "that's what he'll do. All the pitches were up. A day darn sure he'll remember for a long time."
Conversely, a day Sanchez hoped to immediately forget. In fact, that was the advice given to him on the mound by Hurdle, when the manager finally came to get him with one out in the fourth.
"We've covered a lot of distance, and have a lot more to go," Hurdle recalled telling Sanchez, looking at him straight in the eye. "You're gonna have days like this to test your faith in what you've been doing. It would've been crazy to think you weren't going to have a day like this along the way."
"The way" referred to Sanchez's path back from his harsh 2012 season -- a 1-9 record and 8.07 ERA.
"This was one game. It got away. It happens, just have to keep working," said Sanchez, agreeing with the manager's message.
Sanchez, who has taken major strides to overcome his reputation for being wild, triggered his quick undoing with flashback wildness -- but not to home plate.
He appeared on his way out of mild first-inning trouble when he caught Pollock, on second with a one-out double, taking off for third. With plenty of time for patience, Sanchez heaved the ball past third base to allow Pollock to score.
"I'm pretty sure he was going to the plate [until the infielders got his attention]," Pollock said. "So I caught a break and thought maybe it might be my day after that."
"I just didn't set my feet, and I threw it too fast," Sanchez said. "Then you have to go back to pitching the game."
The embarrassing play obviously shook him up, and he never regained his composure or command -- although Hurdle considered the flub incidental.
"If you make the play in the first inning, I don't know how [the game] turns out," Hurdle said. "It has a good chance to be different. But his stuff just wasn't sharp -- that was the first red flag. His inability to command the fastball inside allowed hitters to get very comfortable at the plate.
"After [the error], he had a chance to sharpen some things up, it just wasn't there. Not one of his pitches was as sharp as in Los Angeles [on Friday, in his debut start against the Dodgers]."
Sanchez followed the throwing error by walking Martin Prado to reignite a rally that led to two more runs. The 3-0 deficit doubled the next inning on Pollock's three-run homer. By the end of the second, Sanchez had thrown 74 pitches, only 14 fewer than what had gotten him through five on Friday.
"I just couldn't make that quality pitch," the lefty said, "and they were swinging the bat aggressively."
Will Sanchez be insulted to learn Arizona manager Kirk Gibson thought he was having a good day -- at least, better than usual?
"Actually," Gibson said, "[Sanchez] came out and threw a lot more strikes than he normally does. And then we got some guys on and ran on him a little bit, and put some pressure on him as well. It just changes the mindset a little bit."
Sanchez finally departed at the outset of an ugly fourth in which the D-backs extended their lead to 10-1 with four runs, two of them on consecutive bases-loaded walks by Chris Leroux.
Josh Harrison snapped left-hander Wade Miley's shutout with an RBI single in the fourth, and the Bucs added another run in the seventh on a single by Starling Marte -- converting his fifth consecutive two-hit game.
Miley left during that seventh-inning stir, having allowed five hits and two runs in 6 2/3 innings, with three walks and five strikeouts.
Sanchez was charged with eight hits and nine runs, all earned, in 3 1/3 innings. He walked four and fanned two.
"We played with live ammo early the last two days. Today, it blew up on us," said Hurdle, alluding to James McDonald's four-run implosion in Tuesday night's first inning, which the Bucs had overcome for a 6-5 victory that clinched the series win.
That is correct: Fresh off being swept in Dodger Stadium, the Pirates (3-6) invaded the turf of the 5-1 D-backs and looted them two-out-of-three.
"This one didn't work out," Hurdle called back, on his way out of town. "When you dig a hole like that, you aren't going to come back to win many times. So we win the series and move on."
Tom Singer is a reporter for MLB.com and writes an MLBlog Change for a Nickel. He can also be found on Twitter @Tom_Singer. This story was not subject to the approval of Major League Baseball or its clubs.