Bats in deep freeze as Rangers drop finale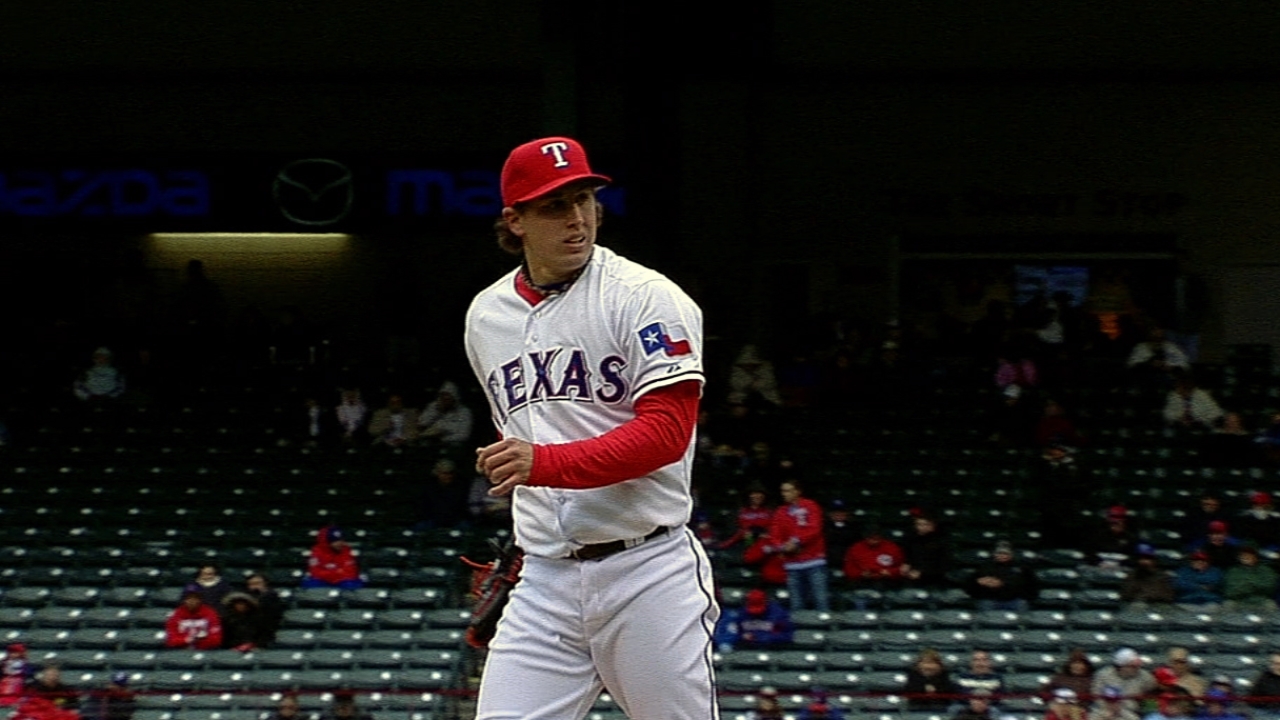 ARLINGTON -- On a day when kickoff. ... er, first pitch ... was delayed an hour and 29 minutes because of rain and the temperature at game time was a mere 39 degrees, maybe it shouldn't come as a great surprise that the Rangers' bats, so hot during their first eight games, went into hibernation Wednesday.
"It's too cold to play baseball," Elvis Andrus said with a shiver three hours before the game.
Advantage pitchers, especially Tampa Bay's Matt Moore, who took advantage of the unseasonably frigid Texas weather -- it was the coldest starting temperature for a day game in the history of The Ballpark in Arlington -- to put the Rangers' usually prolific offense in the deep freeze. Moore allowed just one single in his 5 1/3 innings of work as the Rays took the final game of this three-game set, 2-0.
Andrus was still shivering afterwards.
"It was a really cold game today, and their pitcher was really good," he said.
Rangers' starter Derek Holland wasn't bad himself, surrendering just five hits in eight solid innings, but he couldn't match Moore on this chilly afternoon.
"I don't think the weather had anything to do with it," Rangers manager Ron Washington said. "You gotta give Moore credit. He threw the ball pretty well. His fastball had good movement. He was a little erratic, but he's the kind of guy who can be effectively wild.
"Just when you think you got him on the ropes, he makes a pitch. That's exactly what he did today. Their relievers did it, too."
Moore walked six, but the Rangers didn't collect their first hit until Craig Gentry's one-out line single in the fifth and didn't advance a baserunner as far as third until the sixth. By that time, the Rays had nicked Holland for single runs in the third and fifth innings and the Rangers were about to waste the first of two golden opportunities.
Rays manager Joe Maddon lifted Moore after his one-out walk to Nelson Cruz in the sixth. David Murphy flared a single into left-center to greet reliever Cesar Ramos and Jeff Baker walked to load the bases, bringing lefty-swinging Mitch Moreland to the plate.
Moreland, hitting just .214 when the day began and a career .227 hitter against left-handers when the season began, had already struck out twice against Moore, and manager Ron Washington had his hottest bat, switch-hitter Lance Berkman (.480, third in the league), on the bench. An ace in the hole, if you will. But Berkman stayed there as Moreland grounded sharply to second baseman Kelly Johnson. Moreland is now 1-for-11 against lefties this season.
"No, it was all about Moreland out there today," Washington said when asked if he'd considered pinch-hitting Berkman. "I had no intention of using Berkman right there.
"He was available, but the manager's choice was to give him a full day off."
Berkman, who had offseason knee surgery and appeared to be limping slightly in the clubhouse after the game, conceded it might have been difficult to get warmed up and ready to hit on short notice.
Moreland, Washington said, is going to get his chance to play full time against all kinds of pitching after a strong showing this spring.
"We're nine games into the season, and I'm giving him an opportunity to face left-handers," Washington said. "When I get to the point where I don't think he can handle them, I'll take him out, but until then, he's facing left-handers."
It initially appeared that the Rangers had avoided the double play and finally punched in a run on Moreland's grounder, but that was before umpire Marty Foster -- yep, the same Marty Foster who made the controversial call on the final pitch of Game 1 of this series Monday night -- ruled that Baker had interfered with shortstop Yunel Escobar on his slide at second base and called Moreland out at first as well.
Baker and Washington argued the call, but replays showed Baker's slide took him away from the bag and his arm coming up and across Escobar's thighs.
"I just tried to explain that [the interference] had nothing to do with Escobar double and triple-pumping with the ball up in his glove, but it was obvious [Baker] slid with no intention of going for the bag," Washington said.
The Rangers tried again in the eighth when Adrian Beltre, who had singled off reliever Joel Peralta and advanced to third on David Murphy's double, tried to score on pinch-hitter Leonys Martin's fly to medium right, but Ben Zobrist's throw hit catcher Jose Molina's glove on the fly to nail Beltre at the plate.
Washington had no problem with being aggressive in that situation.
"If you watch the position of the outfielder, he was flat-footed," Washington said. "You never thought he would come up with a throw like that being flat-footed.
"If he's behind the ball, maybe you think about [not going]. But we weren't putting runs on the board, and you have to force him to make a play. He made a play; tip your hat."
As long, on this cold day, you didn't uncover your ears.
Jim Reeves is a contributor to MLB.com. This story was not subject to the approval of Major League Baseball or its clubs.