Francis chased vs. Giants in shortest career start
Lefty allows seven runs in 1 2/3 innings; Colorado can't get on the board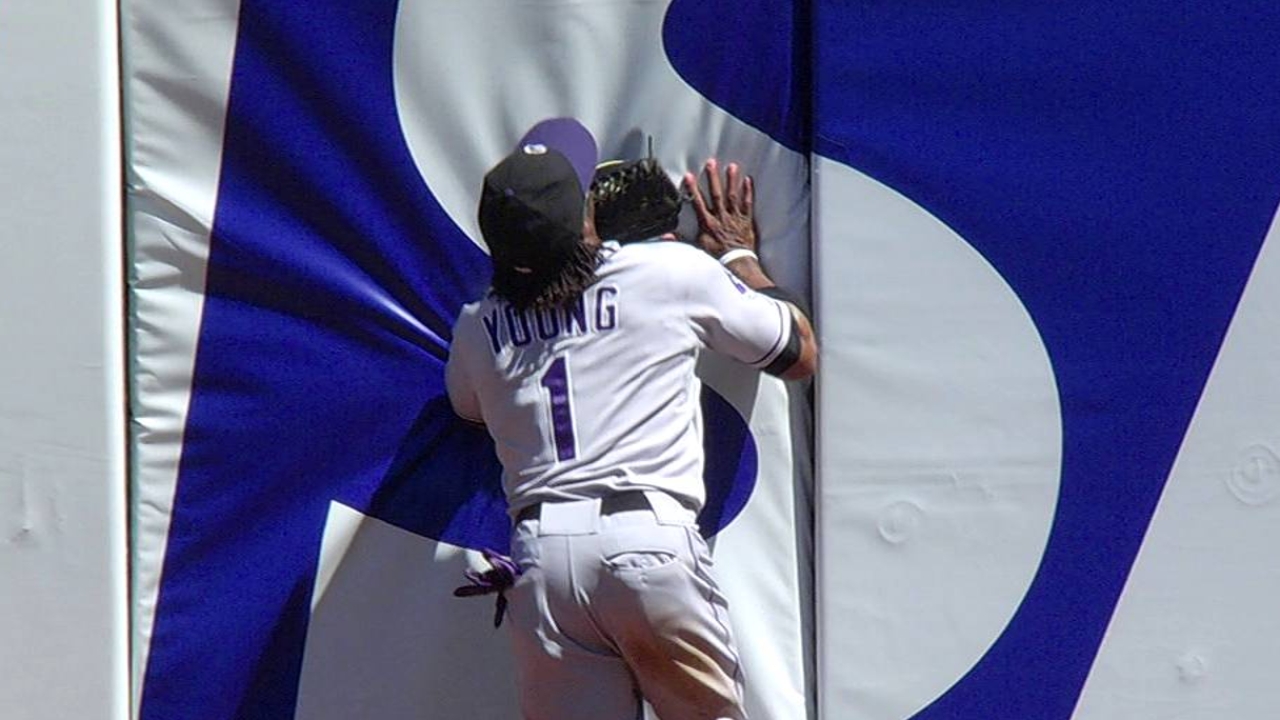 SAN FRANCISCO -- If the Colorado Rockies are searching for silver linings after getting crushed 10-0 Wednesday afternoon by the San Francisco Giants at AT&T Park in the finale of their three-game series, there are really only two.
The Rockies won't have to play San Francisco again until May 16 at Coors Field, and they won't have to return to AT&T Park until May 24.
The Rockies lost their ninth straight game to the Giants and ninth straight at AT&T Park. They've been swept by the Giants in back-to-back series and haven't defeated San Francisco since Sept. 10 last season at Coors Field. They haven't won at AT&T since Aug. 12 last year. They've won just four of their past 21 games against San Francisco. And now they've been swept in San Francisco 12 times, two more times than at any other city.
"We were expecting to come and win a series," Rockies manager Walt Weiss said. "The Giants played well. This one today got away from us early. But, we look at it as three games in 162. [We'll] try to go down to San Diego and win a series down there."
Rockies left-hander Jeff Francis had a nightmare start, giving up seven hits and seven runs (four earned) and lasting only 1 2/3 innings as the Giants jumped to a 7-0 lead. It was the shortest outing of Francis' career, and his ERA soared from 1.50 to 5.87.
Giants left-hander Barry Zito threw seven shutout innings, allowing seven hits while striking out four before turning the game over to the bullpen. He improved to 8-2 lifetime against the Rockies and won his sixth straight decision against the club.
Of course losing to the Giants, especially at AT&T, has become a bad habit for the Rockies.
"It's a trend, the last few times we've been here, but it doesn't change the way we prepare," Francis said. "We still come in, we still have a lot of battle in us. We come here and we expect to win. It hasn't worked out the last few times here, but the next time we come we'll have the confidence we can come in and win."
Angel Pagan led off the bottom of the first for San Francisco with an infield single and scored on Buster Posey's one-out triple to right-center. The Giants made it 2-0 when Joaquin Arias lined a two-out single to left, bringing Posey home.
The Giants, who pounded out 16 hits, were just warming up. In the second inning, they scored five more runs, sending 10 batters to the plate.
Shortstop Brandon Crawford, who hit a three-run homer Tuesday night, led off with a double to right. When Zito laid down a sacrifice bunt, Francis tried to get Crawford at third, but his throw was late.
Francis walked Pagan, loading the bases, and gave up a sacrifice fly to Marco Scutaro as the Giants increased their lead to 3-0. Posey one-hopped a ground-rule double into the right-field seats, plating Zito to make it 4-0.
"You miss a pitch, and they whack it," Francis said. "And then you make a pitch. They whack it, too."
Hunter Pence followed with a sharp ground ball that third baseman Chris Nelson fielded cleanly. Pagan was hung up between third and home, but Nelson's throw to catcher Wilin Rosario was off line. Pagan scored on the error, making it 5-0, while Posey advanced to third and Pence to second.
Two batters later, Andres Torres lined a two-run single to right-center, giving the Giants a 7-0 lead and ending Francis' day.
"It's hard to tell location from the dugout, but I'd assume he had too much plate with his pitches and didn't have quite the command where the balls were just off the plate, like they had been," Weiss said of Francis. "Not quite the command. If Jeff is going to struggle, it's going to come down to that."
Reliever Edgmer Escalona retired Crawford to end the inning, but far too much damage had already been done.
The Giants added two more runs in the fifth and one in the sixth off reliever Chris Volstad.
Zito had his way with Colorado for most of the day on the mound and had the first multihit game of his career, getting a standing ovation in the sixth after his second single of the day.
"He was locked in today," Giants manager Bruce Bochy said.
Zito held the Rockies to four singles and three doubles, one each by Eric Young Jr., Troy Tulowitzki and Michael Cuddyer. But only two Rockies got as far as third base against him.
"Crafty left-hander gets overused, but he's kind of reinvented himself," Weiss said. "It's a tough at-bat. He adds, subtracts. He commands all of his stuff. He cuts it in to righties now. He knows what he's doing."
The Rockies were on a roll before arriving in San Francisco. They'd won back-to-back series and swept the Padres at home. Now they'll have a day off to regroup before opening a three-game series Friday night at San Diego.
"It's a long season," Young said. "We know. We go all the way until October, and then the mindset is going into the playoffs and deep into the playoffs. You can't really get hung up on games early in the season. We just swept the Padres and then get swept here. It's still early in the season. Anything can happen."
The problem for the Rockies is that the same thing keeps happening when they play San Francisco.
Eric Gilmore is a contributor to MLB.com. This story was not subject to the approval of Major League Baseball or its clubs.