Blue Jays score in bunches to rally past Tigers
Arencibia hits go-ahead three-run double after DeRosa delivers in pinch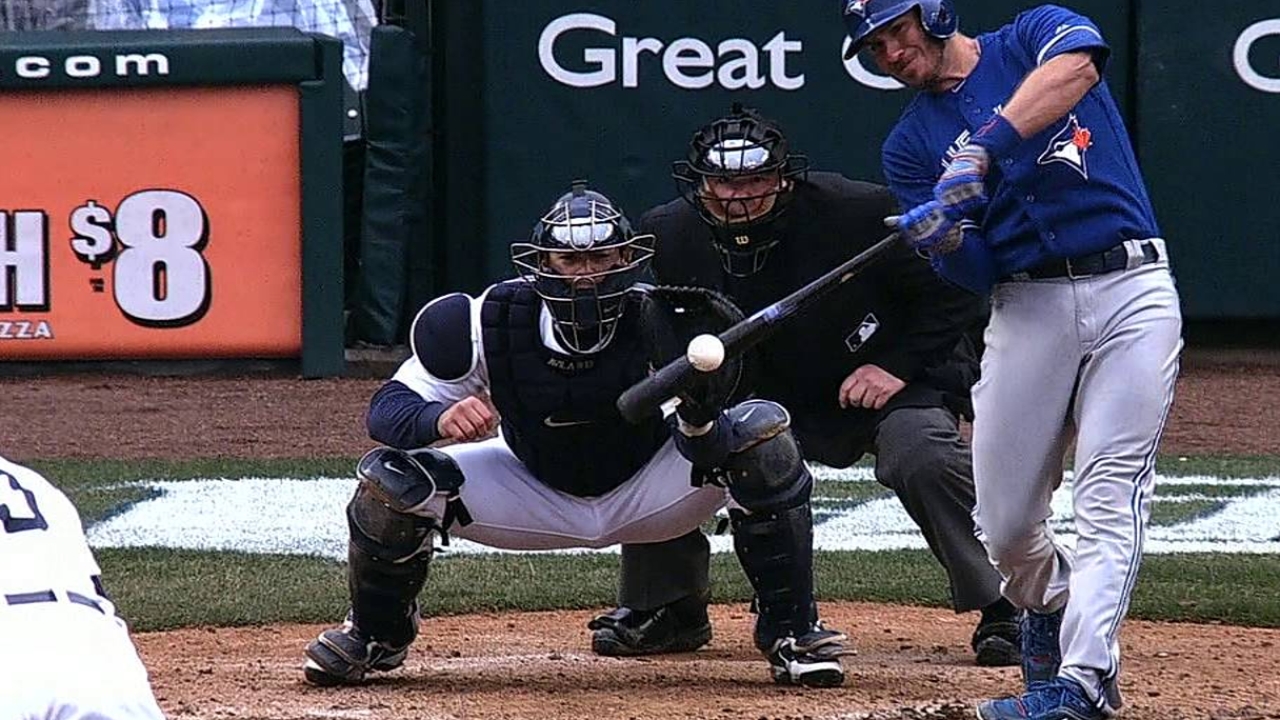 DETROIT -- The Blue Jays' offense showed some signs of life on Wednesday afternoon, and for the first time this season the production wasn't solely based around the home run.
Toronto entered the game having scored 19 of its 25 runs this season via the long ball. The struggling offense seemed incapable of stringing some hits together, but that changed in a hurry versus Detroit.
J.P. Arencibia had a bases-clearing double in the top of the seventh, while Mark DeRosa added a key pinch-hit double one inning earlier to lead the Blue Jays to an 8-6 victory over the Tigers at Comerica Park.
"It was huge, we haven't been able to put together innings as far as one guy gets a hit, then that's the hit for that inning," Arencibia said. "One guy gets a walk and then maybe a double play, that's been just the beginning of the year so far.
"It was nice to get a few hits and walks and guys grinding out at-bats and stringing it all in the same inning, because it's been one or the other, but to score you need to be able to do that collectively in an inning, and we were able to do that."
The Blue Jays entered the game hitting just .135 with runners in scoring position, which ranked second to last in the Major Leagues. The expectation all along has been that the struggles would be relatively short-lived -- considering the depth of Toronto's lineup -- but with each passing game, the pressure seemed to mount.
That's a by-product of a dramatic overhaul this offseason. With more than a third of the roster completely turned over from last season, and a number of star players added to the mix, this team is expected to win now.
The victory on Wednesday accounts for just one victory in the standings, but the hope is that, in the grand scheme, it will represent a lot more. By coming from behind to overcome a five-run deficit -- with three runs in the sixth and another fourth in the seventh -- it's the type of win that has the potential to help everyone relax in their new surroundings.
"We needed a game like this," DeRosa said. "We needed to pick up Mark [Buehrle] and push some runs across and really come alive in the dugout. We haven't had much to cheer about in the first couple games.
"It's been quiet, and rightfully so. We haven't played well. We try and keep it upbeat, try and keep it energetic, but when you've got a 2-5 record and you see another game slipping away, you kind of want to push the throttle a little bit. We needed something to happen like this."
Toronto entered the sixth trailing, 6-1, but slowly began to chip away at the deficit with a series of consecutive hits. The first two batters of the inning reached base, and then Edwin Encarnacion scored one by sending a shot down the left-field line for his second double of the game.
Tigers right-hander Rick Porcello was then chased from the game, but his bullpen was unable to preserve the four-run lead. DeRosa followed with a pinch-hit two-run double, and then the floodgates really began to open in the seventh.
With one on and one out, Tigers manager Jim Leyland opted to go with right-hander Brayan Villarreal in a move that quickly backfired. Villarreal proceeded to walk the only three batters he faced, with the final one scoring Melky Cabrera from third.
The big blow came with Arencibia at the plate and Octavio Dotel on the mound. Arencibia fell behind in the count but then sent an 89-mph cutter over the head of Austin Jackson in center field for a three-run double.
"I couldn't control my fastball or my slider," Villarreal said of the mess he created. "I think it's something with my mechanics that I have to work on.
"I have a lot of confidence in my fastball. You could see that they couldn't hit it. Even when they knew that pitch was coming, they couldn't hit it. That's my best pitch, and I have a lot of confidence. I just have to throw it for strikes."
Toronto's come-from-behind victory overshadowed some shoddy infield defense which led to a disappointing outing by Buehrle. Toronto's No. 3 starter allowed six runs -- five earned -- on seven hits, while walking two and striking out two.
Most of the damage occurred in the fifth inning, when Maicer Izturis misjudged a chopper to third to start the frame. Torii Hunter followed two batters later with an RBI single, while reliever Steve Delabar eventually walked in a pair of runs during the four-run frame.
The sloppy work at third base was an extension of an issue that has been plaguing the Blue Jays through the first eight games of the season. Emilio Bonifacio committed an error in the second, which led to an unearned run, while the slow-footed Prince Fielder beat out a pair of infield grounders.
"It's been a tough go, but they're our guys," manager John Gibbons said of his two infielders. "They're both a big part of this team, no one feels worse than they do, they feel it, they're human and the game's not easy to play when you start thinking about things. But they're a big part of it."
With the victory, the Blue Jays snapped a two-game losing streak and put themselves in a position to win a series for the first time this season when their time in Detroit comes to an end Thursday afternoon.
Gregor Chisholm is a reporter for MLB.com. Read his blog, North of the Border, and follow him on Twitter @gregorMLB. This story was not subject to the approval of Major League Baseball or its clubs.