Tigers unable to keep Blue Jays grounded
After club builds five-run lead, Porcello, Villarreal help give it all back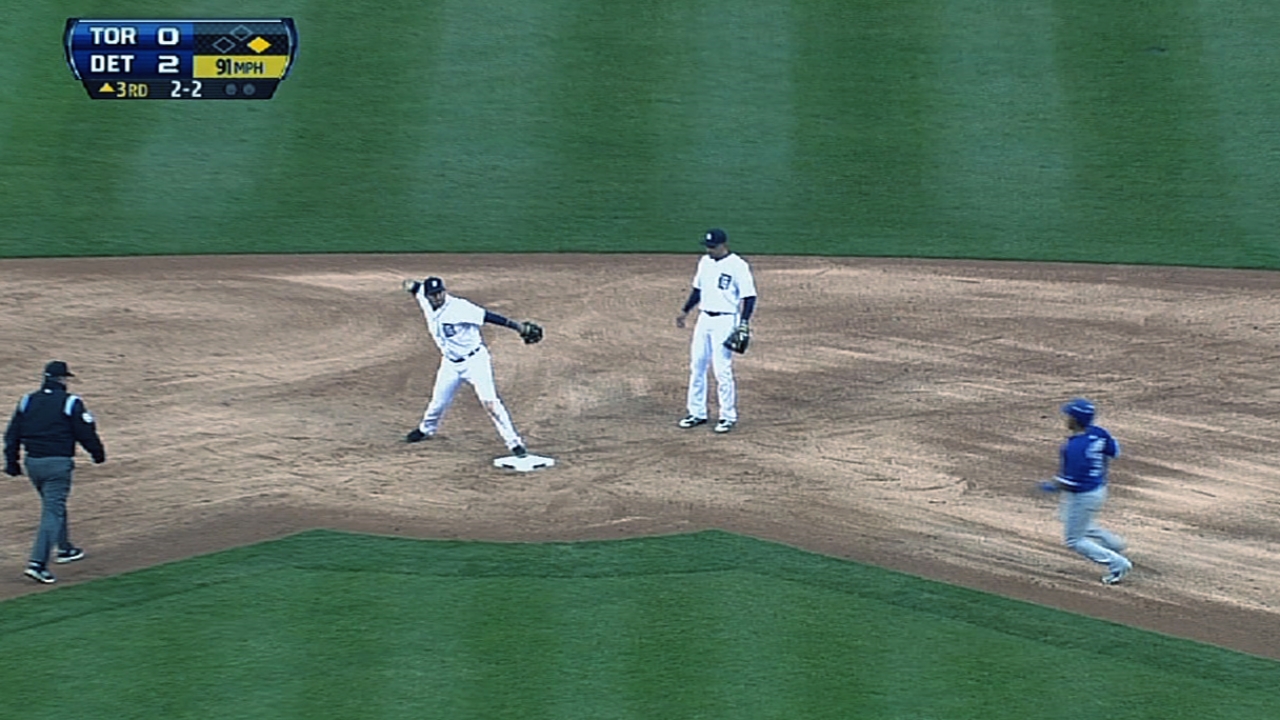 DETROIT -- No, Wednesday was not a good day for relievers at Comerica Park.
Darin Downs, who nearly lost his life to a fractured skull off a line drive four years ago, barely dodged a liner up the middle. Octavio Dotel took a comebacker in the groin, made the out, then hunched over in pain. Darren Oliver took a liner off his arm.
By the time the Tigers' rain-delayed, walk-lengthened 8-6 loss to the Jays was finished, it was Brayan Villarreal who was hurting. He wasn't hit, literally or figuratively. That's the problem.
It wasn't a comebacker, but a comeback.
"We had a 6-1 lead," manager Jim Leyland said, "and we let it get away."
For Villarreal's part, it wasn't a big hit, but three consecutive seventh-inning walks. The only contact was a pair of foul balls from Edwin Encarnacion to go to a 1-2 count before Villarreal missed low on three consecutive fastballs to load the bases.
The only other swing out of Villarreal's 19 pitches was a miss from the next hitter, Mark DeRosa, to bring up another 1-2 count. Again, Villarreal missed on three consecutive fastballs, again low and out of the strike zone.
"I couldn't control my fastball or my slider," Villarreal explained as reporters huddled around his locker. "I think it's something with my mechanics that I have to work on."
The next pitch the Jays put in play was the 0-1 pitch from Dotel that J.P. Arencibia lined to the fence in left-center field to clear the bases and put Toronto up for good.
Perhaps it was karma after back-to-back bases-loaded walks to Victor Martinez and Andy Dirks, neither of whom swung the bat, pushed the Tigers to a 6-1 lead in the fifth inning. But Villarreal's struggles weren't cosmic.
"It looked to me like he just threw a couple great pitches to start hitters and then just was spiking the ball in the dirt, just totally missing," Leyland said. "And I don't really know how to explain that, whether he got just hyped up and tried to throw a little bit harder, make a little better pitch. I don't know, but obviously his rhythm and stuff was not good or you don't throw that many balls."
When Villarreal has his mechanics down, he has shown himself to be one of the nastier relievers in Detroit's bullpen. His 2012 numbers show it, even with a miserable start and perplexing finish. From May through August last season, he allowed 32 hits over 43 2/3 innings, with 17 walks, 58 strikeouts and opponents batting just .204 off him.
His struggles in September kept him off the postseason roster, but his success in the summer helped keep Detroit's bullpen intact. Team president/general manager Dave Dombrowski this offseason cited one talent evaluator telling him Villarreal has the best stuff of any young reliever in the league he had seen. An American League scout suggested recently that Villarreal should be a closing option.
If the Tigers are going to make a bullpen by committee work this year for any stretch, he's going to have to get big outs. Through two outings this year, he has struggled to find them. Villarreal has now allowed eight runs on four hits and five walks this season, retiring just four batters.
Villarreal believes it's a mechanical issue involving his shoulder.
"It's something that I have to look at with my pitching coach on the video and start working on," he said.
The problem is that with a bullpen by committee, the Tigers can't easily hide a reliever while he works through some issues. Even sidelining a pitcher for a couple days to throw a side session and work on mechanics has ramifications for the rest of the group and the matchups Leyland faces to get through the ninth. The way Villarreal has struggled, though, he might have little choice.
"If people are here, they have to pitch," Leyland said. "I mean, you don't just bring guys up here to sit them and say, 'He's on the big league team, but we're not going to pitch him.' I thought you have a guy that throws 95, 96, 97 mph with a good slider, and you've got four right-handed hitters coming up.
"I don't want to sound like I'm defending my decision, because I'm not. I would make the same decision again. He's got to pitch. We've got to see if he can do it. It's that simple."
That's what Leyland is doing with much of his relief corps. The questions have focused on Joaquin Benoit and Phil Coke in the ninth inning. But with those two, especially Benoit, preferred for the ninth, it means others have to cover the seventh and eighth innings. On Tuesday, the eighth inning fell to Drew Smyly and Al Alburquerque. On Saturday, Alburquerque and Downs carried Detroit's lead for three innings to Benoit.
Complicating matters Wednesday was the sudden demise of starter Rick Porcello, who carried the 6-1 lead into the sixth inning before giving up three straight hits and a run.
"That's the biggest thing. I have to be able to record an out there, at least, and make it easier on our bullpen coming in," Porcello said.
All of the Tigers' relievers have had at least one outing so far when they've given up damage. And all but Villarreal have had an outing when they've looked dominant. Downs' first hiccup came Wednesday, when pinch-hitter Mark DeRosa greeted him with a double to drive in the two runners Downs inherited from Porcello.
"We've got to find out what guys can do," Leyland said. "That's as simple as it is. We'll see how it plays out."
Jason Beck is a reporter for MLB.com. Read Beck's Blog and follow him on Twitter @beckjason. This story was not subject to the approval of Major League Baseball or its clubs.