Twins can't overcome rough first inning in loss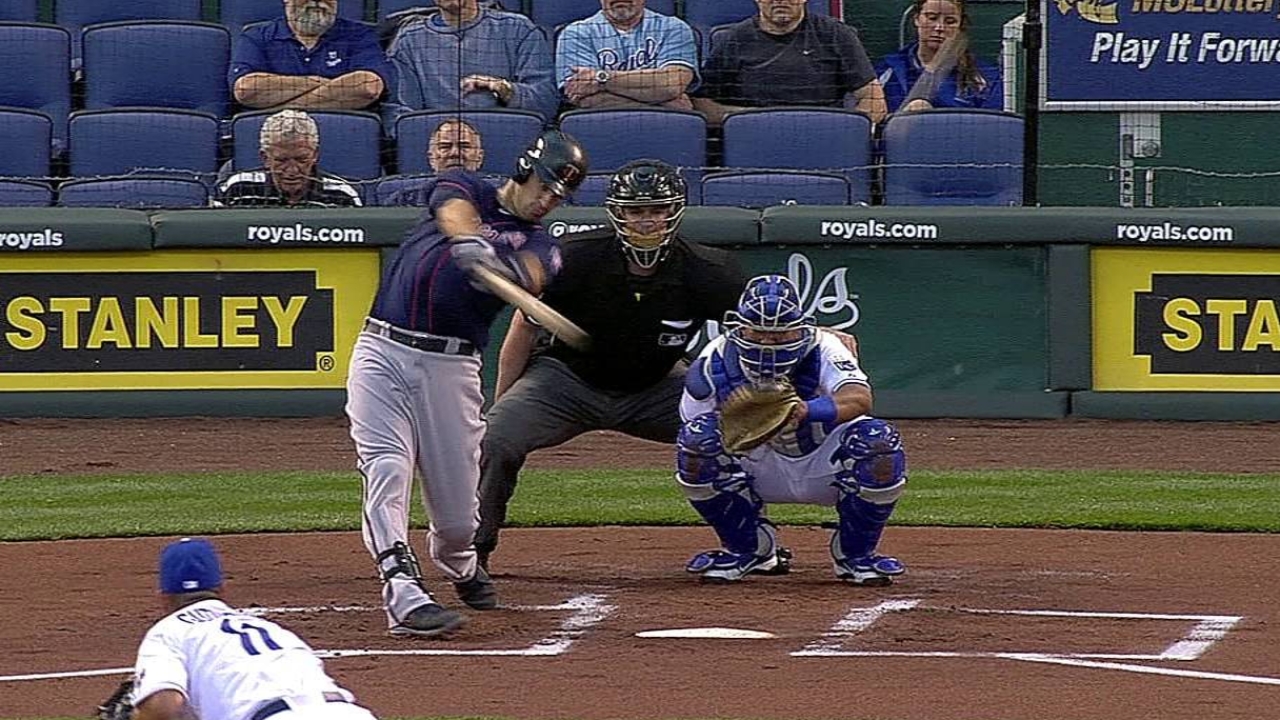 KANSAS CITY -- Mike Pelfrey was right where he wanted to be when he took the mound for Tuesday's start against the Royals. He was coming off a win in his first start for the Twins against Detroit and eager to pitch before friends and family who had made the three-hour drive from Wichita, where Pelfrey resides in the off-season.
But those positive vibes didn't last beyond the first inning as Pelfrey surrendered hits to the first five batters he faced and saw the Royals post five runs in the opening inning while en route to a 7-4 victory at Kauffman Stadium.
For Pelfrey, it started in shaky fashion and proceeded to get worse after Joe Mauer's solo homer had given Minnesota the lead in the first. The big play in the Kansas City first inning came after Alex Gordon's leadoff single. Alcides Escobar hit a soft popup to short left and Eduardo Escobar couldn't make the play going out as onrushing left fielder Josh Willingham deferred to the Twins shortstop.
With that break, the Royals were off and running.
Billy Butler doubled home the first run before Mike Moustakas and Salvador Perez had run-scoring hits that made it 3-1. An RBI groundout by Eric Hosmer and a run-scoring single by Lorenzo Cain made it a four-run cushion.
"I put the offense and the bullpen in a bad spot," Pelfrey said. "It's totally unacceptable. I was terrible tonight. The frustrating thing is that I had a lot better stuff today than the other day [against the Tigers]. I didn't execute as well. The ball was a little up, and I tip my cap to the Royals. When I made a mistake, they hit it."
Pelfrey worked just two innings, allowing eight hits and six runs. It was his shortest start since April 6, 2011 in Philadelphia. The right-hander talked to manager Ron Gardenhire about wanting to go back out for the third in order to save the bullpen. But Gardenhire turned to long man Anthony Swarzak, who gave the Twins a chance by allowing just three hits and one run in four innings.
The Twins made it a game after trailing 6-2 when Pelfrey departed. Minnesota received subsequent homers from Willingham and Escobar -- the first of his Major League career. Trailing by three, Minnesota loaded the bases in the ninth against closer Greg Holland and had Mauer at the plate. But Holland fanned Mauer in a driving rain, and the Royals put themselves in position to sweep the three-game series.
"The guys stayed after it," Gardenhire said. "We had our best hitter up there at the end. We'll take that chance down three runs with Joe up there. They were still hooting and hollering in the dugout. It was pouring rain, but we had some good at-bats at the end. You get behind early and it makes it a little tougher."
While the Royals hit some balls hard off Pelfrey in the first, it was the soft popup by Alcides Escobar that the Twins will remember.
"It was just a ball that fell in no man's land," third baseman Trevor Plouffe said. "Our outfielders were back and Escobar was shading over toward the hole a little bit. That set the inning up. If we get an out there, it could be totally different. But that's just part of the game."
In Pelfrey's first start, he allowed five hits and two runs through 5 1/3 innings. He envisioned an outing as good or better against Kansas City with hometown faces in the stands.
"I'm sure that's not what they wanted to see and that's not how I wanted to pitch," Pelfrey said. "I'll get ready for the next one."
Having lost back-to-back games for the first time this year, the Twins will try to salvage the series finale behind right-hander Liam Hendriks on Wednesday.
"I fell behind a lot of guys and when I did I gave them real hittable pitches and they were able to drive it," Royals starter Jeremy Guthrie said. "So, our offense picked us up today. We swung the bats early and got that big lead."
Robert Falkoff is a contributor to MLB.com. This story was not subject to the approval of Major League Baseball or its clubs.