Royals ride big first inning to win third straight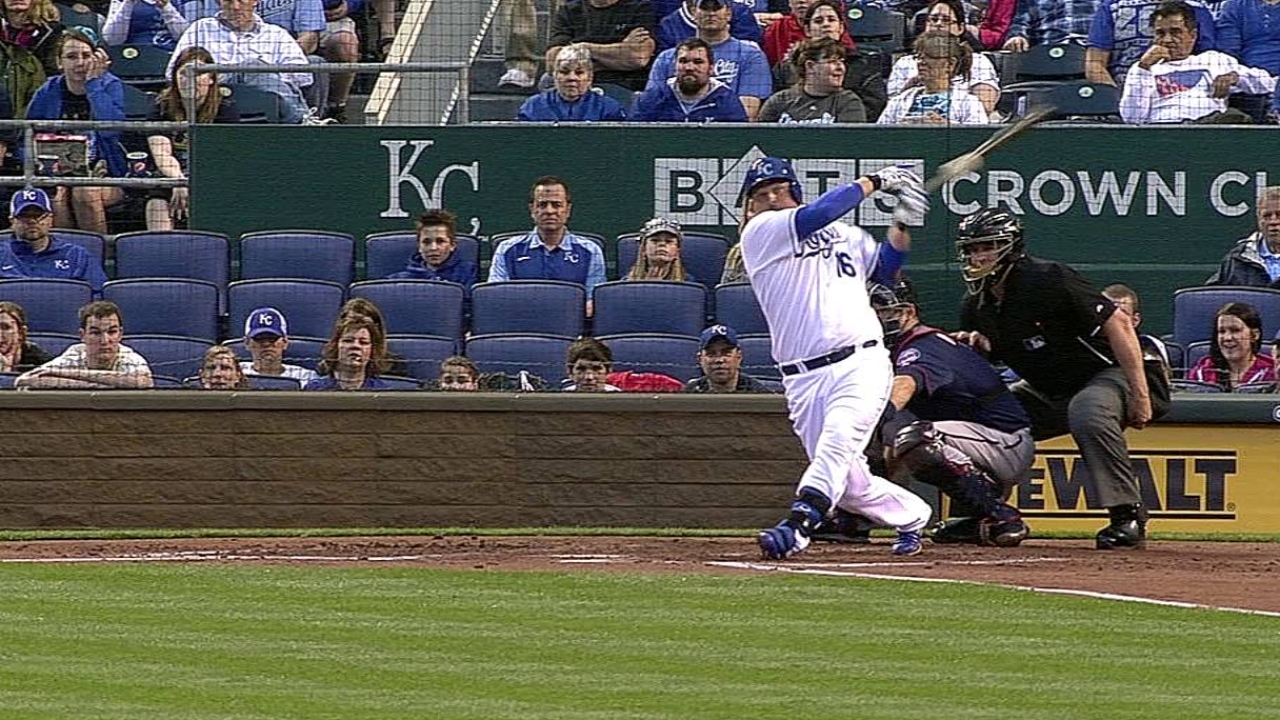 KANSAS CITY -- What's going on here? A winning streak? That's a radical change from a year ago, certainly.
The Royals won their third straight game, 7-4, over the Minnesota Twins on Tuesday night at Kauffman Stadium. At this point in the 2012 season the Royals had dropped three in a row and were headed for 12 consecutive losses, 10 of them at home.
"Yeah, I mean we're playing pretty good baseball right now," manager Ned Yost said.
Starter Jeremy Guthrie survived three solo home runs and got his second victory in two starts. He's the first Royals pitcher to make 13 straight starts without a loss since Kevin Appier did it in 1994-95.
Closer Greg Holland, coming off two rough games at Philadelphia, survived a bases-loaded jam in the ninth inning and notched his second save.
And, eight games into the season, the Royals found themselves leading the American League Central, a half-game ahead of Chicago and Detroit.
Guthrie got his second victory in two starts, pitching into the seventh inning despite not having his best stuff.
"I gave them every opportunity to take good swings on me and when they did, they capitalized. They didn't miss many pitches," Guthrie said.
Joe Mauer, a Royals tormentor of long-standing, got the Twins on the board in the first inning by dropping a home run down the left-field line and just over the wall. The homer gives Mauer 10 home runs, 89 RBIs and a .355 average in his 118 games against Kansas City.
The Royals, though, roared back with five straight hits that resulted in five runs in their half of the first. The victim was right-hander Mike Pelfrey, who was being supported by folks who came in from his hometown of Wichita, Kan.
"We have a lot of confidence in our lineup," Guthrie said. "It doesn't surprise us when we see it but we hope to see it all year long. We've got guys one through nine that handle the bat, hit for power, hit line drives, have speed so hopefully that's something we'll see a lot this year."
Pelfrey, a 6-foot-7 former Mets starter, was less than a year removed from Tommy John surgery but won his first start for the Twins last Thursday. This outing was not so pleasant, and, in fact, lasted just two innings.
Alex Gordon began the Royals' onslaught with a single, then came Alcides Escobar's single, Billy Butler's RBI double, Mike Moustakas' run-scoring single and Salvador Perez's RBI double which was nearly caught by center fielder Darin Mastroianni. That was three runs and Eric Hosmer's ground-out and Lorenzo Cain's single accounted for two more.
When Gordon tripled to lead off the second inning and scored on Escobar's single, the Royals were up, 6-2.
"You want to get those hits with guys on baseball so hopefully we can keep that rolling," Butler said. "It's been a lot of fun so far."
The Royals got a seventh run in the third off reliever Anthony Swarzak on Hosmer's single and Jeff Francoeur's double, but the Twins kept nipping at Guthrie as Josh Willingham and Eduardo Escobar banged home runs.
Left-hander Tim Collins took over from Guthrie, got through the eighth inning and presented the three-run lead to Holland.
"I thought he did fine, let's be fair," Yost said. "It was pouring down rain, mud clogged all over his shoes. It was difficult circumstances, and he got through it."
Holland got Trevor Plouffe on a line drive that Gordon, slogging back in left field, caught on his fingertips. Chris Parmelee walked and pinch-hitter Wilkin Ramirez fanned. But Escobar blooped a single and Mastroianni walked to load the bases.
Up came the ever-dangerous Mauer.
"We had our best hitter up there at the end. It was pouring rain, but they were still hooting and hollering in the dugout," Twins manager Ron Gardenhire said. "We'll take that chance. We just needed one big hit and that's pretty good after the way it started."
As the rain came down, Holland struck out Mauer on six pitches.
"If I'd have thrown strikes earlier, I wouldn't have got so wet, so it was kind of my own fault," Holland said. "The mound wasn't that bad, I didn't think. I didn't have that much of a problem with the footing. I kind of slipped a few times but the biggest thing was the ball was getting kind of wet at the end, so I had to put it in my glove instead of holding it in my hand. But really that didn't affect it much."
Meantime, Kelvin Herrera had been warming up in the bullpen.
Yost's plan?
"I just had him up," Yost said. "We were going to see what happened with Mauer and just go hitter to hitter. But the circumstances would have been just as difficult for Herrera as they were for Holland."
As it turned out, Herrera wasn't needed. And a winning streak was sneaking into view.
Dick Kaegel is a reporter for MLB.com. This story was not subject to the approval of Major League Baseball or its clubs.