Rays go quietly in Texas, drop third straight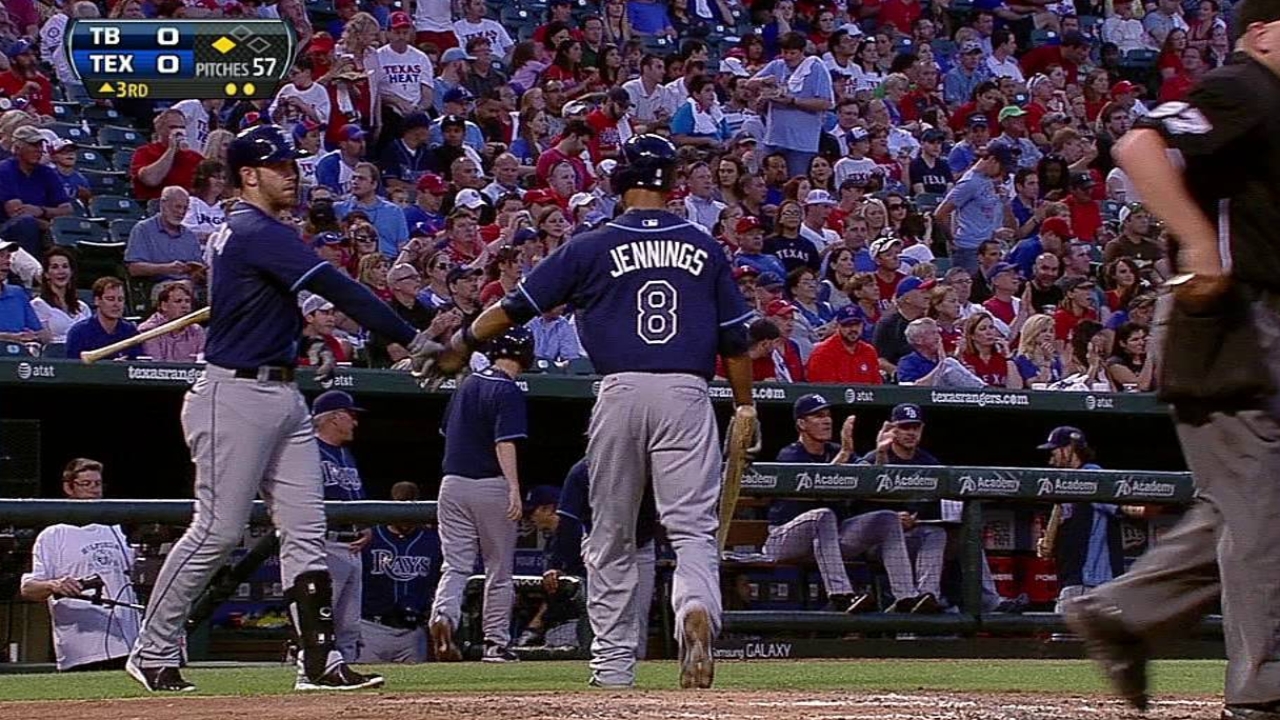 ARLINGTON -- Just like that, the Rays have lost three straight.
After getting waxed Sunday and having to wear a bad call Monday, Tampa Bay ran into a 24-year-old rookie buzz saw Tuesday night en route to a 6-1 loss to the Rangers at Rangers Ballpark in Arlington.
With the loss, the Rays dropped the three-game series to the Rangers in their only visit to Arlington in 2013, while falling to 3-5 on the season.
The teams will square off in the series finale Wednesday afternoon before the Rays head to Boston for the second leg of their 10-game road trip.
Nick Tepesch started for the Rangers, making his Major League debut. Until Tuesday night, the right-hander's only career outing above the Double-A level came in an outing for Triple-A Round Rock in its opener last week against Omaha.
Despite the circumstances, Tepesch never showed any signs of rookie awe, even after the Rays got off to a good start.
"You know, for his first big league start, I was impressed," said Ben Zobrist, who noted how composed Tepesch appeared. "... I thought he did a great job of keeping any emotions he might have had in check, and I thought he did a phenomenal job of just moving the ball around and keeping it on the corners. And mixing speeds and throwing strikes. And he was successful."
Tepesch escaped a bases-loaded jam in the second, finishing his Houdini act by striking out Kelly Johnson swinging for the third out.
"I was trying to make too good of pitches, rather than just quality pitches," Tepesch said. "I just started making quality pitches, have them put it in play and hopefully get a ground ball right at somebody."
Desmond Jennings doubled to start the third, and two groundouts later, the Rays speedster crossed home to give the Rays a 1-0 lead. That would account for all the Rays' scoring against Tepesch, and all of their scoring for the night.
Tepesch just kept hanging zeroes on the scoreboard.
Finally, with one out in the eighth, Johnson reached on a swinging-bunt single and Jennings doubled to left to put runners at second and third and chase Tepesch.
Robbie Ross took over and escaped the jam, which left Tepesch with a squeaky clean line for his debut that showed one earned run, four hits, three walks and five strikeouts in 7 1/3 innings en route to career victory No. 1.
"Very composed, good command of his offspeed pitches," said Rays manager Joe Maddon. "Can be equally difficult on a left-handed hitter with the way the curveball, slider, cutter -- whatever he wants to call it. He looks very comfortable throwing to left-handed hitters. That's what I got from watching today. Mixed it up well, threw strikes, he was good."
Because Tepesch seemingly came out of nowhere, the Rays did not have their normal encyclopedia of information about the opposing pitcher, which made Tuesday night even tougher on Rays hitters.
"We couldn't really watch any video or see -- there wasn't much where we could see what he was doing," Zobrist said. "We're kind of the guinea pigs for him, I guess. Seeing what it's like out there for the first time, too. Obviously, he probably had a lot more information on us than we had on him. It worked out for him."
Roberto Hernandez made his second start of the season for the Rays and allowed five earned runs in 6 2/3 innings to take his second loss. The veteran right-hander dropped to 2-9 with a 5.50 ERA in 13 career starts against the Rangers.
Tepesch complimented the Rays, calling them a "good Major League baseball team." But at this juncture, the Rays' offense is somewhat dormant, as evidenced by the fact they hit just four balls that left the infield Tuesday night.
"You know, it's one of those situations like Gene [Mauch] used to say," Maddon said. "You struggle at the beginning, you get off to a bad start, at the middle of the season you get into a slump, and if you do it at the end of the year, you choke. It's just one of those moments where we have to keep grinding it out. ... And again, it's just so early in the year, you just can't get concerned. And the biggest thing right now is to build confidence."
Bill Chastain is a reporter for MLB.com. This story was not subject to the approval of Major League Baseball or its clubs.