Peralta helps Brewers get ahead, but Cubs rally to win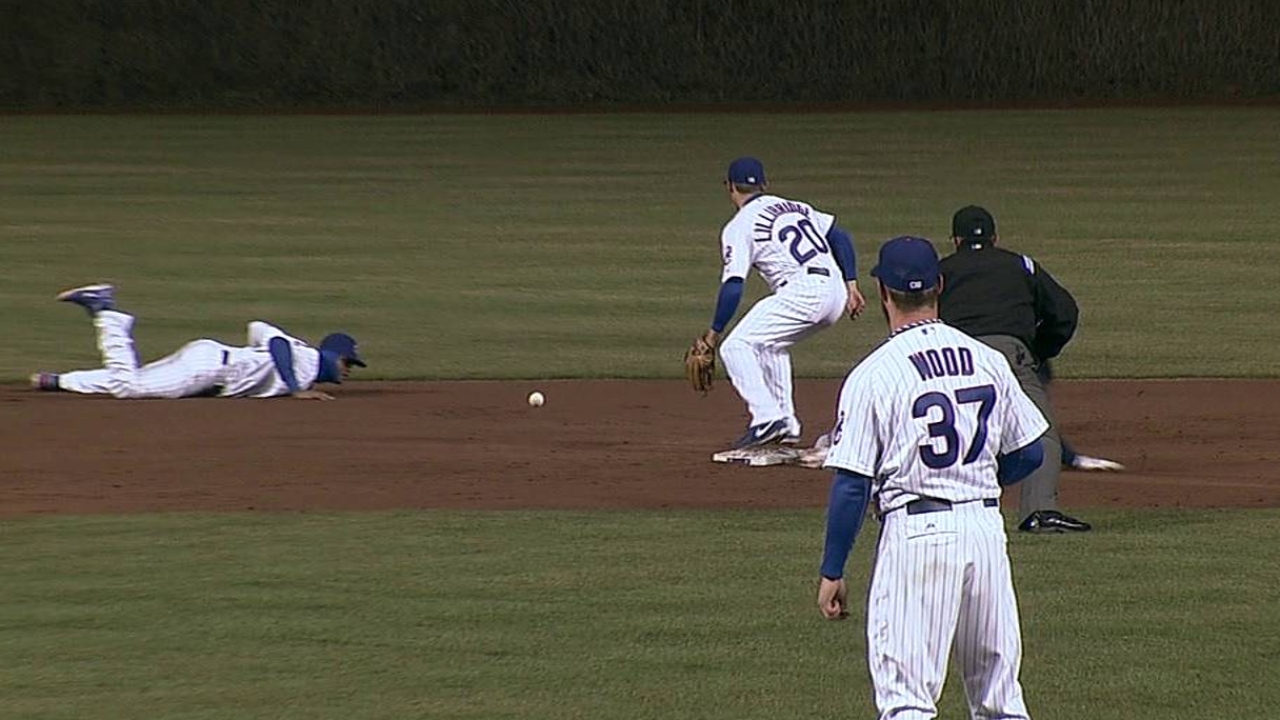 CHICAGO -- So much for using John Axford in low-leverage innings. Brewers manager Ron Roenicke argued he had no choice but to shelve that plan given the circumstances Tuesday, and the result was another loss for a closer and a team off to a discouraging start.
Just like two days earlier against the D-backs, Roenicke went to Axford for a second inning and got burned. After stranding the potential go-ahead runner at second base in an uplifting seventh, Axford surrendered a double and two walks in the eighth and watched all three runners score, sending the Brewers to a 6-3 loss to the Cubs at frigid Wrigley Field.
Add those runs to Axford's ugly start: He has recorded 10 outs this season and allowed nine earned runs on nine hits, with as many home runs (four) as strikeouts. In four outings, he has two losses and a blown save. He owns a 24.30 ERA.
"I've given up enough runs already to hurt a first half, probably even a full season," Axford said. "Hopefully I can just hold on, carry on a decent year from here."
The Brewers are 2-6 and facing the same relief woes that dug such a deep hole in 2012, when they tied the A's for baseball's best record after Aug. 20 yet still missed the playoffs.
Tuesday's letdown wasted a solid start from 23-year-old right-hander Wily Peralta, who allowed three runs, two earned, on six hits in 6 2/3 innings. Peralta touched 96 mph on a night so cold that many Brewers hitters wore ski masks. He struck out five batters and walked two.
Peralta was matched for most of the night by Cubs left-hander Travis Wood, who pitched into the seventh inning and held the Brewers scoreless aside from a three-run outburst in the second. The Brewers missed chances to put away Wood early. They had runners at second and third with one out in the first but did not score. They had the bases loaded with one out in the second inning and three runs already across when catcher Jonathan Lucroy grounded into a double play.
Lucroy was 1-for-5. In the four full games since the Brewers lost Aramis Ramirez to a knee injury, their cleanup hitters are 1-for-18 with eight strikeouts.
"We score three runs early, and we don't score again," Roenicke said. "We've got to put the pressure on and score some more runs."
The Cubs scored their first run in the fifth on Anthony Rizzo's groundout and got another in the seventh to knock Peralta out of the game in favor of left-hander Michael Gonzalez, who was called upon to face Rizzo with two outs and the tying runner at second base.
The Brewers acquired Gonzalez via free agency for just such matchups -- this one against a left-handed-hitting Rizzo who was 0-for-6 against southpaws entering the at-bat. But Gonzalez missed badly with his first two pitches, then threw a slider on the outside corner that Rizzo ripped for a double to right and a 3-3 tie.
Roenicke then called for Axford to face Alfonso Soriano, who hit an inning-ending flyout to center field. It was just the sort of uplifting outcome that Axford, Roenicke and the rest of the Brewers were looking for.
It was short-lived. After a terrific play by Cubs shortstop Starlin Castro robbed the Brewers of a run in the top of the eighth, Axford headed out for a second inning of work.
"You start looking at what you need to do, what you plan to do, and the game changes, and it doesn't allow you to do what you want to do," Roenicke said. "If we come out and get the people out that we're supposed to get out, it runs a lot smoother.
"Our choices for the late innings, it's the same thing. When [Jim] Henderson is down, then where do you go to?"
Henderson, Axford's temporary replacement at closer, was unavailable after throwing 30 pitches Monday. Left-hander Tom Gorzelanny was unavailable after pitching five times in the Brewers' first seven games, throwing 32 pitches over the previous two days. Burke Badenhop was being held for a save in the ninth.
That left four right-handed options: Alfredo Figaro, who spent the past two years starting in Japan and had thrown 56 pitches in two shaky innings against the D-backs on Saturday; Brandon Kintzler, who faced three Cubs hitters Monday and retired none of them; Mike Fiers, a starting pitcher with no experience in close-and-late situations; or Axford.
Roenicke stuck with Axford. He surrendered a leadoff double to Nate Schierholtz on a 1-0 pitch, and Schierholtz advanced on a sacrifice bunt. Axford walked Luis Valbuena intentionally and pinch-hitter Dioner Navarro unintentionally, loading the bases.
Now, Roenicke went to Figaro, who surrendered a go-ahead sacrifice fly to another pinch-hitter, Scott Hairston, and a two-run single to David DeJesus.
Was Axford surprised when he was sent out for the second inning?
"I was told pretty much right away that I was going right back out," Axford said. "I guess [I was] maybe more surprised by the situation. It was a tie ballgame and I was out there again. I don't know."
So was he surprised to be called upon in a tie game in the first place?
"Yes and no," Axford said. "Based on what I heard, maybe more non-pressure situations. Obviously, that didn't happen tonight. Either way, I should be getting the job done no matter what situation I'm in out there. I'm not saying it's an excuse. It's definitely not an excuse. I'm just saying -- I don't know. Just another tough spot for me to be in right now."
Roenicke was asked where he goes from here.
"We'll just keep doing the same thing and hopefully we'll have him where we can use him just clean innings in the sixth or the seventh inning, somewhere in there. Once in a while, it may be the eighth, depending on what happens with the game."
Adam McCalvy is a reporter for MLB.com. Read his blog, Brew Beat, and follow him on Twitter at @AdamMcCalvy. This story was not subject to the approval of Major League Baseball or its clubs.