Gattis, J-Up back Medlen's seven strong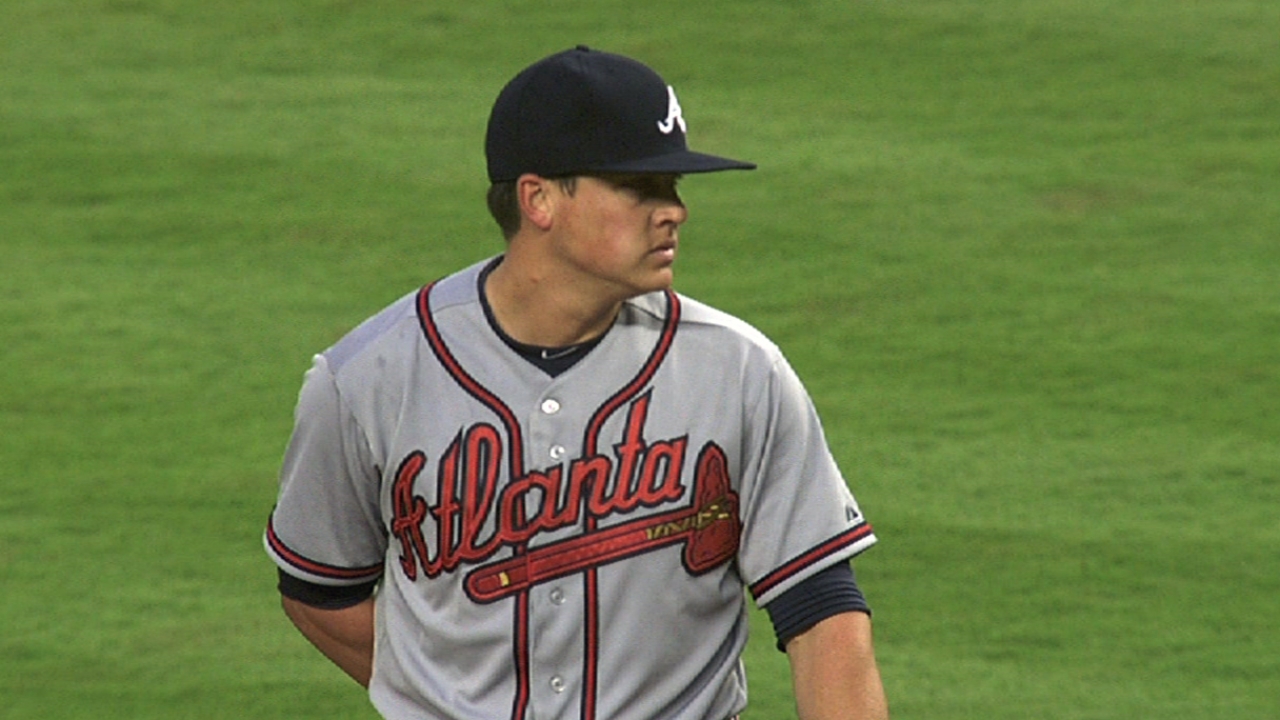 MIAMI -- Much of the buzz surrounding this year's Braves has been centered around Justin Upton's red-hot start and the power that exists throughout their lineup. But the team's early-season success has been significantly influenced by its overlooked pitching staff.
As the offense remained relatively quiet on Tuesday night at Marlins Park, Kris Medlen regained the dominant form he displayed last year and benefited from the two-run home run Evan Gattis supplied the Braves in their 3-2 win over the Marlins.
"What else can you say about Evan Gattis?" Medlen said. "He was the difference in the game for me."
With Freddie Freeman on the disabled list, Gattis has been moved into the cleanup spot in just the second week of his Major League career. The 26-year-old rookie catcher displayed his power potential to Marlins starter Wade LeBlanc with his first-inning home run that bounced and hit the large artistic display beyond the left-center field wall.
Gattis' second career homer provided some early cushion for Medlen, who limited the Marlins to one unearned run over seven innings. But Upton once again provided the crushing blow despite going homerless for just the third time this season.
Andrelton Simmons opened the eighth inning with an infield single and advanced to second base on right-handed reliever A.J. Ramos' throwing error. He scored easily when Upton's double dented the center-field wall.
"Any time you have a chance to add on, it's big because it kind of eliminates some stuff from the opponent," Braves manager Fredi Gonzalez said. "That was a big run that Justin drove in."
Upton's double provided the Braves with a necessary insurance run, considering Eric O'Flaherty allowed the Marlins to score an eighth-inning run on Placido Polanco's two-out single. O'Flaherty issued a leadoff walk to Austin Kearns and then intentionally walked the dangerous Giancarlo Stanton to put runners on the corners with two outs.
Polanco followed with his single before O'Flaherty ended the inning without further damage. Braves closer Craig Kimbrel kept things interesting by walking Donovan Solano to begin the bottom of the ninth. But Ramiro Pena, who entered to replace the less-mobile Juan Francisco at third base in the eighth inning, quieted the threat with a clutch double play. Pena raced toward the plate to catch Rob Brantly's bunt in the air and then fired to first base to retire Solano, who was unable to get back to the bag in time.
"He got us out of that jam," Gonzalez said. "If not, we might still be playing that game, or I might be sitting out there losing more hair."
While winning seven of their first eight games, the Braves have provided the bald Gonzalez plenty of reasons to be jovial. They have won five straight and allowed just two earned runs in their past three games. Their starting pitchers have limited the Marlins to four hits in the first two games of this series.
"If we keep doing that, we're going to be OK," said Gonzalez , whose pitchers have compiled a 2.13 ERA. "The offense will come around eventually. We've got too many guys who are too good of hitters for it not to come around. But I'm really pleased with the way we've been pitching."
Following the lead of Paul Maholm, who allowed one hit in seven scoreless innings on Monday, Medlen scattered three hits and issued two walks in his seven-inning effort. The only run he surrendered came after B.J. Upton dropped Greg Dobb's fly ball in deep center field to begin the bottom of the second inning.
Dobbs advanced to third base on Solano's infield single and scored on Brantly's sacrifice fly.
While Medlen's defense hurt him in the second inning, it saved him after Polanco began the bottom of the fourth with a double. Playing in on the grass, Simmons made a diving grab of Solano's hard grounder and prevented Polanco from scoring.
Medlen retired the final 10 batters he faced and totaled just 24 pitches in his final three innings. In the process, he distanced himself from the mechanical flaws that plagued him during Spring Training, and he looked more like he had while posting a 0.97 ERA in the 12 starts he made after moving from the bullpen to the rotation last year.
"Once I felt my delivery kick in, I just felt comfortable," Medlen said. I knew if I made the pitches I needed to make, I'd have quicker at-bats. The last three innings I threw, I had single-digit pitch counts each inning. That felt like the old me."
Mark Bowman is a reporter for MLB.com. This story was not subject to the approval of Major League Baseball or its clubs.