Rockies can't hold on after big inning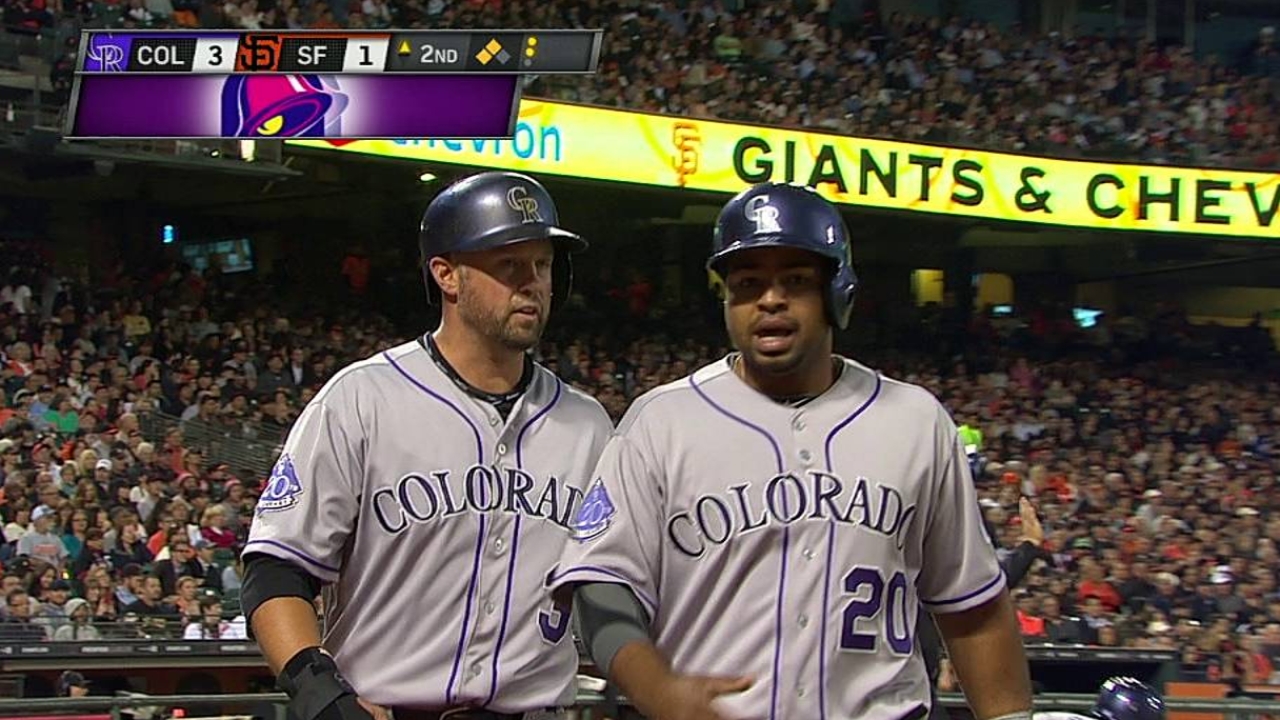 SAN FRANCISCO -- When Troy Tulowitzki launched a solo home run off Giants starter Tim Lincecum in the top of the fifth inning Tuesday night, giving the Colorado Rockies six runs and a four-run lead at pitcher-friendly AT&T Park, manager Walt Weiss Park liked his team's odds of winning.
"Generally I'd take my chances with six runs in this park, but we couldn't shut them down," Weiss said.
No lead was safe Tuesday for Colorado against the defending World Series champions. The Rockies led by four after scoring five runs in the second. They still led by four after Tulowitzki's shot.
But after starter Juan Nicasio ran out of steam and Colorado's bullpen imploded, the Rockies suffered a painful 9-6 loss at a park where they have a history of painful defeats.
Rockies reliever Matt Belisle said he doesn't know why the Rockies keep having so much trouble at AT&T Park.
"But we're tired of it, and we're ready to keep battling," Belisle said. "Yesterday was a great fight. Today obviously doesn't taste good at all, but this is a new team, and I'm not worried about what we've done or not done in the past. This is a new, fresh, solid team. And we need to make a statement tomorrow."
The Giants broke a 6-6 tie in the eighth when pinch-hitter Andres Torres ripped a leadoff double off Belisle and scored on Angel Pagan's sharp single to center. With reliever Wilton Lopez on the mound, they added two more runs in the inning.
Nicasio lasted only five-plus innings, allowing four runs on five hits while walking five and striking out two. Reliever Adam Ottavino fared even worse. He was charged with two runs on three hits, including a three-run homer by Giants shortstop Brandon Crawford, and lasted only a third of an inning.
After spotting the Giants a 1-0 lead in the first, the Rockies scored five times in the second, batting around against right-hander Tim Lincecum with Dexter Fowler delivering a two-run double and Josh Rutledge a two-run single.
The Rockies still led by four runs after Tulowitzki belted a two-out home run off Lincecum in the fifth, but their lead disappeared in the sixth when San Francisco scored four times, batting around.
Nicasio walked the first two batters he faced, ending his night. After Ottavino threw a wild pitch, Crawford lined a three-run, opposite-field home run into the left-field seats.
Crawford came into the game hitting .217 with no home runs.
"We're down by four, so to say I was trying to hit a sacrifice fly wouldn't really be true," Crawford said. "I was trying to hit the ball hard and I was still trying to elevate it, just in case I do hit a fly ball we would still get at least one run."
Crawford hit a 94 mph fastball that caught too much of the plate.
"I was not really trying to be too fine right there," Ottavino said. "If I throw it directly on the corner, yeah, it would be a better pitch. But I just tried to come after him. I've had good success with him in the past. He put a good swing on it."
The Giants, who outhit Colorado 14-4, loaded the bases against Ottavino. Pinch-hitter Nick Noonan and Pagan singled and advanced on Marco Scutaro's sacrifice bunt. After an intentional walk to Pablo Sandoval, Ottavino left in favor of Belisle, but Hunter Pence lined a first-pitch single to right and Noonan scored, making it 6-6.
Belisle then got Giants first baseman Brandon Belt to hit into an inning-ending 4-6-3 double play.
Tulowitzki got the Rockies' second-inning rally started with a leadoff walk. He moved to third when Scutaro made an ill-advised and off-line throw to second after ranging to his left to field Michael Cuddyer's ground ball to second.
Todd Helton brought Tulowitzki home with a fielder's choice ground ball, drawing the Rockies even. Lincecum walked Wilin Rosario but fanned Chris Nelson for the second out, bringing Nicasio to the plate.
Lincecum immediately unleashed a wild pitch that sailed past catcher Hector Sanchez but got ahead in the count 1-2. He needed one more strike to get out of the inning. Instead, he walked Nicasio, and Fowler ripped the first pitch down the right-field line for a two-run double, giving Colorado a 3-1 lead.
"He made some quality pitches, but there were some pretty good pitches to hit," Fowler said.
Rutledge followed with a two-run single to center before Lincecum retired Carlos Gonzalez on a fly ball to left.
The Giants scored one run in the second, cutting Colorado's lead to 5-2. Crawford walked, moved to second on a sacrifice bunt and scored on Scutaro's two-out single, barely beating Gonzalez's strong throw.
The worst was yet to come for Colorado.
"I've only been here a year and a half, but it seems to me that their balls are finding holes," Ottavino said. "They hit a lot of ground-ball hits later in the game off of Belisle and Lopez. I thought I made a good pitch to Pagan. Found grass on that one. I don't know. They just had a lot of things going their way. We had a nice lead. They made a nice comeback."
After winning their first two series, the Rockies have lost back-to-back games in this three-game set, which concludes Wednesday afternoon. Instead of going for a third straight series win, they'll try to salvage one game.
"We've been scoring early on this run we've had, and that felt good," Belisle. "We know our offense is always going to keep us there. Today, you can put that game on me. The pitching wasn't executed like it should. It hurts, but we can swallow that and we'll be better.
"I'm proud of how the guys got after it after that fight yesterday to come out and really get after their starter. Take your licking and come out tomorrow and try to get away with a good win."
Eric Gilmore is a contributor to MLB.com. This story was not subject to the approval of Major League Baseball or its clubs.