Giants pick up Lincecum with big rallies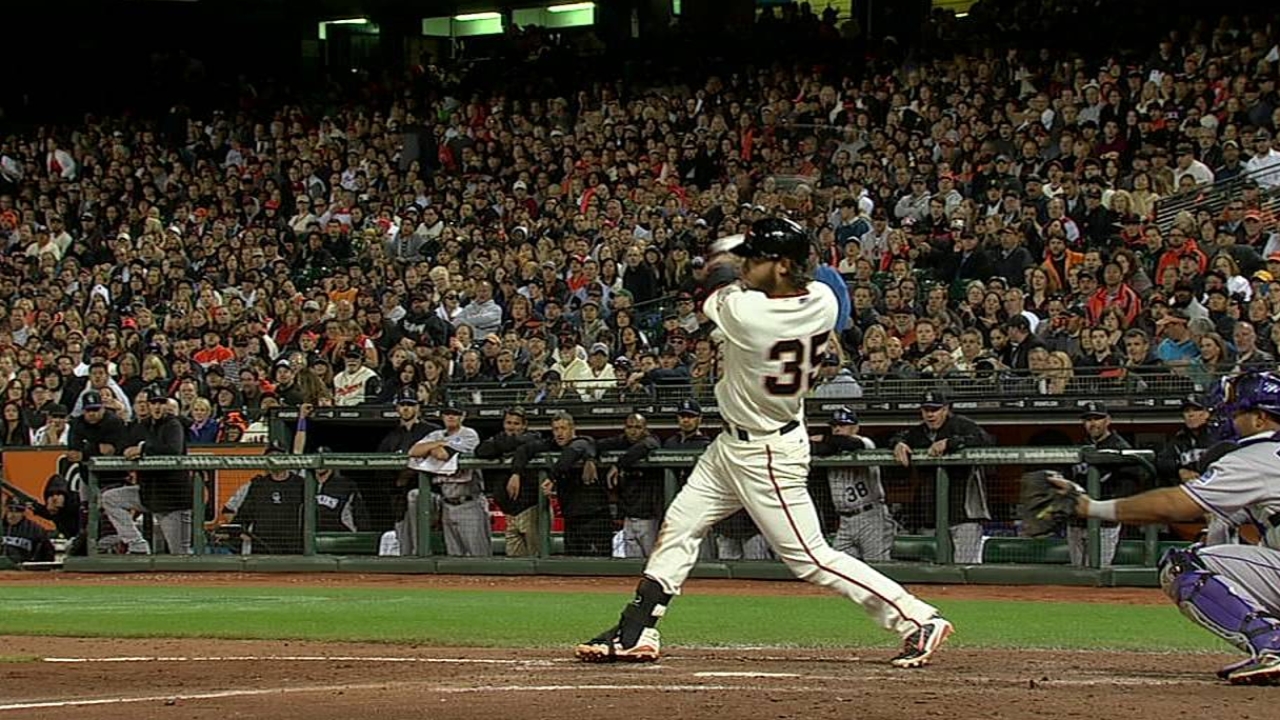 SAN FRANCISCO -- If anything could distract the Giants from Tim Lincecum's inconsistency, it was their stirring comeback Tuesday night against the Colorado Rockies.
Actually, despite his inelegant statistical pitching line, Lincecum performed well enough to keep the Giants competitive. And compete they did, overcoming a four-run deficit to defeat the Colorado Rockies for the second straight game, 9-6.
After Brandon Crawford's three-run, sixth-inning homer fueled a four-run rally that tied the score, the Giants roared ahead in the eighth inning on RBI singles by Angel Pagan, Pablo Sandoval and Gregor Blanco.
The Giants' surge followed another rough outing by Lincecum, who yielded six runs in six innings, including a five-run second inning during which he issued all but one of his four walks. He matched a career high by walking seven in his regular-season debut last Wednesday at Los Angeles.
"That second inning really was a doozy for me," Lincecum said.
Yet after that experience, the only scoring Lincecum permitted was Troy Tulowitzki's fifth-inning homer, which increased the Rockies' lead to 6-2. Overall, Lincecum allowed just four hits and struck out seven -- all but one swinging, reflecting the effective movement on his pitches.
"What was impressive was how he regrouped," Giants manager Bruce Bochy said. "I thought he threw the ball great. He didn't let the game get out of control."
Lincecum issued three walks in the second inning, including one to opposing pitcher Juan Nicasio with two outs. That set up Dexter Fowler's two-run double and Josh Rutledge's two-run single.
After returning to the dugout, Lincecum visited the video area to scrutinize himself for flaws.
"I saw stuff I needed to see," he said.
Then the Giants saw stuff they wanted to see.
Lincecum's erratic performance was all but forgotten by the time the Giants batted in the eighth inning with the score tied, 6-6. Pinch-hitter Andres Torres lined a leadoff double to right field off Rockies reliever Matt Belisle. Up came Pagan, whose third hit of the evening grazed Belisle and proceeded into center field, scoring Torres.
Right-hander Wilton Lopez relieved Belisle, but that didn't stop the Giants, who amassed a season-high 14 hits. Marco Scutaro's single brought up Sandoval, who grounded his hit past first base. Blanco then surprised Lopez with a two-out bunt that delivered Scutaro and sealed the Giants' eighth consecutive victory over Colorado.
"We were having good at-bats all night, so I think it was kind of a matter of time," Crawford said of San Francisco's comeback.
Said Rockies manager Walt Weiss of the Giants, "They won a championship playing like that. They string together a lot of good at-bats."
Earlier, Crawford provided the lift that made the eighth inning possible. With Colorado leading, 6-2, Nicasio vanished after walking Blanco and Hector Sanchez to open the sixth. Both advanced on reliever Adam Ottavino's wild pitch. Up came Crawford, who lined Ottavino's 2-0 fastball over the left-field wall.
"We're down by four, so to say I was trying to hit a sacrifice fly wouldn't really be true," Crawford said.
Of Crawford's eight career home runs, two were grand slams and three were three-run homers.
"I'm pretty sure I told you last year, maybe the year before, that I pick the right spots," Crawford jokingly told a reporter.
Singles by pinch-hitter Nick Noonan and Pagan helped load the bases for Hunter Pence, who recorded his 1,000th career hit, a one-out single off Belisle that tied the score.
Chris Haft is a reporter for MLB.com. This story was not subject to the approval of Major League Baseball or its clubs.