Home cooking: Padres return to Petco with victory
Kotsay drives in winning run; Venable ties career high with four RBIs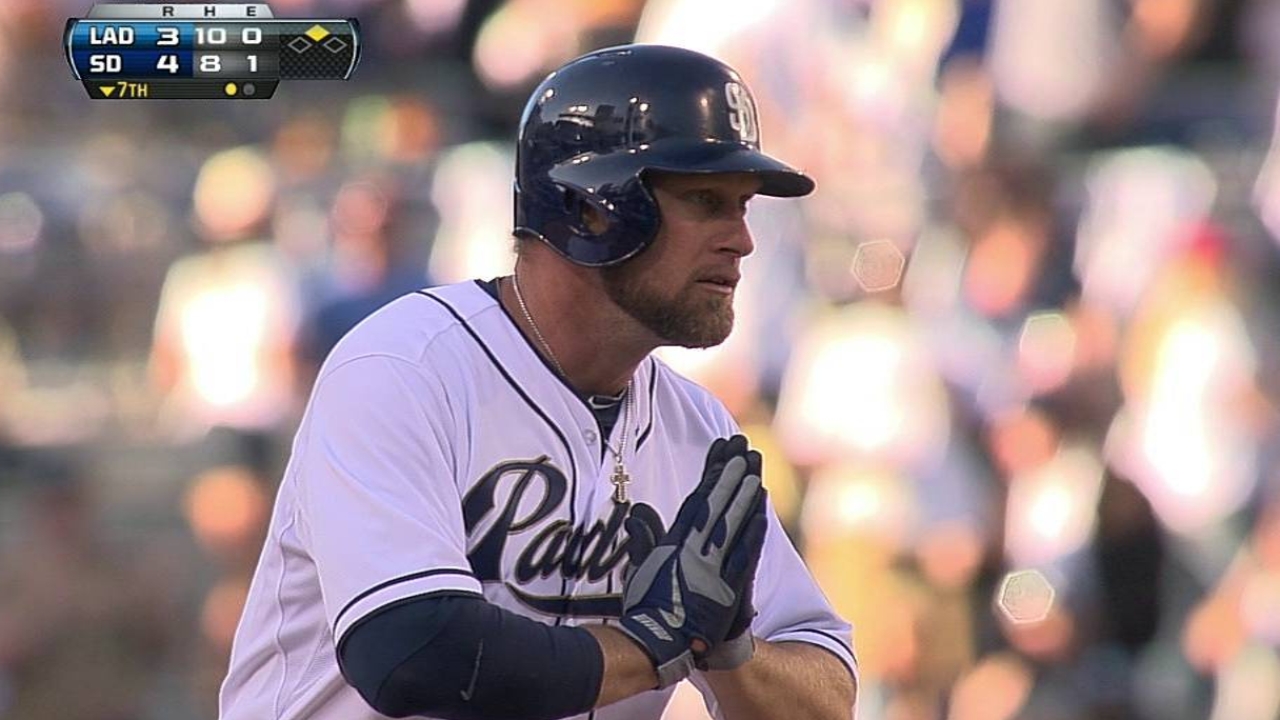 SAN DIEGO -- Could it possibly be the perfect elixir to the Padres' moribund offense during the first week of the season was returning to their cavernous downtown ballpark, Petco Park?
"There's no excuse for the way we played on the road," said right fielder Will Venable. "We're better than that. That's not up to our standards. Coming home was a nice jolt of energy."
And a late jolt, at that.
The Padres scored six runs over the final two innings of their 9-3 victory over the Dodgers before a sold-out crowd of 44,336, who not only saw the team hang its first crooked number on the scoreboard of the season, but get seven two-out runs in the process.
"That was a good sign," said manager Bud Black. "That was good to see. We think we're capable of doing that moving forward."
Limping home from a 1-5 road trip to start the season, with 14 runs scored in those games, no less, the Padres (2-5) got a career-high-tying four RBIs from Will Venable and critical pinch-hits from veteran Mark Kotsay and Chris Denorfia that led to runs.
Bench options like Kotsay and Denorfia were available late in the game partly because Black opted not to burn a hitter as a pinch-hitter in the middle of the game, as he sent the team's best-hitting pitcher, Wednesday starter Eric Stults, to pinch-hit after Nick Hundley's solo home run in the fifth inning.
Stults flew out, but it kept the bench intact with the Padres clinging to a 3-2 lead that eventually led to a tie game two innings later when former Padres slugger Adrian Gonzalez tied the game with an RBI single for the Dodgers (4-3).
"Bottom of the fifth in a one-run game, there's still a lot of game to be played," Black said. "That kept our bench in order moving forward."
The Padres would need it, as they forged ahead for good in the seventh inning. Cameron Maybin beat out an infield single to start the inning off Dodgers relief pitcher Ronald Belisario (0-1). Hundley, who drilled his first home run two innings earlier, was asked to move the runner along with a bunt.
Sound easy enough, right?
It wasn't, as Belisario's pitch ran high and tight on Hundley, who leaned back, barely managing to get a bunt down.
"That almost hit me in the chest," Hundley said. "It was self-preservation."
Kotsay, now 6-for-10 in his young season, followed with an RBI double that gave the Padres a 4-3 lead. One inning later, another bench player, Denorfia, ignited a five-run inning with a pinch-hit single, too.
"That's fun," Kotsay said of embracing his role. "That's why I love the National League."
From there, the Padres piled on in a way they have yet to do so this season. Two batters after Denorfia gave the team a 6-3 lead, Venable cleared the bases with a triple to make it 9-3. Venable gave the team a lift early and late, as he hit a home run in the first inning off Dodgers pitcher Josh Beckett.
"Will didn't need the new park," Black said in jest, referring to the ballpark modifications.
San Diego pitcher Clayton Richard, coming off a start against the Mets where he allowed seven runs in 4 1/3 innings, fared considerably better on Tuesday despite allowing a lot of baserunners.
Richard allowed nine of the first 15 hitters he faced to reach base, including a single to Gonzalez to start the fourth inning, followed by an opposite-field home run to right-center field by Juan Uribe.
The Uribe home run landed just beyond the new right-field fence, which was modified in the offseason. Instead of 402 feet to right-center, the fence is now 391 feet.
"That was not typical of Petco Park," Venable said. "You hate to see it happen to them and not us."
All told, Richard allowed two runs on eight hits with three walks and three strikeouts. He was on deck as Hundley went deep.
That's when Black brought Richard back after he had thrown 99 pitches. Not willing to dip into his five-man bench -- four, really, since a team almost always holds the backup catcher from game duty -- for Stults. And while his at-bat didn't work out, the ones after him certainly did.
"We were able to get that matchup we wanted, with Kots out there," Hundley said. "That run was huge. It gave us the lead."
San Diego left fielder Carlos Quentin left the game in the seventh inning after being hit with a pitch just about his right wrist. He had an X-ray that Black said "came back looking good."
"We were all holding our breath there, but the picture looked good. They tested it and he was able to keep his strength."
Corey Brock is a reporter for MLB.com. Keep track of @FollowThePadres on Twitter. This story was not subject to the approval of Major League Baseball or its clubs.