Plenty of blame to go around after loss to Padres
Uribe goes yard, Adrian picks up RBI, but bullpen suffers first meltdown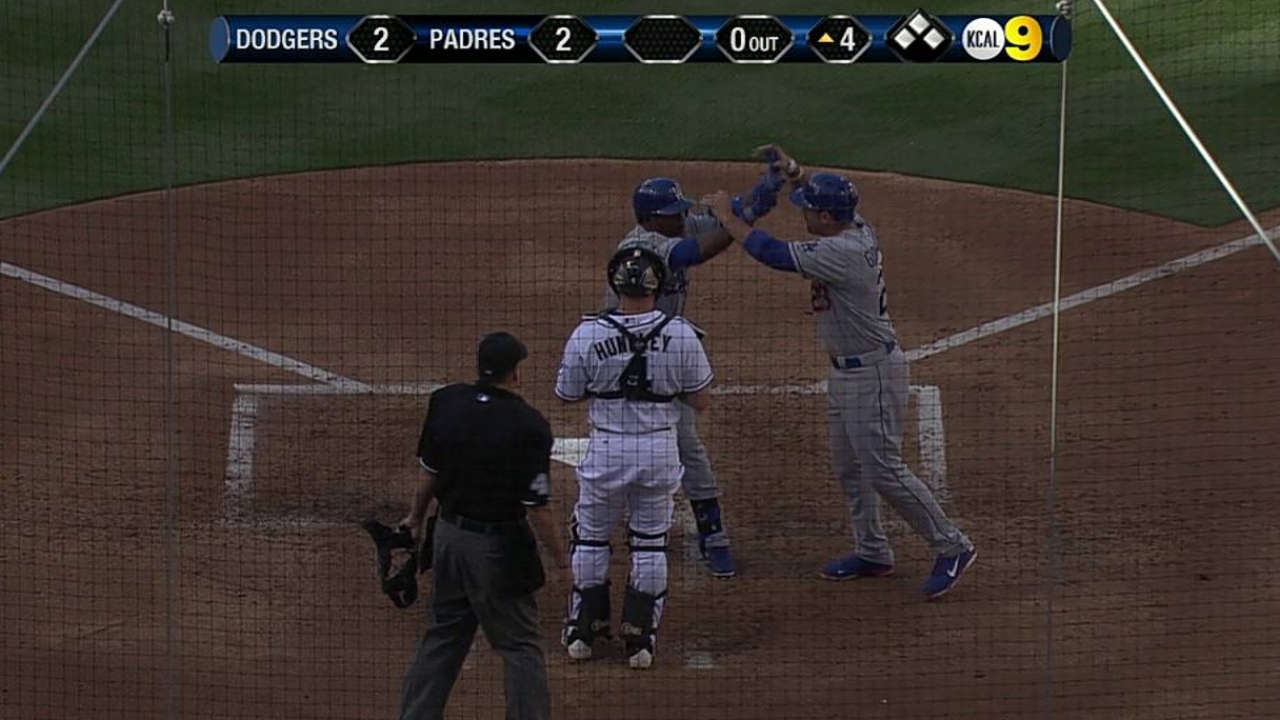 SAN DIEGO -- The Dodgers had one of those team losses where there was plenty of blame to go around on Tuesday.
Wasteful at bat and sloppy on the mound, the Dodgers allowed the Padres to run up a 9-3 victory in their Petco Park home opener. The outcome snapped Los Angeles' three-game win streak and San Diego's three-game losing streak.
This was the kind of outcome manager Don Mattingly must have feared when he kept saying that all the money spent and players acquired won't matter if the Dodgers don't play solid baseball.
Matt Kemp, the key to any Dodgers offensive attack no matter how many stars they acquire, pointed the finger at himself.
"I've just got to do better," said Kemp, who went 1-for-5 to bring his average up to .120. "Adrian [Gonzalez] is doing a great job, [Andre Ethier] is doing a great job. I have to step up and do something different. I'm a little frustrated right now. We lost today.
"[Carl Crawford] and Mark [Ellis] are doing great jobs at the top of the lineup. I've got to get in the mix, at least move runners over and drive them in and get on base for Adrian. Once it happens, we'll be a dangerous team. I'll turn around. I'm going to hit. I'm feeling better every day. Sometimes I have bad at-bats. I need better at-bats. Seems I've had a double play near every game. I have to figure it out."
Kemp hit into one of his team's three double plays, and his third of the season.
"We have to have good at-bats and calm down with men on base and stay within our game plan and not get too anxious," said Mattingly.
The biggest blow for the Dodgers was a two-run opposite-field homer by Juan Uribe off Padres starter Clayton Richard. Uribe started at third base over Luis Cruz only because he had a .385 career average off Richard, although it was hard to call his first homer of the year a blast.
Ordinarily, it would have been an out, but this year, the Padres moved the fences 10 feet closer to the plate and cut them down five feet in height. The ball barely cleared the top of the new fence. In Uribe's first at-bat of the game, he tapped into a 1-2-3 double-play.
"That was not typical of Petco Park," Will Venable said. "You hate to see it happen to them and not us."
The Padres not only moved the fences in at Petco, they moved the visitors' bullpen out, but not far enough on this night. Dodgers relievers hadn't allowed a run all season, but they combined to allow six runs in the seventh and eighth innings.
Dodgers starter Josh Beckett allowed a pair of home runs, including a solo shot in the first inning by Venable, who later greeted J.P. Howell with a three-run triple in a five-run eighth inning, tying a career high with four RBIs.
Beckett noted that six of the Padres' runs scored with two outs.
"We've got to do a better job with two out, myself included," he said. "It's not a backbreaker, but it's tough to swallow. When we score with two outs, it's really uplifting."
The Dodgers spent most of the game playing catch up, tying the game with a pair of runs in the fourth, falling behind in the fifth on Nick Hundley's home run, tying it again in the top of the seventh on Gonzalez's clutch two-out RBI single.
Beckett only made it through five innings in 84 pitches.
"Josh will be around the plate and he'll give up his share of hits, but he's got to keep himself in the game," said Mattingly. "He had a lot of pitches to that point. He'll be more efficient than that as time goes on. He's not the same guy he was before. He has to use more pitches to get through the innings."
The only clean inning out of the Dodgers' bullpen was the sixth by Chris Capuano, who is a starter relieving, as compared to a reliever. Capuano, forced to the bullpen by the acquisitions of Zack Greinke and Hyun-Jin Ryu, was impressively sharp considering he was pitching on nine days' rest.
Ronald Belisario took over, and with his pitches lacking the customary sink, immediately allowed the Padres to take a 4-3 lead they never relinquished.
Instead, Paco Rodriguez, Matt Guerrier and Howell combined to issue five walks in the fatal 48-pitch eighth inning. The three and Belisario each were charged with their first runs allowed of the season, three of them to Guerrier.
Former Padre Gonzalez, however, offered these words of insight to reporters: "We've got great pitching, guys. You've got to always remember that."
Ken Gurnick is a reporter for MLB.com. This story was not subject to the approval of Major League Baseball or its clubs.