A's ride three homers to sixth straight win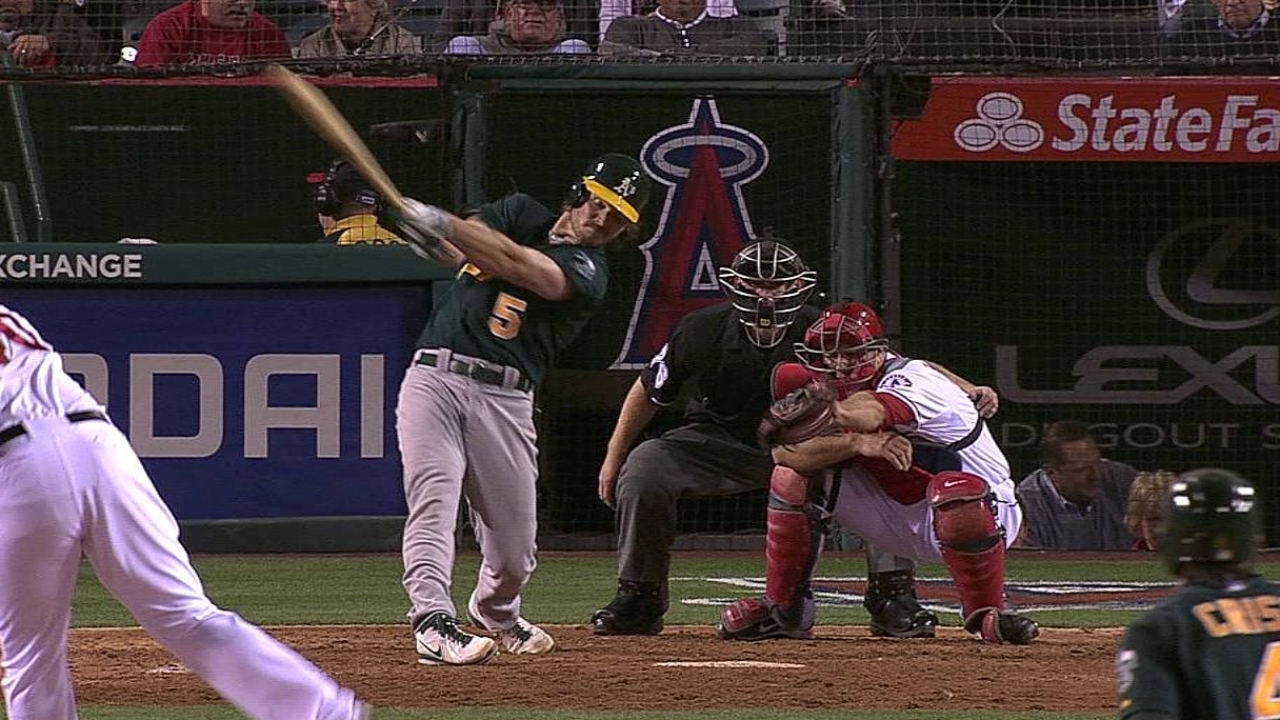 ANAHEIM -- Once upon a time, the A's relied on pitching and defense to offset their lack of power.
Yet, there they were on Tuesday night at Angel Stadium, making up for spotty pitching and defense with a power outburst in a 9-5 victory, extending their winning streak to six games while spoiling the Angels' home opener.
The A's made a habit out of hitting the ball out of the park in 2012, a trend they've carried into '13. Through eight games, they're tied with the Yankees for a Major League-leading 15 homers, and Coco Crisp has four of them in as many games. He hit 11 all of last year.
"I don't expect him to lead the league in home runs, but he's got some power and sometimes when you get off to a good start, it could be one of those years where some things fall into place," manager Bob Melvin said. "That's not typically what we see him do, but he's seeing the ball well, elevating some balls. If you make a bad pitch to him, he's all over it."
That's what Crisp did in the second as the A's, who had already pounced on Angels starter C.J. Wilson for three two-out runs in a 43-pitch first inning, built a four-run lead. But homer-happy Oakland wasn't happy all of Tuesday, as sloppy play both on the mound and around it had the club trailing heading into the seventh.
Cue John Jaso and Brandon Moss, who turned things around against power right-hander Kevin Jepsen, Jaso hitting a three-run homer off the bench and Moss launching a two-run shot to give the A's back the lead.
The biggest culprit was the defense, but Jarrod Parker, who was knocked around in his first start of the season last week, didn't look much better this time around. Parker allowed six baserunners in the first two innings, but escaped both frames unscathed. That wasn't the case in the third, when he allowed five of his nine hits and two runs.
The A's righty then loaded the bases in the fourth, departing with one out for his shortest outing since May 18, when he lasted all of two innings against the Giants.
"Not good," said Parker, who also walked three. "It was a battle all night. I made a few pitches when I had to, but not as many as I needed to. Obviously guys picked me up big time tonight.
"Just command of the fastball. It wasn't there, and that's something I take pride in."
"We haven't seen that in a while and missing by, at times, wide margins, which he doesn't normally do either," Melvin said.
Still ahead by a pair of runs, the A's failed to keep it that way in the sixth, committing two errors as the Angels took the lead with three runs of their own.
Righty Pat Neshek allowed a leadoff triple to Mike Trout, and Brendan Harris followed with a routine fly to right field, where Chris Young dropped the ball, allowing Harris to reach second. Harris, again, was on the move by way of an A's defensive miscue seconds later, with shortstop Jed Lowrie committing a fielding error on Albert Pujols' ground ball to put runners at the corners with no outs.
Lefty Jerry Blevins was brought in to face Josh Hamilton, who tied the game with a sacrifice fly, the Angels ultimately grabbing the lead on Howie Kendrick's RBI triple off Ryan Cook that was misplayed by Young, who is in right field while the injured Josh Reddick remains out.
It was a rough night all around for Young, who struck out for the second time in the seventh. Fortunately, his teammates picked him up.
With two outs, two on and Jepsen on the mound in the seventh, Jaso pinch-hit for Derek Norris and delivered a three-run homer. Josh Donaldson kept the inning going with a base hit, and Moss, who already had two RBIs after singling in the first inning, followed with his two-run blast.
Jaso is now 24-for-52 (.462) with five home runs and 19 RBIs in his career at Angel Stadium.
"When I'm in the lineup, it's about seeing pitches and learning the pitcher," Jaso said. "When you get in there to pinch-hit, you always have the mindset of swinging. The manager's not putting you in there to see pitches. He's putting you in there to hit."
"We're playing well right now offensively," Melvin said. "Our defense wasn't great and we didn't pitch like we normally do, but when the offense continues to score runs in that fashion, sometimes it overshadows the things you're doing wrong."
Jane Lee is a reporter for MLB.com. Read her blog, Major Lee-ague, and follow her on Twitter @JaneMLB. This story was not subject to the approval of Major League Baseball or its clubs.