Lee K's six, nearly goes distance in Phillies rout
Young a double shy of cycle; Howard launches first homer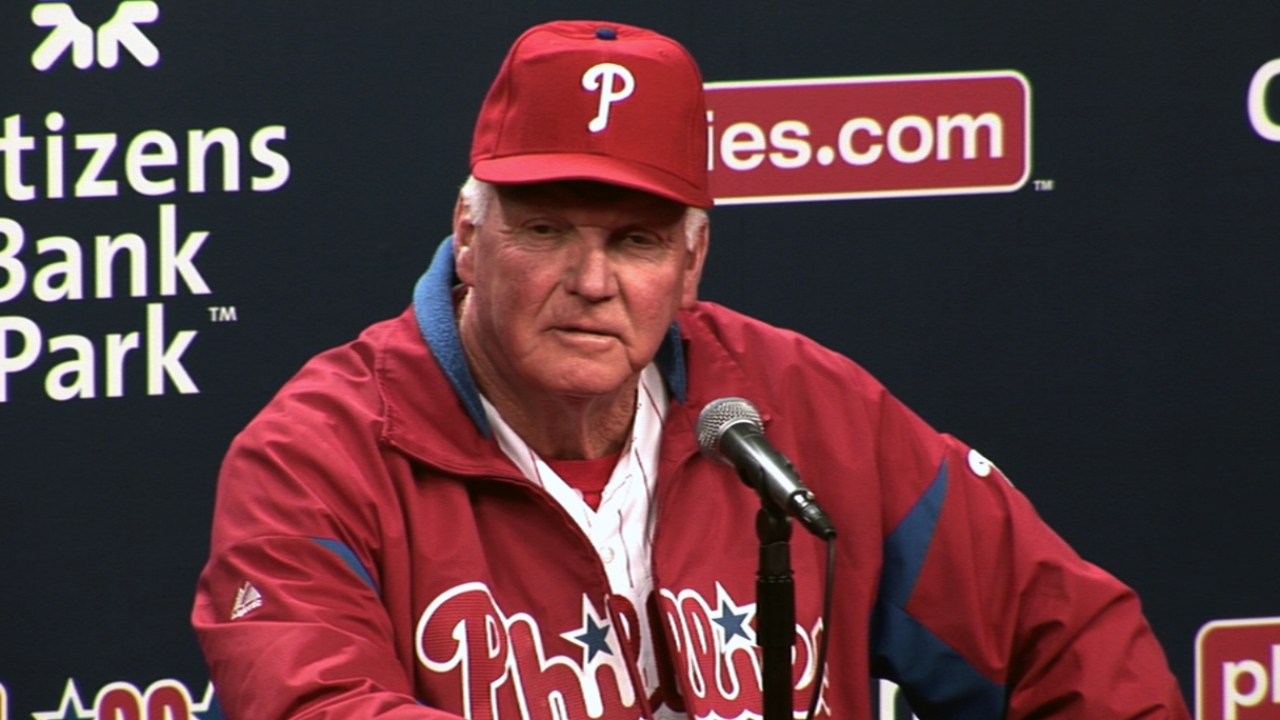 PHILADELPHIA -- The Phillies believe they upgraded their lineup in the offseason when they acquired Michael Young, Ben Revere and Delmon Young.
Time will tell if those talent evaluations were good ones.
But in the end, the Phillies are built to win with pitching. They have committed $324 million in salary to Cole Hamels, Roy Halladay and Cliff Lee, but through the season's first eight games only Lee has earned his keep. He threw eight scoreless innings last week in a victory over Atlanta and threw another gem Tuesday in an 8-3 victory over the New York Mets at Citizens Bank Park.
Lee is 2-0 with a 1.08 ERA after allowing eight hits, three runs (two earned) and striking out six in 8 2/3 innings against the Mets. Hamels and Halladay are a combined 0-4 with a 12.50 ERA.
"No," said Lee, when asked if he felt any extra pressure to perform following their struggles. "It's still so early. It's two outings. It's way early.
"I'm not too worried really about anybody on this team. Our talent is going to play out over the course of the season pretty well. I still like our team. I like our chances."
Those chances improve considerably if the rest of the rotation steps up like Lee.
"I've loved playing behind Cliff," Michael Young said. "He's basically a baseball player who pitches. He loves to compete. He has a bad at-bat and he gets [upset]. It's a lot of fun to play like that."
It is fun to play with a lead, too. The Phillies jumped out early after talking before the game about bringing more energy to the field. Phillies manager Charlie Manuel likes to say teams look energetic and full of life when they are hitting and scoring runs, which is absolutely true. How many teams look energetic when they are getting shut out every other day?
But Young said they verbalized their desire to bring more life to the park.
"We talk before every game about our approach offensively," Young said. "I think it was just a couple small things said, maybe at 7:02 [p.m.] in the dugout and you can kind of just get a bit of a vibe, and I think those are things that happen with veteran teams. A couple things are said and next thing you know, everyone kind of gets the point. And at that point, we know what the goal is for the day."
The Phillies scored four runs in the second inning and three more in the third to build a 7-0 lead. The runs in the third came on solo home runs from Ryan Howard, Young and John Mayberry Jr. The home run barrage came during a span of five pitches against Mets right-hander Dillon Gee. It was the first time the Phillies hit three homers in an inning since July 23, 2011, against the Padres, when Howard, Chase Utley and, yes, Michael Martinez did it.
"I was just living in the wrong part of the strike zone," Gee said.
"They've obviously got a good-hitting lineup over there," Mets catcher John Buck said. "They can put some runs on the board."
It was Howard's first home run and extra-base hit of the season. It snapped his longest at-bat streak (28) to start a season without a home run. It also snapped his longest at-bat streak to start a season without an extra-base hit.
"It's always good to see the big guy in the middle of the order get going," Young said.
Young tripled to left-center field in the fourth inning to make him a double short of the first Phillies cycle since David Bell accomplished the beat June 8, 2004, against the Montreal Expos. But Young grounded out in the seventh inning, and didn't get another chance to get an at-bat.
"I did it in college, I'm good," Young joked.
Young produced the energy players talked about before the game. He went from first to third on Domonic Brown's single to left-center field in the second and stretched a double into a triple in the fourth.
"A lot of times you can set the tone on the bases for sure," Young said. "Just small things like that. Even if I get thrown out, it just kind of sets the tone of this is how we're going to play. We're going to be aggressive and stay in attack mode."
Lee attacked the Mets throughout the night. He needed 96 pitches to get through eight innings and came within an out of getting his first complete game of the season, but he allowed two singles in the ninth and Manuel pulled him for Mike Adams.
Manuel got booed on his walk to and from the mound. He understood.
"That was tough," Manuel said. "I want Cliff to finish the game, but at the same time I didn't want him to get into a big inning there."
Phillies fans should hope for more problems like this: booing the manager because he would not let a starting pitcher complete a game. It has been the opposite too much too early.
Todd Zolecki is a reporter for MLB.com. This story was not subject to the approval of Major League Baseball or its clubs.