Gee roughed up by Phillies in three-inning outing
Mets' three-game win streak snapped; Buck hits two-run shot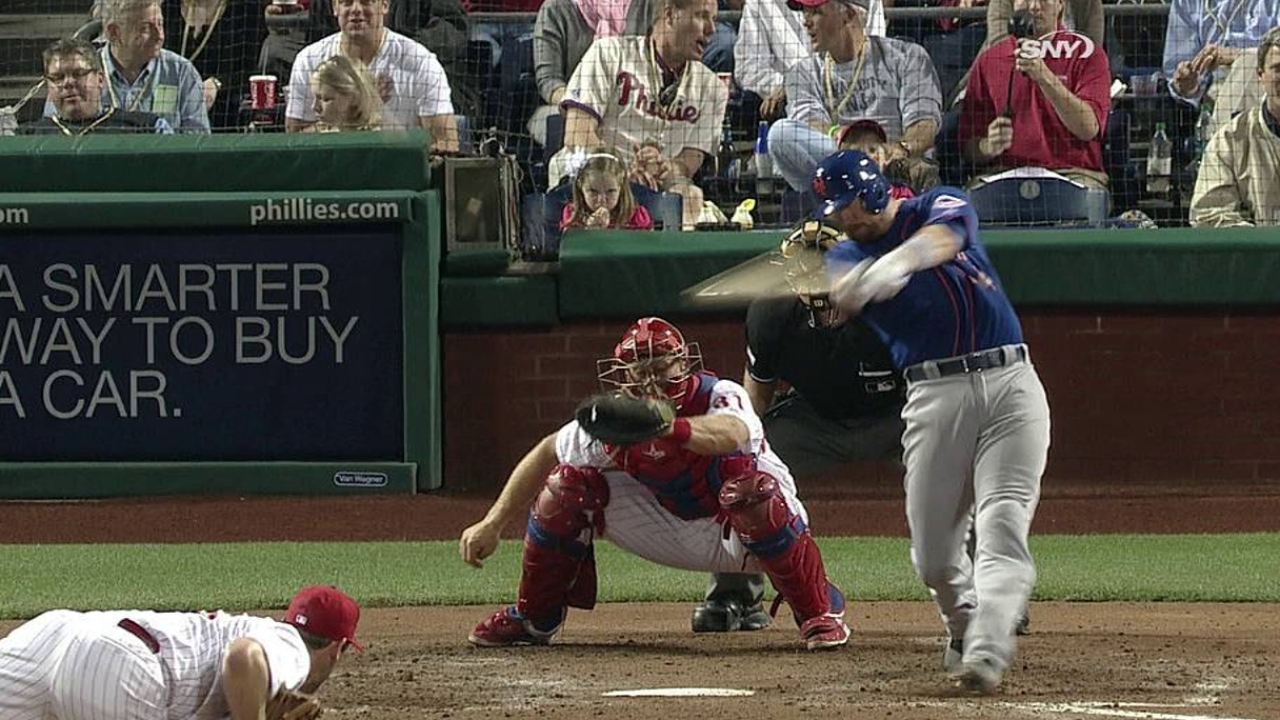 PHILADELPHIA -- As the Phillies were busy completing their Tuesday night drubbing of Dillon Gee, Mets manager Terry Collins glanced up at Citizens Bank Park's left-field scoreboard every so often to watch replays of Gee's pitches.
"I mean, he'd miss his target by two feet," Collins said. "It was quite obvious he didn't make any pitches when he needed to."
The Phillies pounded out seven runs in three innings against Gee, including three home runs in the span of five third-inning pitches. By the time the carnage was complete, the Mets had absorbed an 8-3 loss at the hands of their division rivals, adding more than a full run onto their rotation ERA for a reality check.
"There's not a whole lot to say," Gee said. "A terrible night, but you've got to move past it. I've had a bad outing before but I've bounced back. And I'll do it again."
So strong last week in his first start of the season, Gee had already allowed four runs by the time Ryan Howard came to the plate to lead off the third. Howard and Michael Young then padded Philadelphia's lead by homering on back-to-back pitches; two batters later, John Mayberry completed the trifecta with another solo shot.
The seven total runs against Gee also included Mayberry's two-run double in the second inning, Jimmy Rollins' RBI double and pitcher Cliff Lee's run-scoring single. Entering the ballpark with a 1.87 rotation ERA over their first seven games, the Mets exited with a 3.11 mark.
"I was just living in the wrong part of the strike zone," Gee said. "I don't know what else to say about it. Just forget about it."
The ERA correction came on a rare night when the Mets mustered some offense against Lee, another Phillies nemesis, scoring twice on John Buck's fourth-inning homer and again on a passed ball in the fifth. Jordany Valdespin set up the latter run with an RBI triple, animatedly clapping his hands at third base despite the large deficit.
Buck's home run drove in his 13th and 14th runs this month, extending his National League lead. A year after Mets catchers combined to hit five homers, Buck already has four on the young season.
But Lee settled down to retire 11 in a row from the fifth into the ninth inning, positioning himself for a complete game victory. He would have achieved it had Marlon Byrd and Justin Turner not rapped out a pair of singles in the ninth, forcing Lee off the mound with one out to go.
"It's not a surprise or shock," Lee said of his success. "It's the standard I hold myself to."
Mets starters have held themselves to the same elite standard throughout the young season, enduring just one sub-par start -- Aaron Laffey's outing last Sunday -- through two turns of the rotation. It had been a comforting beginning to the season for the Mets, who did not know how they would respond this summer without former aces R.A. Dickey and Johan Santana.
Gee was one of those who responded with aplomb, pitching 6 1/3 innings of one-run ball in his first start against the Padres. But his success faded rapidly at Citizens Bank Park, against an aging Phillies team that can still be quite dangerous.
"They've obviously got a good-hitting lineup over there," Buck said. "They can put some runs on the board."
It was just unusual to see a team do so efficiently against New York's starting pitchers, who ranked second in the Majors in ERA heading into the game. Jon Niese had taken tangible steps toward embracing his new role as staff ace. Matt Harvey had enthralled everyone in blue and orange with his first two electric starts of the season. Even Jeremy Hefner, a rotation sub for Santana, had looked sharp.
It would have been tough to keep up. And the Mets know that they will have more nights like Tuesday.
The key will be making them the exception, not the norm.
"I think we had the right mentality to feel that we are going to get that every night," Buck said. "That's the right attitude, the right approach. But when it doesn't happen, I think we need to realize what sport we're in and what it is, just shake it off, and truly expect it tomorrow."
Anthony DiComo is a reporter for MLB.com. Follow him on Twitter @AnthonyDicomo. This story was not subject to the approval of Major League Baseball or its clubs.