Konerko, Rios homer in Interleague loss to Nats
Starter Peavy records seven strikeouts but surrenders three long balls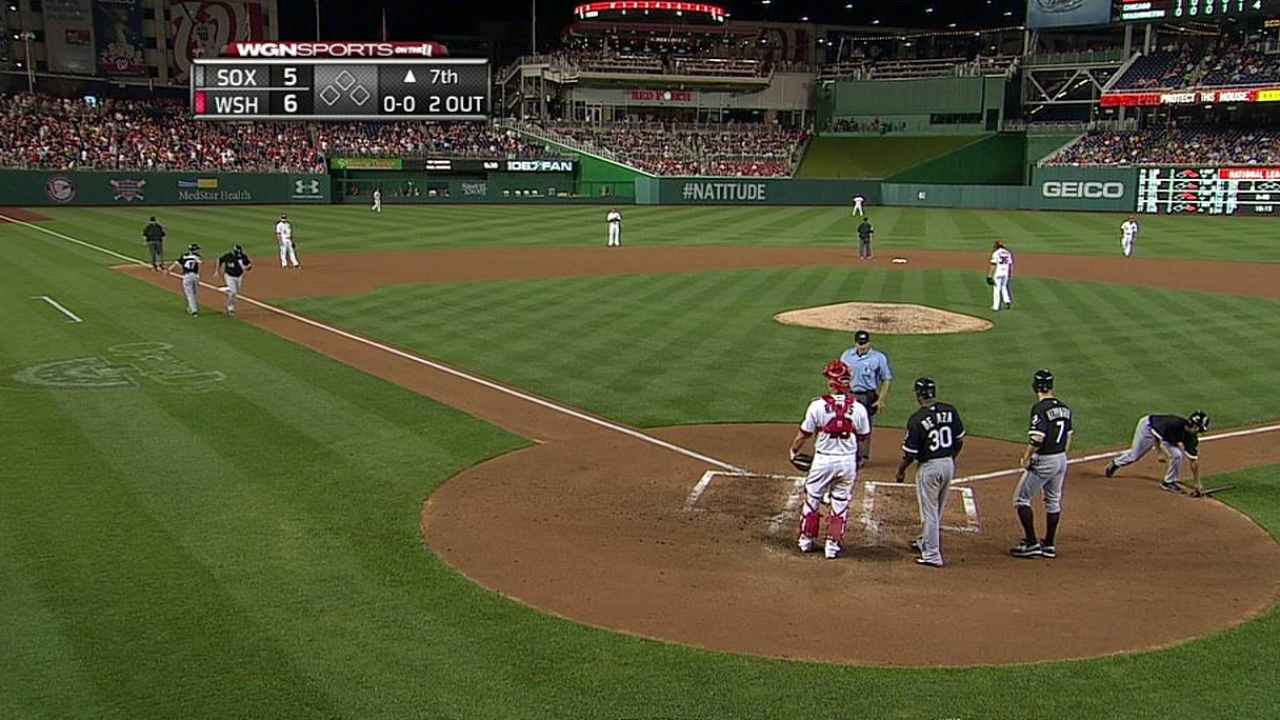 WASHINGTON -- During Tuesday's 8-7 loss to the Nationals, starter Jake Peavy admittedly ran out of gas during a four-run sixth after battling through an unexpectedly hot and humid night in the nation's capital, and second baseman Gordon Beckham departed before the Nationals' half of the third with nerve irritation in his left wrist.
Beckham sustained the injury off a swing on a 2-1 pitch from Gio Gonzalez in the second.
The White Sox bullpen couldn't hold the Nationals (5-2) steady, with Adam LaRoche's eighth-inning homer off Matt Thornton providing the ultimate margin of difference. It was LaRoche's second homer of the night and his first two hits of the season.
The White Sox finished 1-for-10 with runners in scoring position, wasting viable scoring opportunities in four of the first six innings. Yet the story of this game is far from completely negative for the visitors playing the first game of this three-city, 10-game road trip.
The offense came to life late, with Paul Konerko's three-run homer in the seventh off Tyler Clippard and Alex Rios' two-run shot in the ninth off closer Rafael Soriano (who earned his third save) bringing the White Sox ever so close.
"It was kind of a back-and-forth game, a lot of home runs out there," said Konerko, who now has 416 homers as a member of the White Sox and 423 overall. "Their starter was out of the game early. Peavy battled through. It was a good game. They were just a little bit better in all the areas."
"They were swinging the bat, and it was like they would get a lead, and we would try to catch back up," manager Robin Ventura said. "Just one of those where they were swinging it today. They are very talented."
When Peavy last pitched in Washington, on June 19, 2010, he threw a 1-0 shutout against an up-and-coming Nationals team. This three-hitter took place just three starts before Peavy sustained his season-ending injury -- a torn lat -- against the Angels in Chicago. That effectiveness wasn't quite duplicated on Tuesday when facing a team now considered by many to be the best in the National League.
Peavy allowed six runs on nine hits over 5 1/3 innings, but the most damaging statistic was the three home runs he surrendered and two game-changers during a four-run sixth. Jayson Werth's mammoth shot to left, following Denard Span's leadoff double, and LaRoche's blast to center following a walk to Ryan Zimmerman were of the no-doubt-about-it variety.
"Obviously, the sixth inning got away from us," said Peavy, whose first-pitch fastball to Werth came after a visit to the mound from bullpen coach and acting pitching coach Bobby Thigpen. "I didn't have much there, and it was hot and humid, and I ran out of gas. I didn't have much left with LaRoche, and he put a good swing on it."
"That takes a lot out of you, to go through that lineup," Ventura said. "A lot of good at-bats, at-bat after at-bat. It was just one of those [things where] they finally got to him.
In fairness to Peavy, who struck out seven, he should have had more run support. During a 33-pitch first inning for Gonzalez, the White Sox loaded the bases with one out on Jeff Keppinger's single to break a 0-for-19 drought, Rios' single and a walk to Konerko. But the White Sox only scored in the frame because Gonzalez balked home a run after striking out Dayan Viciedo.
Alejandro De Aza, who reached base via three hits and a walk, opened the third with a double, then doubled with one out in the fifth against Gonzalez, but he didn't score either time. De Aza was doubled off second in the fifth when he broke for third on a 3-1 pitch to Keppinger, which Keppinger popped up to shortstop Ian Desmond. Zimmerman deked De Aza into a slide at third, meaning Desmond had enough time to nail the leadoff hitter.
Rios' single and stolen base, a throwing error by catcher Wilson Ramos and Konerko's sacrifice fly got the White Sox going in the sixth. Rios finished with three hits, and he also threw out Bryce Harper and Gonzalez trying to stretch singles into doubles. He contributed to the rise in pitch count on Gonzalez, who finished with seven strikeouts and 99 pitches in just five innings.
"They're just patient guys. I learned that in the American League," said Gonzalez of the White Sox. "They want to make sure to select their pitch, and when they find it, they make sure to put it in play, and that's exactly what they were doing. That's exactly what it was, just trying to get me out of the game quick."
Gonzalez was long gone when Soriano retired Konerko on a fly ball to center to end the game. The White Sox (4-3) never gave in, but they also didn't have enough to extend their modest two-game winning streak.
"Nice to watch the boys swing the bats and fight to the end. We're going to do that," Peavy said. "I just hate putting us in a hole there. I know the bullpen guys will tell you the same thing. We just couldn't stop the bleeding."
Scott Merkin is a reporter for MLB.com. Read his blog, Merk's Works, and follow him on Twitter @scottmerkin. This story was not subject to the approval of Major League Baseball or its clubs.