J-Up stays hot as Maholm, Braves two-hit Marlins
Upton triple shy of cycle, while lefty tosses seven frames of shutout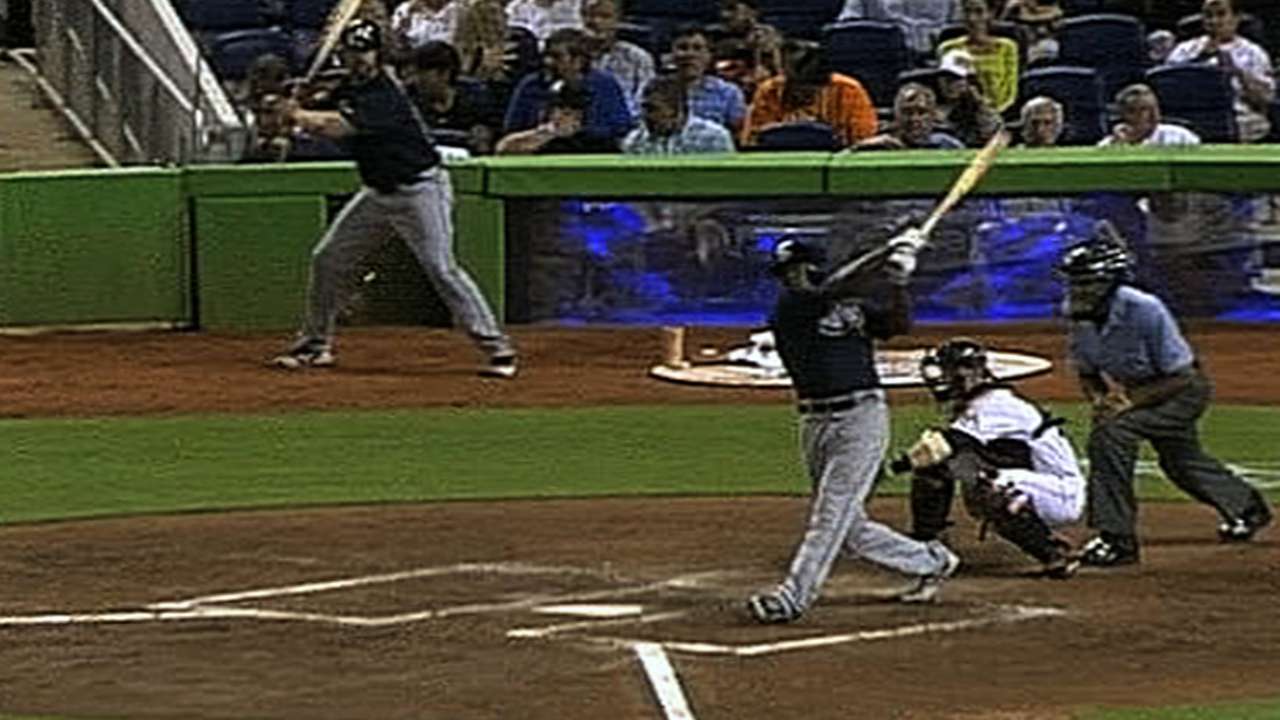 MIAMI -- Justin Upton is eventually going to go through consecutive games without a home run, and Paul Maholm is destined to surrender a run at some point. But the Braves have had some fun watching these two players look invincible during the first week of the season.
Upton continued to add to the splendor of his early-season success, as he highlighted a four-hit performance with his sixth home run of the season and provided a masterful Maholm all the support he needed in Monday night's 2-0 win over the Marlins at Marlins Park.
"I told [Upton] to just keep doing it when I pitch," Maholm said. "He's obviously one of the top players in the league. It's awesome that we were able to trade for him and get him in this lineup. It's fun to watch. Not having to face him, it's a lot better."
Craig Kimbrel stranded two runners in a rocky ninth inning that preserved a two-hit shutout and the contributions of Maholm, who surrendered one hit over seven scoreless innings. The veteran left-hander has not allowed a run in 12 2/3 innings through his first two starts.
"He's going out there and mixing his pitches well and getting outs," Upton said. "We have fun playing behind that, and that gives us confidence at the plate."
Confidence is certainly not an issue right now for Upton, who highlighted the eighth four-hit game of his career with a sixth-inning leadoff home run that was headed for downtown Miami before it hit a pole behind a 401-foot sign located beyond the left-field wall.
The solo shot gave Upton his sixth home run in just his 25th at-bat of the season. He hit his sixth home run last year on June 20, in his 228th at-bat of the season. Upton is the 10th player since 1916 to have at least six homers through his team's first seven games, and the only Braves player among this group of 10. Mike Schmidt tops the list, with seven in 1976. All of the others had six: Gabby Hartnett in 1925, Dolph Camilli in 1935, Willie Mays in 1964, Lou Brock in 1967, Ken Griffey, Jr. in 1997, Larry Walker in 1997, Luis Gonzalez in 2001 and Alex Rodriguez in 2007.
Upton has positioned himself to break the franchise record for homers (10) in April. It is currently shared by Andres Galarraga, who did it twice (1998 and 2000), and Ryan Klesko (1996).
"You definitely notice it," Upton said of his impressive early-season success. "You can't ignore it. But you've got to try to not get too high on it."
While hitting .423 with six home runs and a 1.192 slugging percentage through his first seven games with Atlanta, Upton has supported the belief that he is on a mission to prove the D-backs were wrong to give up on him and diligently attempt to trade him before dealing him to the Braves.
But Upton said he is just having fun with his new team, which has won six of this season's first seven games.
"You can't live like that," Upton said. "You can't live hoping other people fail. I'm just not that type of person. I'm with a new team now and I'm having fun. This is a great clubhouse and a great place to play. I'm just enjoying myself."
Upton finished a triple shy of the cycle and displayed some gritty hustle when he went from first base to third base on Evan Gattis' eighth-inning single.
Along with the monstrous homer he hit off Kevin Slowey in the sixth inning, Upton provided a pair of singles and a fourth-inning leadoff double that put him in position to score the game's first run on Dan Uggla's groundout.
Upton's first hit of the night -- a single in the first inning -- marked his eighth hit of the season, with all eight of those hits coming with two strikes. His next three hits all came with no more than one strike. Still, Upton's eight two-strike hits are the most in the Majors (the Indians Michael Bourn has seven).
"There are times you tip your hat and say, 'This guy is hitting really well,' and hope you don't have to face him in a key situation," Slowey said. "He did a wonderful job tonight."
With Upton providing all of the necessary damage on the offensive end, Maholm cruised through his seven scoreless innings with comfort. He issued two of his three walks to Giancarlo Stanton, and surrendered his only hit when Placido Polanco singled to center with two outs in the third inning.
After walking Stanton to put runners at first and second base in the third inning, Maholm retired 13 of the final 14 batters that he faced. The only blemish during this stretch came when he grazed Juan Pierre with a 0-2 fastball in the fifth inning.
"Obviously I'm going to eventually give up runs," Maholm said. "But I'm going to try to ride this as long as possible. Every time out, I'm going to try to do the same thing. I'm going to try to be aggressive, get some quick outs, mix speeds and get some ground balls. Some days it's going to work, and some days it's not."
Mark Bowman is a reporter for MLB.com. This story was not subject to the approval of Major League Baseball or its clubs.