Slowey outdueled by Maholm in Marlins' home opener
Righty hit hard by Upton, but allows just two runs; Miami held to two hits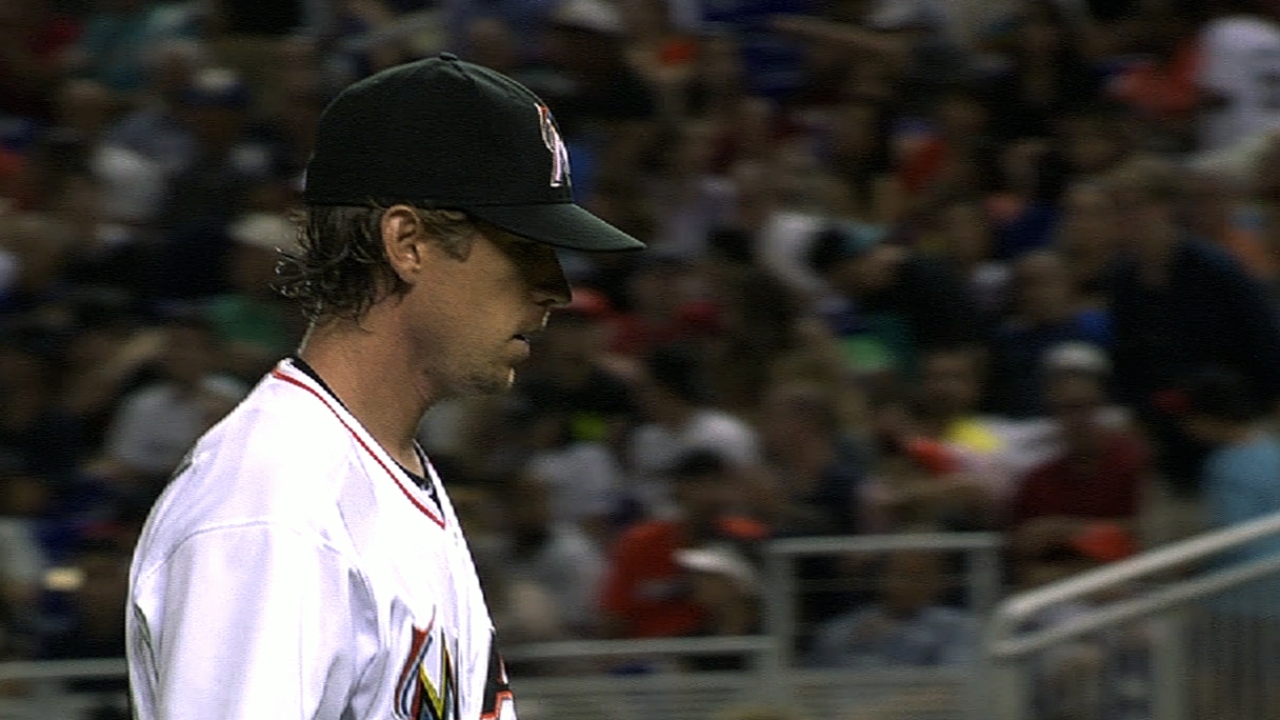 MIAMI -- If Kevin Slowey can consistently turn in performances like he did on Monday night, the Marlins would certainly take it.
It's the end result that the club would like to change.
Slowey was impressive over seven solid innings, but Justin Upton was downright sensational.
Upton had four hits and was a triple shy of the cycle in the Braves' 2-0 victory over the Marlins in front of 34,439 in the home opener at Marlins Park.
An energized crowd watched a well-pitched game. But the Braves had Upton doing damage at the plate, while lefty Paul Maholm allowed just one hit in seven innings. The Marlins finished with just two hits, and they were shut out for the third time in seven games.
"When we don't score runs, it puts a lot of pressure on the pitching," manager Mike Redmond said. "If Kevin Slowey gives us seven innings, and gives up two runs, I'm pretty happy with that. I like our chances. We're going to win a lot of games with that."
Slowey is the first Miami starting pitcher to go as far as seven innings, but he still couldn't get the team in the win column. In the new season, losing is getting old as the Marlins fell to 1-6.
"We just weren't able to muster any offense and give him any support," Redmond said.
Upton unloaded on a one-out homer to deep left field in the sixth inning, giving the Atlanta slugger six homers in seven games.
"He's a fantastic hitter to start with, and he has a great approach," Slowey said. "Today, he was willing to shorten his swing and go back up the middle. And then he would go the other way for a double. His last at-bat, he got a ball that he could handle, and he handled it.
"For me as a pitcher, I need to try to stay one step ahead of him. There are times you tip your hat and say this guy is hitting really well, and hope you don't have to face him in a key situation. He did a wonderful job tonight."
Placido Polanco's two-out single in the third was the only hit allowed by Maholm. The only other hit was by Rob Brantly off closer Craig Kimbrel in the ninth.
Miami actually had a chance in the ninth, putting runners on the corners, but Kimbrel struck out Adeiny Hechavarria to spoil the home opener.
"I've been on teams where we've been through it," Polanco said of Miami's struggles at the plate. "This is not going to last long. We have a good team and we work hard. Every day is a different day. We show up tomorrow and take tough at-bats."
The atmosphere was energetic in the opener of Miami's second season at Marlins Park. The fourth-largest crowd in the stadium's history remained in the game until Hechavarria swung through Kimbrel's 96-mph fastball.
"The fans were great tonight. The fans were out there in full force," Slowey said. "I went out there to warm up and there was a lot of yelling and cheering and encouragement. I think those are the things, that for me, they are very meaningful."
The Braves snapped a scoreless deadlock in the fourth inning, with Upton getting the threat started. Upton's second hit of the night was a leadoff double, and he moved to third on Evan Gattis' flyout to left field. Upton scored on Dan Uggla's groundout to short.
"It's fun. We're winning," Upton said. "We're winning in different ways and every night is different. We're having fun out there and it's been a good week."
Atlanta's ability to manufacture a run on one hit is something Miami was unable to do early.
In the first inning, Miami had back-to-back, two-out walks by Giancarlo Stanton and Greg Dobbs. But the inning ended on a flyout to right by Justin Ruggiano.
After Polanco singled to center in the third, the Braves weren't giving Stanton much to hit, and he walked for the second time, taking a full-count offspeed pitch. The potential rally was stalled when Maholm struck out Dobbs.
With such an inexperienced team, Redmond is stressing that his squad stays focused on each new day.
"We've got to stick with it. We can't panic," the manager said. "We've got to stay positive with these guys, and when it turns -- it always does. We just had 14 hits the night before last. I still have a lot of confidence in these guys to turn it around."
Joe Frisaro is a reporter for MLB.com. He writes a blog, called The Fish Pond. Follow him on Twitter @JoeFrisaro. This story was not subject to the approval of Major League Baseball or its clubs.