Pence's homer enough for Giants to top Rockies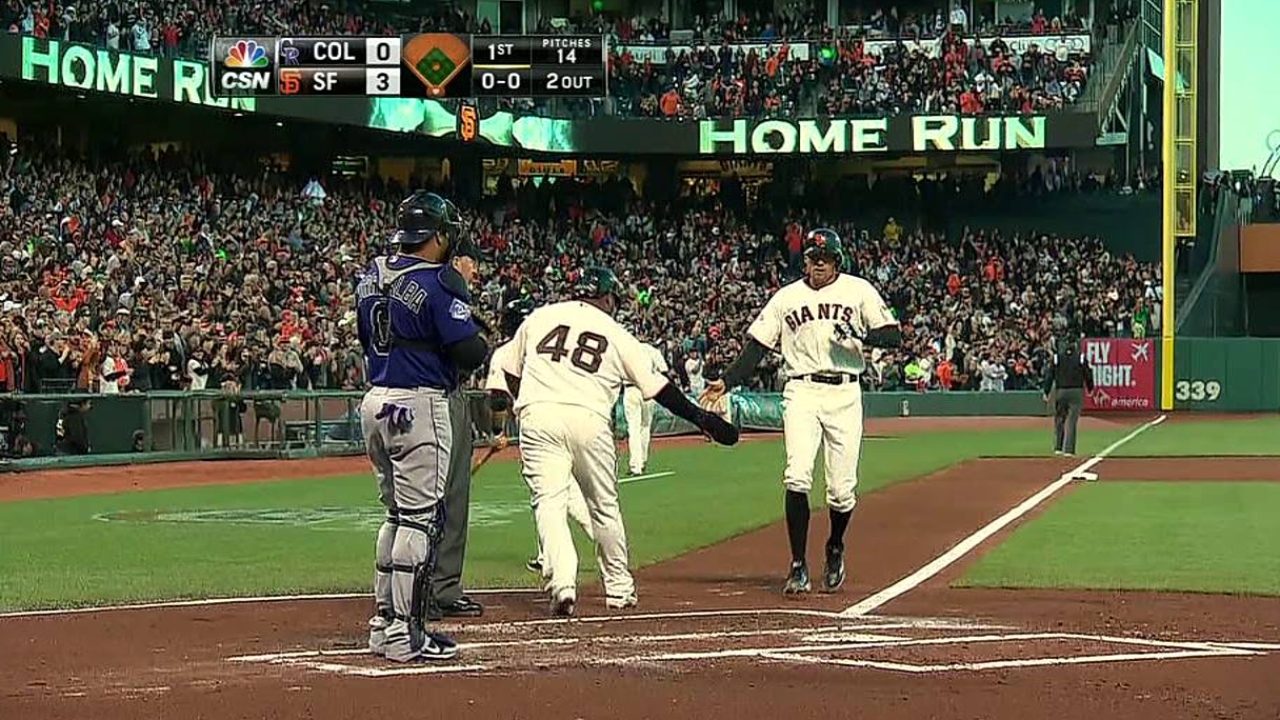 SAN FRANCISCO -- This was the kind of game the Giants anticipated as the season approached.
The defending World Series champions knew that each and every opponent, particularly National League West foes, would compete fiercely in an attempt to deny them further success. The Giants faced one of those upset-minded challengers Monday, the Colorado Rockies, and outlasted them, 4-2.
The Rockies arrived at AT&T Park with five consecutive victories and, despite the season's early juncture, might have considered themselves just a little more legitimate by extending that winning streak. But the Giants relied on Hunter Pence's three-run homer early, Buster Posey's RBI single late and clutch pitching throughout to blunt Colorado's momentum.
"It's going to be like this throughout the year, throughout the division," Giants manager Bruce Bochy said. "It's a tough division."
Said left-hander Jeremy Affeldt, "We always play good games against them. They're always battles. We needed to win this game."
After experiencing an opening weekend series against St. Louis that included daily pregame celebrations of the glories of 2012, the Giants welcomed the opportunity to play under relatively normal circumstances.
"It's time to really refocus and concentrate on the season," Bochy said. "Not that we weren't. But a lot of emotions were going through these guys."
The Giants, who entered the game batting .224 as a team, were buoyed almost immediately. With two outs in the first inning and Marco Scutaro and Pablo Sandoval aboard via singles, Pence clobbered Jorge De La Rosa's first-pitch changeup into the left-field seats for his team-high third home run.
"That was the game right there," De La Rosa said.
Posey, who struck out immediately before Pence hit his roundtripper, was appreciative.
"He's got some of the best power I've ever seen," Posey said. "I get to hit with him in [batting practice] every day, and I try to make sure I hit before him so I don't have to follow his moonshots."
Posey ultimately contributed offensively by driving in his first run of the season. He lined right-hander Chris Volstad's 0-2 pitch into right field with two outs in the eighth inning, scoring Angel Pagan to change the Giants' one-run lead into something a little more comfortable.
"I hadn't been letting the ball travel the first three at-bats," Posey said.
The NL's reigning Most Valuable Player had gone 23 at-bats without an RBI. Bochy knew his drought wouldn't last.
"That says a lot about Buster," Bochy said. "You can't dwell on what's happened. You just have to keep grinding out there. It wasn't a good night for him until that base hit. It's all about being resilient."
San Francisco defeated Colorado for the seventh game in a row, a streak that sprouted last year when the Giants finished 14-4 against the Rockies.
But Colorado no longer resembled a pushover. The top five hitters in its lineup entered the game with gaudy batting averages: Eric Young Jr. (.300), Dexter Fowler (.370), Carlos Gonzalez (.360), Troy Tulowitzki (.421) and Michael Cuddyer (.450).
That quintet recalled an observation that Giants right-hander Matt Cain made about the Rockies in March.
"I don't know why they should be [an afterthought]," Cain said in response to a question about Colorado's prospects in the division race. "They definitely should be thought of, with a lineup like that. You know they're going to hit and score some runs. They have a lot of guys over there who know what they're doing. I think if teams don't pay attention to them, that's going to be a big mistake."
The Rockies commanded the Giants' attention by launching multiple threats against Madison Bumgarner (2-0). The left-hander didn't come close to matching the sharpness he displayed last Tuesday, when he two-hit Los Angeles through eight shutout innings. But he protected the lead Pence provided, allowing two runs and five hits in 5 2/3 innings. Bumgarner issued five walks (one intentional), a total he reached only once last year in 35 starts during the regular season and postseason. Significantly, none of those five runners scored as Colorado went 1-for-9 with runners in scoring position.
A typical sequence for Bumgarner and the Giants unfolded in the fourth inning. Cuddyer led off by coaxing an 11-pitch walk. Josh Rutledge then grounded into a double play, ending the rally before it started.
"Pretty much every inning felt like a battle," Bumgarner said.
The Giants' bullpen ended the tug of war. Santiago Casilla and Affeldt combined to retire all seven batters they faced, leaving Sergio Romo to work the ninth for his fourth save in as many chances. Rutledge doubled to open the inning before Romo proceeded to strike out the side.
"Unbelievable," Bumgarner said of his trusty relievers.
Chris Haft is a reporter for MLB.com. This story was not subject to the approval of Major League Baseball or its clubs.