De La Rosa's stout effort not enough to extend streak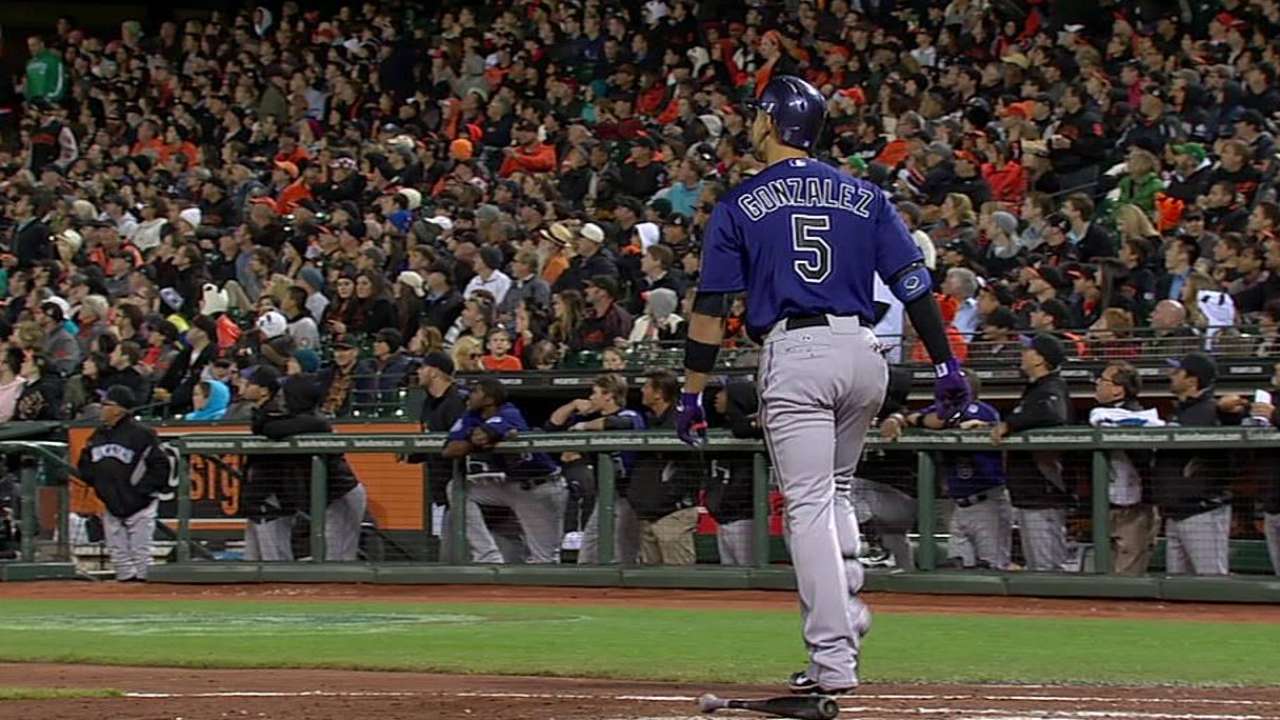 SAN FRANCISCO -- After winning back-to-back series and five straight games, the Colorado Rockies came back to earth Monday night at AT&T Park against the San Francisco Giants.
It wasn't a crash landing for the Rockies. Just a 4-2 loss to the reigning World Series champions and a reminder that winning isn't as easy as the Rockies made it look during their streak when they outscored the Brewers and Padres by a combined score of 38-13.
"They're a really good team," said Rockies left fielder Carlos Gonzalez. "That's why they have two championships in the past three years. Especially here -- when they play at home it's difficult. Their game has always been scoring first then holding the opponent. That's what happened this night. They were able to score three runs in the first inning, and that's all [Madison] Bumgarner needs."
The Rockies went 4-14 overall against the Giants last season and 2-7 at AT&T Park.
Gonzalez hit his third home run of the season -- a solo shot in the third -- and Rockies left-hander Jorge De La Rosa allowed just three runs over six innings.
De La Rosa gave up six hits, striking out three and walking one. He had just one bad inning, but that's all it took for the Giants to open this three-game series with a victory.
The Giants jumped on De La Rosa in the first inning when Hunter Pence launched a three-run homer into the left-field seats.
"Jorge I thought threw a hell of a game," Rockies manager Walt Weiss said. "Gave up the home run early on a first pitch to Pence. Gave us a chance to win. Settled in and threw a hell of a game."
With one out, former Rockies infielder Marco Scutaro lined a single to left field, starting the Giants' rally. Third baseman Pablo Sandoval followed with a sharp single to center, moving Scutaro to third.
After falling behind the dangerous Buster Posey 2-0, De La Rosa came back to strike him out on a 2-2 slider for the second out.
Just when it looked as if De La Rosa might escape unscathed, Pence crushed the first pitch -- a changeup -- for his third home run of the season.
"It was supposed to be away," De La Rosa said. "That one cut a little bit to the middle. He hit it very good. ... That's a mistake from me. I paid for it.
"I think I lost a little concentration after I struck [Posey] out. The next pitch was right there. Next time I have to be more focused and throw the pitch I want and make the out."
The Rockies sliced San Francisco's lead to 3-1 in the third on Gonzalez's homer, a mammoth shot to right off Bumgarner that one-hopped into McCovey Cove.
Gonzalez hit an 0-1 hanging curve with one out, and it came just seconds after Eric Young Jr., who had walked to open the inning, was caught stealing.
"That team and their offense, they've always been able to hit and they have a really good lineup this year," Bumgarner said. "They're playing well, so you don't want to make too many mistakes trying to challenge guys."
The Rockies had two runners on, both via Bumgarner walks, and one out in the fifth when Dexter Fowler came to the plate. Fowler, who came into the game with four home runs, sent a fly ball to deep left, but Andres Torres caught it on the warning track for the second out.
That set up another showdown between Gonzalez and Bumgarner. Gonzalez fell behind 1-2 then struck out on a sharp slider, ending the threat.
"It's difficult with him to see what kind of pitches he's going to throw because of the way he throws the ball," Gonzalez said. "His delivery, it's difficult to pick it up when he's throwing cutters and sliders. That was a big inning for him. We were trying to take him out of the game early. We tried to be patient. He lost it a little bit, started throwing a lot of pitches, but he was able to execute whenever he needed to.
"That was a big strikeout in my last at-bat against him with runners in scoring position. Their bullpen did a great job again. They came in late in the game and held us. They were able to score another run in the eighth inning."
The Rockies cut San Francisco's lead to 3-2 in the fifth. Michael Cuddyer grounded a one-out single to center, stole second and scored when Chris Nelson grounded a two-out single to left that ended Bumgarner's night.
The Giants added an insurance run in the eighth off Rockies reliever Chris Volstad. Angel Pagan reached on a one-out single, stole second and scored when Posey lined a two-out single to right.
Giants closer Sergio Romo came on in the ninth, and Josh Rutledge greeted him with a double off the left-center wall. But Nelson struck out swinging, pinch-hitter Todd Helton struck out looking, and pinch-hitter Wilin Rosario fanned swinging at a nasty slider that moved out of the strike zone.
"You know you're going to get sliders, but it's a really good one," Weiss said. "He doesn't throw many in the middle of the plate. The pitches he threw to Wilin were breaking off the plate, and I knew he wasn't going to give in there to Wilin. He's got a real good slider. You know it's coming, but it's tough to hit."
Eric Gilmore is a contributor to MLB.com. This story was not subject to the approval of Major League Baseball or its clubs.