Morrow's struggles set tone in loss to Tigers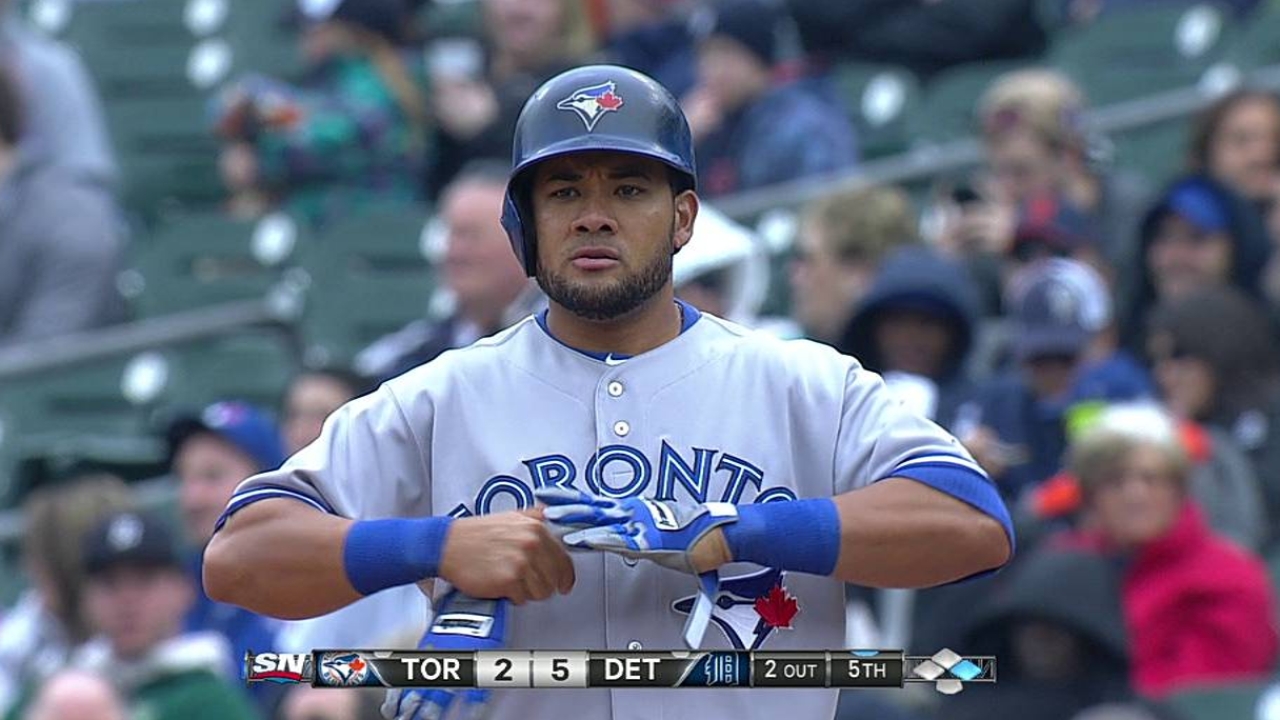 DETROIT -- Brandon Morrow has become one of the elite strikeout pitchers in the American League, but the putaway pitch proved elusive against the Tigers on Tuesday.
Since becoming a full-time starter in 2010, Morrow leads the AL in strikeouts per nine innings, but the strength of his arsenal proved to be a rare weakness at Comerica Park, as the right-hander was roughed up for five runs over 3 2/3 innings without any K's, while the Blue Jays' offense continued to struggle in a 7-3 loss to the Tigers.
"I just didn't make a pitch when I needed to," Morrow said. "That was pretty much the story of the game. 0-2 hits, walking guys after I had them 0-2, two-out hits, I just wasn't very good when I needed to be."
Morrow did manage to get to two strikes on 10 occasions against the Tigers, but he was unable to utilize his secondary pitches to close out the at-bats. He said the biggest issue was an inability to throw his normally effective slider for strikes.
Instead of the slider being thrown in the zone or just outside of it, Morrow had a tendency on Tuesday to throw it in the dirt. The Tigers were able to lay off the pitch and get deeper into the count and wait for the right opportunity to strike.
The end result was Morrow's shortest outing which didn't involve an injury since he gave up six runs over just two-thirds of an inning to the Rangers on May 25, 2012. This time, Morrow was charged with five runs on nine hits while walking two and throwing 52 of his 83 pitches for strikes.
"I tried to make an adjustment that last at-bat to [Torii] Hunter and left it up a little bit," Morrow said of his slider. "They just weren't biting on the stuff when I was ahead in the count. They got back into some counts, I left some pitches over the plate when I was ahead, and that was kind of the whole game."
It was the heart of the Tigers' lineup that caused most of the issues for Morrow. Detroit first baseman Prince Fielder drove home the first run of the game in the first inning with a double off the wall in straightaway center field.
Morrow surrendered another run in the second on a solo shot by Alex Avila, but the biggest blow occurred in the fourth. Toronto's No. 2 starter fell behind in the count to Miguel Cabrera and then left a sinker up in the zone that was sent over the wall in right for a three-run shot.
Cabrera later added an RBI single off Darren Oliver as part of a two-run Detroit eighth. The Tigers gave a similar scouting report to the one Morrow provided of his performance after the game.
"At least from my vantage point, it looked like he had a hard time throwing his breaking ball for strikes, or at least throwing it where it was in the zone/out of the zone," Avila said. "Some of my at-bats against him, when I fell behind, the at-bat that I walked, the breaking ball was so far out of the zone that it was easy to see out of the hand that it was a ball.
"He usually throws a hard slider. That's what he gets guys out with. He throws like 88 [mph], real tough to hit when it's in the zone/out of the zone. At least from my vantage point, it just looked like he didn't have a good feel for it."
Toronto's revamped lineup continues to experience a lot of difficulties early in the season. Once again, one of the lone bright spots was shortstop Jose Reyes, who recorded a multihit game for the fourth consecutive contest.
Reyes got Toronto's offense going in the third with an RBI single off right-hander Anibal Sanchez. Reyes then came through again in the fifth with a leadoff single before stealing second and coming around to score on an RBI single by Melky Cabrera. Reyes now has 10 hits in his past 16 at-bats, while reaching base in 14 of his past 22 plate appearances.
The rest of the lineup, with the exception of J.P. Arencibia, Jose Bautista and -- at least on Tuesday -- Melky Cabrera, continues to struggle. Cleanup hitter Edwin Encarnacion doesn't have a hit in his past 16 at-bats, while the Blue Jays have struck out an alarming 63 times in just seven games this year.
"In a lot of ways, that's kind of the makeup of our team," manager John Gibbons said. "We have some free-swinging, aggressive-type hitters, and they've always been that way. But when you're hitting, you have to get a pitch you want to hit, especially if you're up in the count.
"When you get behind, it's basically a battle anyway. But when you're in the driver's seat, get something you want and turn it loose."
With the exception of a 10-run performance on Thursday, the Blue Jays have averaged just 2.5 runs per game this season, and all but six of their 25 runs have come via the home run.
The homers have been encouraging, but the club will need to find other ways to generate offense if it wants to reverse course on what has been a 2-5 season to date.
The track record of success has been there with the majority of players on the roster, and even if some end up regressing, there should be more than enough production to make it through the 162-game grind. That's the intention -- or at least the hope.
"You look at it, we've played seven games, where everything's magnified, the focus on us and things like that," Gibbons said. "That's what makes it tough.
"But we have a good ballclub, we'll snap out of it. It would be nice to get one of these games and throw three or four runs up in the first inning, and that makes things easier on the pitchers, too."
Gregor Chisholm is a reporter for MLB.com. Read his blog, North of the Border, and follow him on Twitter @gregorMLB. This story was not subject to the approval of Major League Baseball or its clubs.