Lefty Saunders cruises in Seattle's home opener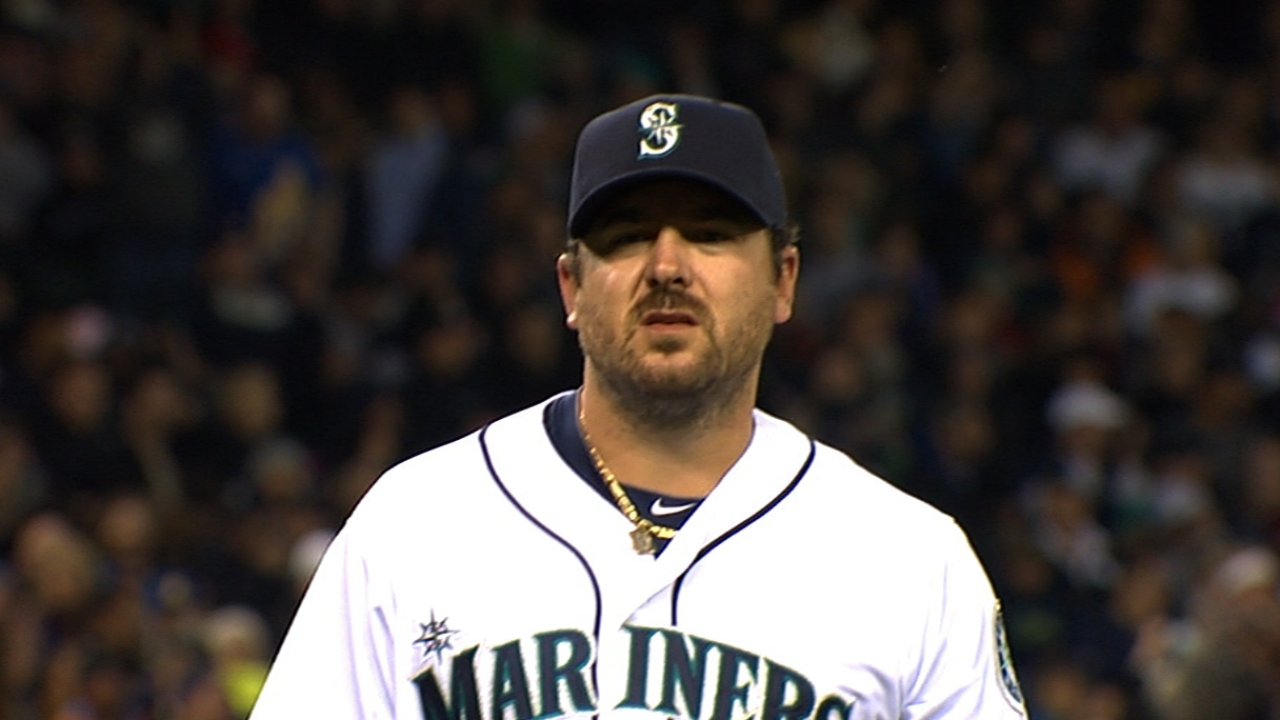 SEATTLE -- Pitching, defense, timely hitting and good execution make up a pretty good formula in any game, and the Mariners got a healthy dose of all four in Monday night's 3-0 victory over the Astros in their Safeco Field opener.
The Mariners kicked off their home schedule with a picture-perfect opening ceremony -- showing off their impressive new video board and a fireworks display over the left-field bleachers -- and then shut down their new American League West foes from Houston as Joe Saunders threw 6 1/3 sharp innings to pick up his first Seattle win.
The Mariners helped Saunders out with some good glovework, none better than a fully extended diving catch in the third inning by center fielder Franklin Gutierrez to rob Ronny Cedeno of extra bases in the right-center gap.
"Goosebumps moment," said shortstop Brendan Ryan. "Opening Night, he makes the catch like that, the place just roars. That's outstanding. You're hoping someone is going to get that opportunity and come through. Usually it's something on the offensive side that brings everyone to their feet, but he went a heck of a long ways for that.
"That was the Gold Glove stuff everybody knows he's capable of, and that's something that can create momentum, too. We're strong defensively, and he just put the exclamation point on it there."
Though they totaled just five hits, the Mariners made the most of them. Designated hitter Kendrys Morales drove in Seattle's first two runs with a single in the first and a double in the third, continuing his early-season surge. Morales was 2-for-3 with a walk, making him 5-for-7 over his past two games to raise his average to .321.
And a team that beefed up its offense by adding Morales and Michael Morse during the offseason proved capable of executing good baseball as well, with Gutierrez dropping down a beautiful squeeze bunt to bring home a run in the fifth.
"That was very important for us," said Gutierrez. "We need to score as many runs as we can, no matter how we do it."
The win evened the Mariners record at 4-4, while the Astros fell to 1-6 with their sixth straight setback.
Astros right-hander Philip Humber, who threw a perfect game while with the White Sox in his last start in Safeco Field, saw that dream die quickly this time as Michael Saunders singled to left on his second pitch of the game. Humber went six innings with five hits and three runs as he fell to 0-2 with a 3.09 ERA.
This one went Seattle's way from the start. After his leadoff single, Saunders stole second and scored on a one-out base hit by Morales. That combo clicked again in the third when Saunders singled, went to second on a wild pitch and scampered home on Morales' double to left.
"I think we probably could have kept it to a one-run game," Humber said. "Saunders getting to second, both those times he scored, that's on me. I'll hopefully do a better job holding runners next time."
Joe Saunders, who had lasted just four innings in his debut in Oakland on Wednesday, had pitched well at Safeco, but always with a visiting club. The longtime Angels starter is now 7-0 with a 1.91 ERA in 10 starts in Seattle.
The veteran southpaw scattered six hits and a walk over his 6 1/3 innings while striking out five in a 91-pitch outing. He's 1-1 with a 3.48 ERA after signing a one-year, $7 million deal as a free agent.
"I felt good," said Saunders. "My command was better. I was able to feel the ball better. It was just a matter of telling yourself, 'Hey, we've got a lot of fans in the stands tonight. Go out and put on a decent show and turn it into a win.'"
The Mariners had homered in their last six games on the opening road trip and came to a Safeco Field with shortened fences, particularly in left-center. But they used some small-ball execution to perfection instead.
Dustin Ackley, who had opened the season 1-for-21, singled sharply to right-center to lead off the fifth. Ryan followed with a bunt that catcher Jason Castro jumped on quickly, but threw a split-second too late to get Ackley, putting two runners on.
Ackley then moved to third on a fly ball to center by Michael Saunders, then scored standing as he sprinted home on Gutierrez's bunt for the 3-0 lead.
"It speaks to the balance we have in the lineup," Ryan said of the two bunts. "It shows confidence in our skipper that with the experience and repetitions we've had in Spring Training that he feels we can do some of these little things and he can micromanage a little bit."
But when it was all done, Wedge took a bigger-picture view of a game that played out perfectly from opening ceremonies to the final pitch in front of a crowd of 42,589.
"I thought everybody did a great job," Wedge said. "Just the presentation of the ballpark, the fans were in it, it was a great night I think for everybody."
Greg Johns is a reporter for MLB.com. Follow him on Twitter @GregJohnsMLB as well as his Mariners Musings blog. This story was not subject to the approval of Major League Baseball or its clubs.