Nathan gets 300th save with wild ending
Disputed game-ending called third strike preserves win for Ogando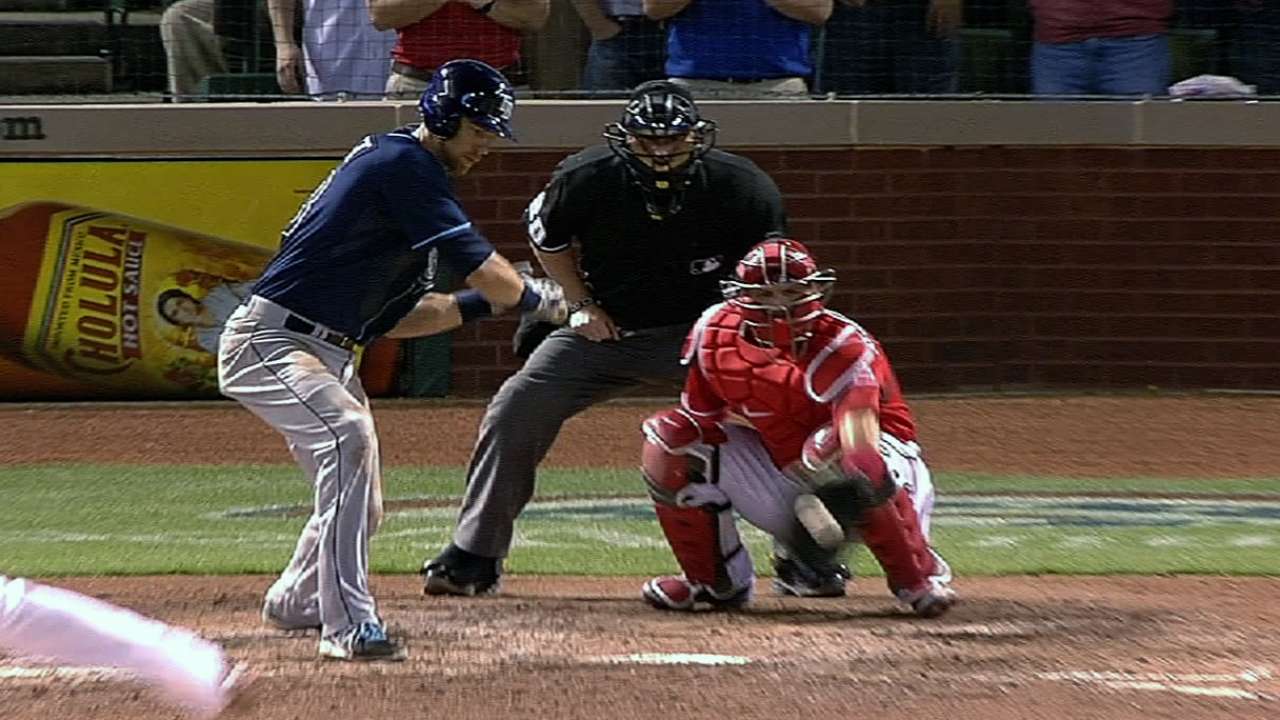 ARLINGTON -- It wasn't the way Joe Nathan had envisioned getting his 300th save, the milestone that places him among baseball's elite closers, but take this to the bank: he's not throwing it back.
Instant replay showed Nathan's ninth-inning, two-out, runner-at-first, 3-2 curveball to Ben Zobrist darting outside of the strike zone. What it also showed was home plate umpire Marty Foster, taking a deliberate step back as he yanked his right fist backwards.
Strike three. Game over.
On the mound, Nathan wiped the 'I can't believe I got that call' expression off his face and breathed a sigh of relief. He mouthed one word: "Wow!"
"I think I might have been the last guy on the field to realize the game was over," Nathan said.
It was. Nathan's 300th save allowed the Rangers to escape with a 5-4 victory over the Rays in the opener of a three-game series Monday night at The Ballpark in Arlington.
The ninth-inning drama threatened to erase the memory of a game the Rangers had seemed to have well in hand after back-to-back solo home runs by A.J. Pierzynski and Mitch Moreland had given them a 3-1 lead back in the fourth. When Elvis Andrus provided extra padding with a two-run single in the seventh, Texas manager Ron Washington felt confident his bullpen could wrap things up.
Or not.
The Rays rallied for two runs in the eighth off relievers Michael Kirkman and Derek Lowe and had cut the Texas lead to 5-4 on Sean Rodriguez's sharp two-out ninth-inning single up the middle off Nathan.
That was not how Nathan had things planned.
"They have a lot of guys on that team that have given me tough at-bats and tonight was no different," Nathan said. "It was the tough part of their lineup and they've seen me a lot in my career.
"Zobrist has a pretty good history against me, so I was just trying to be careful with him and they had another pretty good hitter in Longoria behind him."
A pretty good history? You might say so. Zobrist came to the plate 4-for-5 with two homers and a walk in six plate appearances against Nathan.
"That's why the Rodriguez at-bat was so huge," Nathan said. "I thought I made a good pitch on 3-2. I thought it was going to be enough to get him out and he hits a bullet that almost goes off my elbow.
"Now I'm thinking, 'Crap!' I know what's coming up and I know the numbers. I'm just trying to be careful and make pitches. On 3-1 [to Zobrist] we went backdoor slider [for strike two] and then tried to get him to fish at the backdoor curveball and got the call."
The Rays couldn't believe it. Manager Joe Maddon followed Foster and crew chief Tim Welke off the field, arguing the call all the way.
The Rangers simply got off the field as fast as they could.
"I threw the pitch where I wanted to, he just didn't offer at it like I thought he would," Nathan said. "I think it's safe to say we got a very fortunate call there, but we'll take it. We've had plenty go against us, so we'll take 'em when we get 'em for us.
"Did I draw it up like this for my 300th? No, but like I said, we'll take it."
Jim Reeves is a contributor for MLB.com. This story was not subject to the approval of Major League Baseball or its clubs.