Rays rally cut short by disputed call
Down 5-1 in eighth, game ends with tying run at first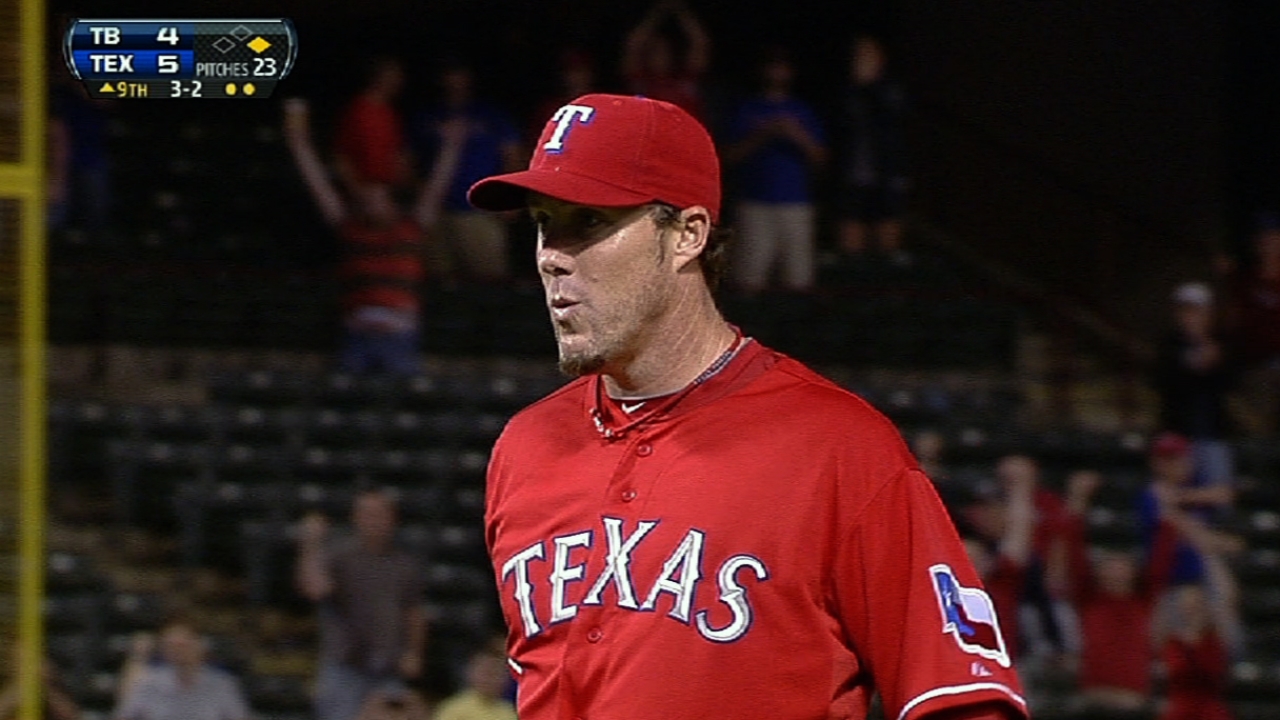 ARLINGTON -- Ben Zobrist pulled off his helmet in disbelief. Joe Maddon ran to home plate to argue.
But nothing either of them did could change the call made by home plate umpire Marty Foster when he rung up Zobrist looking at a 3-2 pitch that appeared to be well out of the strike zone to end Monday night's game, a 5-4 Rangers win over the Rays at Rangers Ballpark in Arlington
"To have the game stolen from you is very difficult," Maddon said.
There were two outs in the ninth and the Rays were making the game interesting. Already the Rays had scored two in the eighth and they had pushed across one in the ninth on Sean Rodriguez's RBI single. Had Zobrist drawn the walk against Rangers closer Joe Nathan, the Rays would have had runners on first and second with Evan Longoria stepping to the plate.
There's no way of telling if the Rays would have pulled out the win, but for the second time in a week, they didn't have the opportunity to find out.
The Rays were on the receiving end of another controversial call last Wednesday when Longoria was ruled to have passed Zobrist on the base paths, thereby quieting what could have been a big inning in what turned out to be a 6-3 loss.
"Yeah, it's tough," Zobrist said. "It's something that we gotta just rise above as a team and just do the best we can to go out and create a better margin tomorrow. I think if we create a big margin for error, then when things like that happen you're not too worried about it because you end up winning the game. We have to put ourselves in a better position in the last inning."
With the loss, the Rays moved to 3-4 on the season and 0-1 on a 10-game road trip that begins with a three-game set in Arlington and will see the team also make stops in Boston and Baltimore.
Jeremy Hellickson celebrated his 26th birthday Monday night and hoped to have the same results he enjoyed on his 25th birthday when he shut down the Yankees. Unfortunately for the Rays right-hander, that did not happen.
Texas took a 1-0 lead in the first when Adrian Beltre doubled past a diving Sam Fuld in left field to score Lance Berkman.
"I thought [Foster] missed some there in the first inning that probably could have gone either way and I just couldn't make an adjustment," Hellickson said. "I just kept trying to make pitches and I wasn't getting them. I threw a couple of fastballs into lefties that were just a hair off. I just kept trying to go there and I wasn't getting them."
A.J. Pierzynski and Mitch Moreland hit back-to-back homers off Hellickson in the bottom of the fourth to put the Rangers up 3-1.
Hellickson lasted just five innings and 98 pitches, allowing three runs on five hits and three walks as his ERA swelled to 6.35 for the season.
Tampa Bay, which had not scored a run in its past 10 innings, answered in the second. Longoria walked to start the inning and moved to second on a single to right by Matt Joyce. Yunel Escobar then grounded to Elvis Andrus and the Rangers shortstop tossed to Ian Kinsler for the force at second, but the Rangers second baseman threw wild to first, allowing Longoria to score and tie the game at 1-1.
Elvis Andrus' two-run single in the bottom of the seventh gave the Rangers a pair of insurance runs and pushed the lead to 5-1.
Having those extra runs made the eighth inning a little more comfortable for the Rangers, after the Rays loaded the bases with one out. Shelley Duncan was sent to the plate to pinch hit for Joyce. Texas countered by bringing in Derek Lowe.
Lowe walked Duncan on four pitches to push home the Rays' second run. Escobar then hit into a fielder's choice to drive home another run and cut the lead to 5-3. But Lowe recovered to strike out Ryan Roberts with runners at the corners to end the threat.
The Rays threatened several times against Rangers starter Alexi Ogando, but came away with just one run, as Ogando pitched 5 1/3 innings to move to 2-0 on the season. Meanwhile, Nathan earned his 300th career save -- and he seemed to be the most surprised person in the ballpark when he got the call.
"I think it's safe to say we got a very fortunate call there, but we'll take it," Nathan said. "We've had plenty go against us, so we'll take 'em when we get 'em for us. Did I draw it up like this for my 300th? No, but like I said, we'll take it."
Bill Chastain is a reporter for MLB.com. This story was not subject to the approval of Major League Baseball or its clubs.