After celebration, Tribe can't contain Yankees
Santana exits with left thumb bruise; Jimenez allows seven runs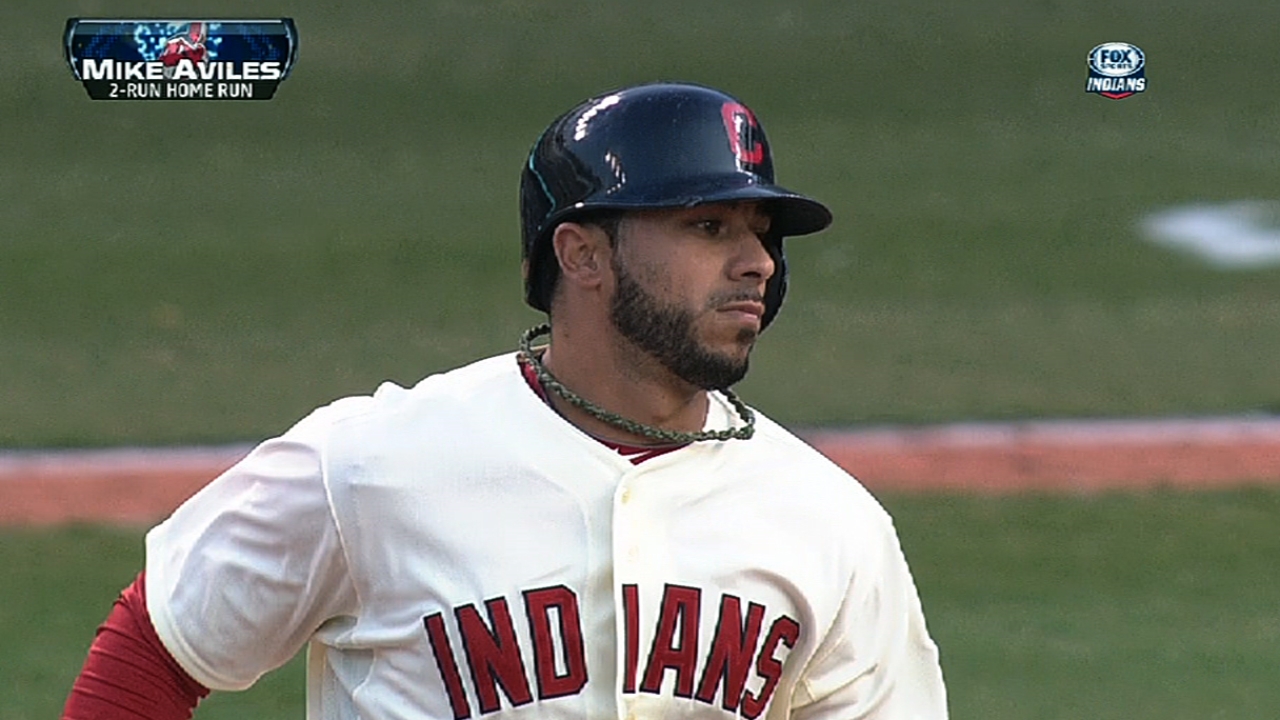 CLEVELAND -- The Indians had their homecoming, but a familiar face crashed Cleveland's party.
On Monday, Travis Hafner returned to Progressive Field as a member of the Yankees and helped send the Indians to an 11-6 loss in the Tribe's home opener. Taking advantage of an erratic showing from starter Ubaldo Jimenez, Hafner drove in New York's first four runs and launched a home run in his first at-bat back in his old stomping grounds.
The theme of the pregame festivities was tradition.
It figured that someone from the franchise's past came back to haunt the Tribe.
"Haf was here for a long time," Indians left fielder Michael Brantley said. "I think the crowd did a great job acknowledging him. He beat us today. He had some good swings. That's all you can say."
The crowd did offer Hafner a warm reception -- with the anticipated smattering of boos -- as he settled into the left-handed batter's box that he called home for the past decade. As he rounded the basepaths that he's come to know all too well following a three-run home run in the first inning, the heckles overcame the cheers in a hurry.
Hafner did not expect anything less from the Cleveland faithful.
"They're passionate fans here," said Hafner, who ended the evening with two hits, two walks and four RBIs. "When you're playing for the Yankees and you do well, you're going to get booed."
Joining Hafner in New York's hit parade was second baseman Robinson Cano, who launched a pair of home runs, including one off Jimenez.
This was Jimenez's first chance this season to show the home fans the improvements he made over the winter and throughout Spring Training. Instead, the big right-hander looked much like the pitcher who led the American League in losses a year ago. From the game's onset, Indians manager Terry Francona could tell the pitcher was off his game.
That put Francona in a bind.
"It was kind of evident from the beginning that it was a struggle," Francona said. "That's probably the hardest thing for me, is the balance there, because I saw how he was throwing. But if you go to your bullpen too early, losing a game is bad, but losing a game and ruining your bullpen is worse."
Jimenez was charged with seven runs on seven hits in just 4 1/3 innings, ending his outing with four strikeouts against three walks.
"I got to the mound and I just tried to get it going, but nothing was working," Jimenez said. "Not the fastball. Not the delivery, breaking balls. Nothing."
In the first inning, Jimenez issued a one-out walk to Cano, then yielded a single to Kevin Youkilis, setting the stage for Hafner's first trip to the plate. The veteran designated hitter -- known as "Pronk" in his days in Cleveland -- promptly slashed a 2-0 pitch from Jimenez to straightaway center field, where the baseball sailed over the wall for a three-run home run.
The blast marked Hafner's second of the season and his 100th career shot at Progressive Field. Over the winter, Hafner's 10-year run with the Indians came to a close when the Indians sought a more versatile solution to the DH role and New York signed him to a one-year contract. This year marked the first time since 2002 that Hafner was not in Cleveland's Opening Day lineup.
"My whole approach right now is to keep things as simple as possible," said Hafner, whose last few seasons in Cleveland were marred by a multitude of injuries. "I wasn't really brought in to hit in the middle of the order. I was kind of expecting to hit down further. But it's a great opportunity for me, so I'm just trying to contribute the best I can to the team."
Hafner struck again in the third inning, when he singled to center field to plate Cano and give New York a 4-3 advantage.
From there, the Yankees did not look back.
The Indians countered Hafner's first strike with a three-run outburst in the bottom of the first inning against Yankees right-hander Hiroki Kuroda. Leadoff man Michael Bourn drew a walk and eventually crossed the plate on a sacrifice fly from Jason Kipnis. Brantley contributed an RBI infield single, and Mark Reynolds added a sac fly with the bases loaded to pull the game into a 3-3 tie.
Kuroda appeared rattled, but the righty settled in and limited the damage the rest of the way. New York's starter logged 5 1/3 innings and allowed only those three first-inning runs despite scattering five hits and issuing four walks.
"We had a chance; we had a real chance," Francona said. "He was on the ropes. It looked like he was fighting it a little bit. ... To his credit, he went back out there, and he stayed in there long enough."
The Tribe showed signs of life late, but the early damage was too costly. In bottom of the eighth, shortstop Mike Aviles -- who replaced Asdrubal Cabrera in the top of the inning -- belted a two-run homer off reliever Shawn Kelley to cut New York's lead to 11-5. Bourn followed with a triple and then scored on a wild pitch from Kelley to give the Tribe its final run.
The loss could have been costly on the injury front as well: Carlos Santana was forced to exit in the top of the ninth inning after being crossed up on a pitch by Chris Perez that gave the slugging catcher a left thumb contusion. X-rays taken after the game revealed Santana's thumb was merely bruised; he's day to day.
Good news aside, it was a disappointing way for Cleveland to open its home slate.
"That place was rockin' and rollin'," Indians first baseman Nick Swisher said. "Obviously, you wish you could pull out a 'W' in a game like that, but just the excitement that was there, that feeling, that aura in the stadium, that was fun to be a part of."
Jordan Bastian is a reporter for MLB.com. Read his blog, Major League Bastian, and follow him on Twitter @MLBastian. This story was not subject to the approval of Major League Baseball or its clubs.