Cano, Pronk help Yanks break out in Cleveland
Given plenty of support, Kuroda overcomes three-run first inning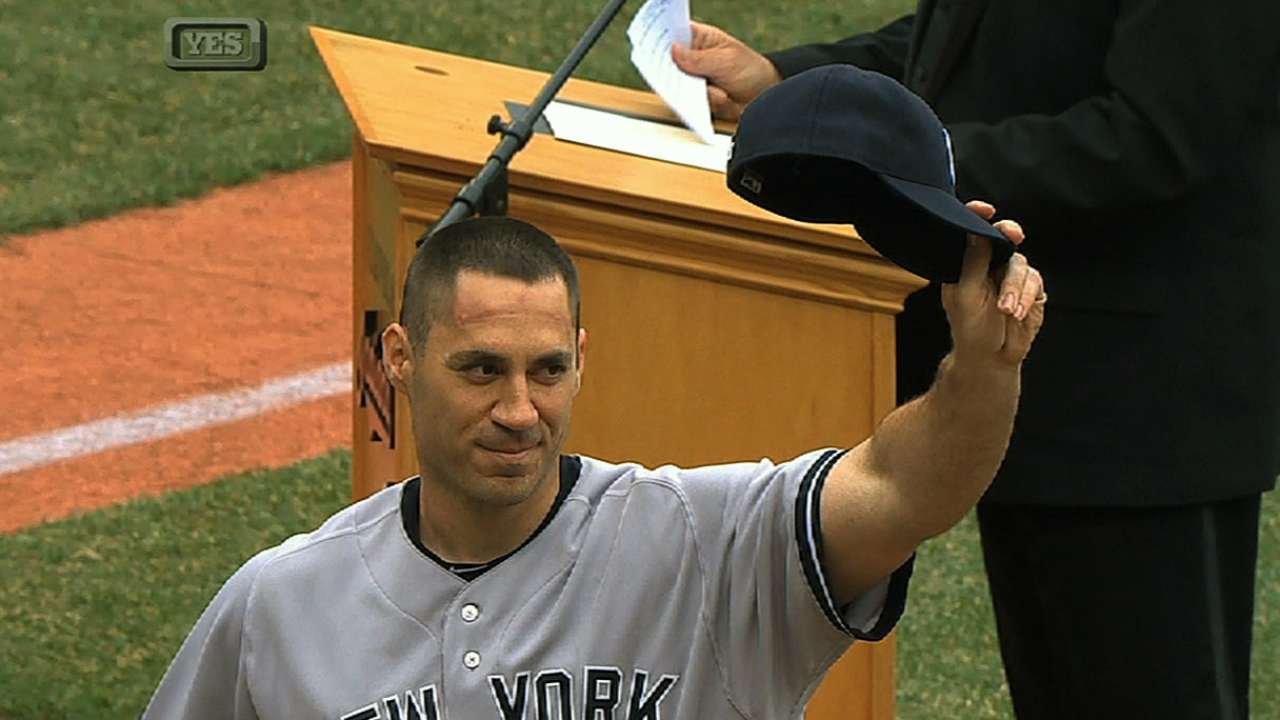 CLEVELAND -- Travis Hafner celebrated his return to Progressive Field by playing a large part in spoiling the the Indians' home opener.
A mainstay in the heart of Cleveland's lineup for 10 seasons, Hafner showed off his familiar swing in a new uniform by homering and driving in four runs during Monday's 11-6 victory. Robinson Cano also busted out of an early-season slump with two homers to power the win.
"I wasn't really brought in to hit in the middle of the order; I was kind of expecting to hit down further," Hafner said. "But it's a great opportunity for me, so I'm just trying to contribute the best I can to the team."
The 35-year-old Hafner still makes his home outside of Cleveland and received a warm ovation from the crowd in pregame introductions. He said that he has nothing but warm feelings for the organization, for whom he hit 200 home runs, beginning in 2003.
The veteran DH gave his old fans a taste of what they were missing in the first inning, slugging a three-run blast off Ubaldo Jimenez that disappeared behind the center-field fence to mark Hafner's 100th career homer at Progressive Field.
"It must have felt good," Yankees manager Joe Girardi said. "I noticed they didn't cheer him as much after the first at-bat."
"They're passionate fans," Hafner shrugged. "I knew that, me playing for the Yankees, this wouldn't go on too long."
Hafner's shot provided Hiroki Kuroda with an instant lead, but the right-hander gave it back in a 34-pitch home half of the inning as Jason Kipnis, Michael Brantley and Mark Reynolds drove in runs.
Some may have wondered if Kuroda was struggling with a bruised right middle finger, caused by reaching for a line drive in his first start of the season, and he acknowledged wryly, "Well, I didn't not feel it."
Indians manager Terry Francona said that Kuroda "was on the ropes," noticing that there had been bullpen activity for New York in the first inning, but Kuroda settled in to complete 5 1/3 innings, and despite issuing four walks, he held Cleveland to just the three runs on five hits in a 111-pitch outing.
"Thanks to the offense, who gave me run support, I was able to regroup myself," Kuroda said. "Especially today, with my outing like today, to get that run support was really helpful."
Jimenez was rocked for seven runs in 4 1/3 innings. Cano blasted out of a 3-for-23 skid with his first extra-base hits of the year, doubling and homering off Jimenez and going deep again off Matt Albers in the sixth to mark his 11th career multihomer game.
"I knew it was just five games," Cano said. "The last thing you want is to put pressure on yourself. This game today, I was able to get some pitches in the strike zone and be able to not miss them."
Cano has made more headlines this month for endeavors off the field than on it, having dismissed agent Scott Boras in favor of a group headed by Jay-Z, but Girardi said that he hasn't noticed any changes with his second baseman.
"I'm sure Robbie doesn't go home and read every newspaper and listen to every talk show and say, 'What are they saying about me?'" Girardi said. "Robbie just likes to go out and play."
Francona said that the performance seemed to be nothing out of the ordinary to him.
"When Cano starts feeling good, he can hit anybody, anywhere," Francona said. "That's the last guy we want to get hot. When he's going good, you can make a pitch and it doesn't matter."
Hafner drove in his fourth run with a third-inning single, while Brett Gardner and Ichiro Suzuki also picked up run-scoring hits against Jimenez. Hafner was on base in his first four plate appearances, finishing 2-for-3 with two walks.
"He got some good pitches and put some good swings on it," the Indians' Michael Brantley said. "Haf was here for a long time. I think the crowd did a great job acknowledging him. He beat us today. He had some good swings. That's all you can say."
On the other side, Indians outfielder Nick Swisher -- playing his first game against the Yankees after signing a four-year, $56 million contract with Cleveland in the offseason -- went 1-for-3 with a run scored and two walks.
The Yankees seemed to have the game well in control by the seventh, adding three runs against Rich Hill. Boone Logan bounced back from his earlier troubles with 1 1/3 scoreless innings of relief, but New York's leaky bullpen still allowed the Indians to close the gap.
Shawn Kelley allowed three runs in 1 1/3 innings on a double, a homer, a triple and two wild pitches. Joba Chamberlain also walked two batters in the ninth, drawing a stern visit from Girardi, before finally closing the door.
"They've been OK," Girardi said of his relievers. "They're trying to find their niche a little bit and trying to get some consistent work. They've had to throw a lot of innings so far in this beginning part, but we'll get them all going."
Bryan Hoch is a reporter for MLB.com. Follow him on Twitter @bryanhoch and read his MLBlog, Bombers Beat. This story was not subject to the approval of Major League Baseball or its clubs.