Halladay can't contain Mets as struggles continue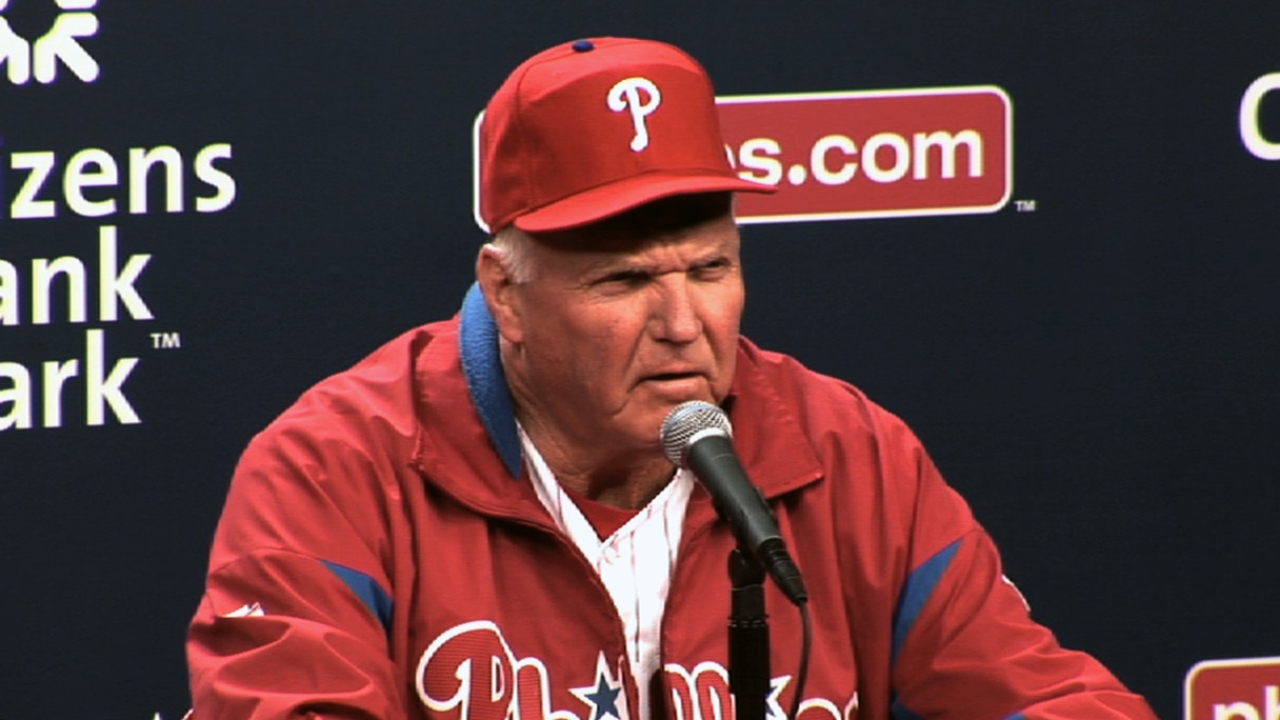 PHILADELPHIA -- And, in a related development, the Phillies lost.
Sure, winning was the priority when they opened a series against the Mets on Monday night at Citizens Bank Park. The question on everybody's mind, however, was whether former ace Roy Halladay would be able to turn himself around after an injury-plagued 2012, an ineffective Spring Training and an ugly outing in his first start of the regular season.
He didn't. That, of course, was a big part of the reason the Phillies fell, 7-2. Another reason was that the offense was held to three hits through seven innings by Mets starter Matt Harvey and ended up scoring two or fewer runs for the third time in seven games. Still, the storyline was Halladay.
He went four-plus innings and was charged with all seven runs on six hits, three walks and a wild pitch. He's given up three homers in 7 1/3 innings this season and has an ERA of 14.73. And while there were some among the crowd of 35,393 -- the smallest home attendance since April 22, 2009 -- who stood and clapped when he walked off the field, there was also a smattering of boos.
His fastball, according to the MLB.com pitch tracker, was consistently 90-91 mph. Although the velocity faded toward the end of his outing, that's still up slightly from what he was throwing five days earlier when he lasted just 3 1/3 innings and was charged with five runs on six hits and three walks against the Braves at Turner Field.
Still, he labored. By the fourth inning of a pleasant evening he was red-faced and his cap was soaked with perspiration. It took him 99 pitches to get through his abbreviated night.
More telling, for a pitcher who always relies on pinpoint control -- and who now needs to locate more than ever -- he walked three more batters and also had a wild pitch and a hit batter.
"Definitely command," Halladay said. "For a starting pitcher, it's important to get ahead and attack. I had a lot of 2-0 counts, a lot of high pitch counts. There are a couple pitches I made that I felt were good pitches that got hit, but for the most part, I got behind and made pitches I didn't want to make. And that's where I was giving up the hits. That's the biggest thing. And that's the hardest thing to force. When you're really trying to force the ball to a spot instead of just letting it go there, the more you force it, the more it goes away from there."
Halladay said he was able to spot the ball in the bullpen but not once the game began and estimated that the problem is 95 percent mental.
"One of my biggest mentors, [sports psychiatrist] Harvey Dorfman, used to always tell me, 'When you're trying to catch a bird, if you're flailing at it, trying to grab for it, you're never going to catch it. You have to hold your hands out and let it land in your hands.' And it's the same way with pitching," Halladay said. "Especially when you want something so bad you'd do anything to get it. But sometimes the best course of action is to prepare yourself and let it come to you.
"But it's tough because you care about the game, you care about your teammates, you care about the fans, you care about the organization. You want it badly."
It started to unravel with one out in the second. Marlon Byrd doubled over the head of center fielder Ben Revere. Halladay hit Lucas Duda with a pitch and then fell behind catcher John Buck, 2-0. The next pitch was a 90-mph cutter, and Buck drilled it into the seats in right to give the Mets a quick 3-0 lead.
The Mets added to their lead in the third with two walks and a two-out single by Duda. At that point, Halladay had thrown 78 pitches and the pitcher's spot was due up second in the bottom of the inning. Manager Charlie Manuel and pitching coach Rich Dubee elected to leave him in the game, and he retired the Mets in order in the fourth. But he didn't get an out in the fifth.
Daniel Murphy started it out with a ground-rule double to center. David Wright singled in Murphy, and Ike Davis followed with a single to put runners on the corners. With that, Chad Durbin was summoned from the bullpen.
"He used to carve hitters up with command and control and putting the ball where he wanted it to go. I think that's his biggest problem," Manuel said. "It's kind of tough to watch because I pull for him and I want him to do good. I'm concerned. But then again, he says he's healthy. Our doctors say he's healthy. I'm hoping he gets better, of course."
Observed Mets manager Terry Collins: "That's not Doc. ... That's not the guy we know, for sure."
After Halladay departed, Durbin walked Duda with one out to load the bases and then gave up a two-out, two-run single to shortstop Ruben Tejada. With that, the Phillies' bullpen has allowed 12 of 13 inherited runners to score this season.
Those final two runs were charged to Halladay. That's just the kind of year it's been so far for the Phillies and their two-time Cy Young Award winner.
Paul Hagen is a reporter for MLB.com. This story was not subject to the approval of Major League Baseball or its clubs.