Reds overcome Choo's errors, plate nine in ninth
Phillips ignites big frame, center fielder caps it with three-run double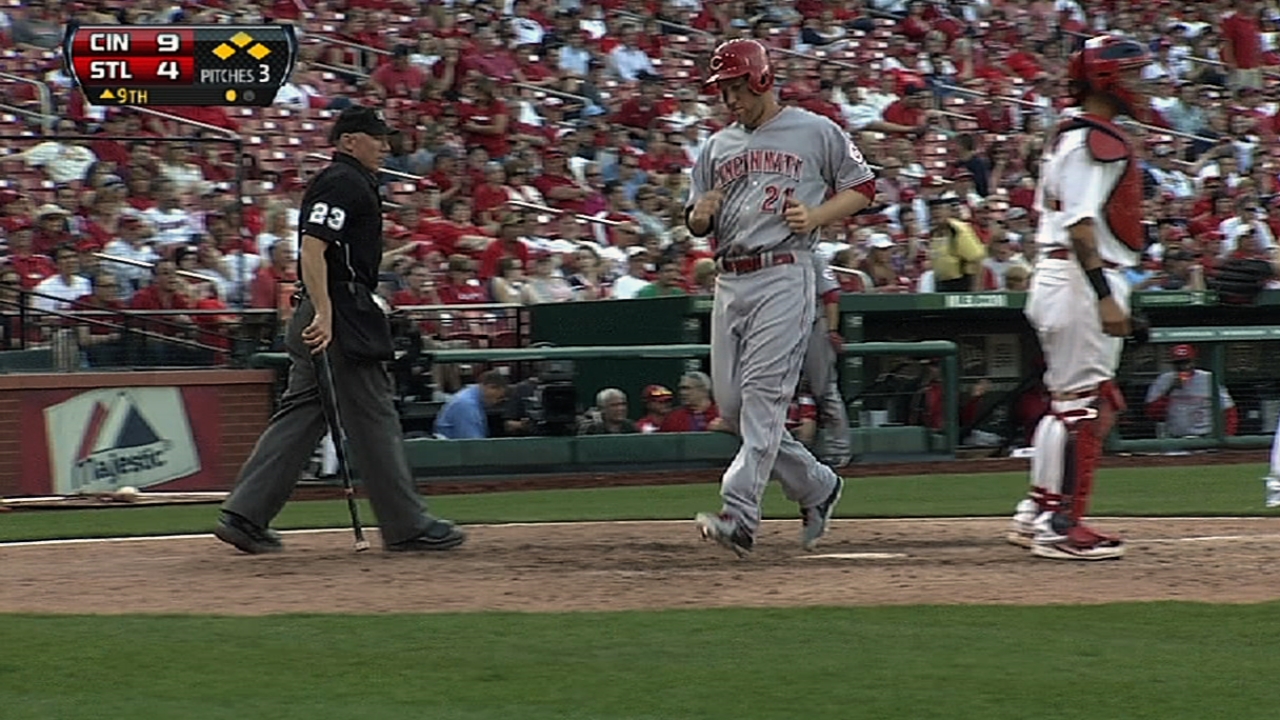 ST. LOUIS -- The Reds knew acquiring career corner outfielder Shin-Soo Choo and installing him in center field would require a trade off of sorts. Would Choo be as gifted defensively as predecessor Drew Stubbs? No chance.
Clearly, Cincinnati was willing to give up some defense to get a whole lot more production offensively from the leadoff spot. All the merits of that December deal for Choo were under the microscope during Monday's wild Reds' 13-4 win over the Cardinals at Busch Stadium.
Despite a pair of costly errors by Choo, both on Yadier Molina deep drives that scored a combined three runs, he drew the leadoff walk to begin a nine-run top of the ninth inning. Then he scored the go-ahead run on Brandon Phillips' RBI double and drove in three RBIs with his own double.
"I almost died. My teammates gave me another life," a relieved Choo said.
During the bottom of the first with two outs and two on, Reds starter Mat Latos' 0-2 pitch to Molina was smoked for a deep drive to center field. While looking into the sun, Choo made a long run toward the wall and had a bead on the ball. It bounced off his glove not once, but twice, for an error that scored two unearned runs and made it a 2-0 game.
"After that, you get a little gun shy. You hope the ball isn't hit to you," Cincinnati manager Dusty Baker said.
It would be, in almost identical fashion. The St. Louis lead was 3-2 with two outs in the sixth when Molina sent another long fly to center field. Choo appeared to be under the ball without issue before it went in and out of his glove for an error that scored Matt Holliday from first base.
"Sun balls are a part of baseball. It's not an excuse," Choo said. "I had to learn something. This was the first time I've played center field as I learn the ballpark. No excuse. I just missed it."
Teammates were quick to absolve Choo and eager to get him off of the hook. Latos was one of the players to seek him out in the dugout.
"They were two balls that I hung that I shouldn't have hung. If I don't hang them, maybe he doesn't get put into that situation," Latos said. "I can't sit there and blame him for it. He went back and made the best effort he could. I said, 'Forget the two errors, we need to get you on base here ... just get on base for us and score.' And then he did."
It was a 3-1 deficit in the sixth for the Reds when Phillips connected for his second homer of the season, a two-out drive into the left-center field seats. St. Louis stretched the lead on Choo's second error, but the Reds kept chipping away, scoring one run in the seventh and tying the game in the eighth on pinch-hitter Xavier Paul's game-tying RBI single to right field that scored Jay Bruce.
"Everybody wanted to take some of that pressure off of Choo, because that was a tough day out there," Reds manager Dusty Baker said. "Things started rolling and everybody started believing. It started happening."
With regular closer Jason Motte on the disabled list, it fell to Mitchell Boggs to keep the game tied. Trouble began instantly as Choo drew a four-pitch walk to start a rally in the top of the ninth and went to second base on a one-out wild pitch to Joey Votto. Boggs intentionally walked Votto before Phillips delivered with the soft liner on a 0-2 pitch. Bruce was intentionally walked to load the bases before Boggs missed on a full-count pitch to Todd Frazier and the walk forced home another Reds run.
"I think this is the worst outing of my career. I can't put it any other way," said Boggs, who gave up seven runs and four walks.
The flood of Reds runs continued to pour across the plate as 15 men would come to the plate. The lineup would turn back over to Choo with the bases loaded, and he sent a double to left field off lefty Mark Rzepczynski for three RBIs.
"I have a lot of respect for Choo," Phillips said. "He could have put his head down and just say, 'Forget it' the rest of the game. He kept his head up and got some key hits. If it wasn't for Choo, we might not win this game."
When the Reds lost left fielder Ryan Ludwick to a shoulder injury on Opening Day, the club opted to keep Choo in center field. Chris Heisey, who has more experience in center field than Choo, took over left field. Baker did not want to wreck the continuity as Choo learned his new position. If he moved, he would have to relearn it once Ludwick returns.
Choo committed only two errors in right field all of last season. And the only other time he's made two errors in a game was May 25, 2011, against the Red Sox.
"He's in a new position. Everybody is hollering for somebody else. Everybody knows better than we do," Baker said. "Those balls were hit 400 feet. It ain't like they were just fly balls. It happens. Right now, he's under scrutiny."
Choo has been a more than a boon to the leadoff spot already. Through seven games, he is batting .379 with three homers, six RBIs and an astounding .514 on-base percentage.
"I really appreciate my teammates coming over to me and saying, 'Everybody makes mistakes and don't worry about it.' It was a lot of help to me," Choo said.
Mark Sheldon is a reporter for MLB.com. Read his blog, Mark My Word, and follow him on Twitter @m_sheldon. This story was not subject to the approval of Major League Baseball or its clubs.