Home opener spoiled as 'pen can't hold off Reds
Cards relievers yield nine runs in ninth after Garcia's impressive start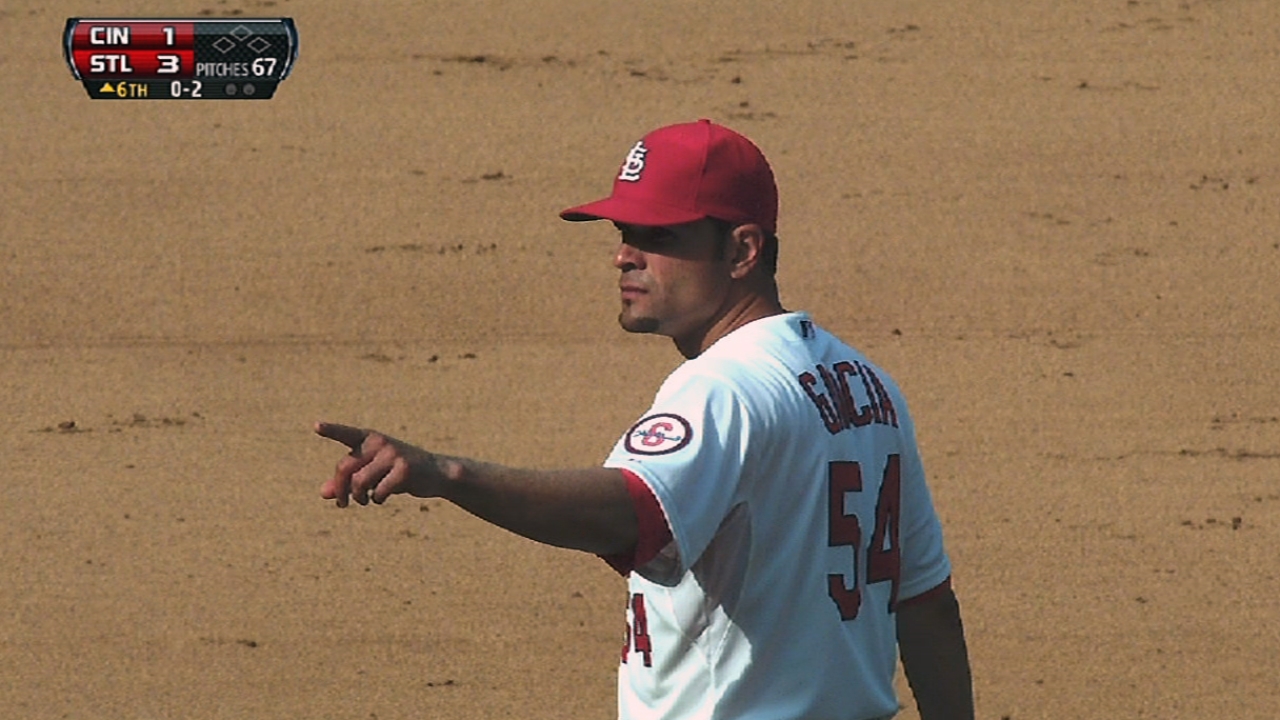 ST. LOUIS -- Perhaps it was cloaked in all the attention paid to pageantry of Opening Day in St. Louis, but Monday's home opener was much more than stirring introductions and poignant remembrances. It was -- after all the ceremony and celebration -- the start of a 19-game season series between clubs pegged by almost all prognosticators to be the division's best.
The anticipation of a new season indeed wore away amid the reality that the Reds, who finished nine games in front of the Cardinals last year, will again be formidable division opponents. By scoring in each of the final four innings, Cincinnati shaved away a deficit off a St. Louis bullpen that continues to seek stability sans Jason Motte.
The game unraveled with Mitchell Boggs on the mound in the ninth, as Cincinnati scored nine times to turn a tie game into a 13-4 blowout in front of the biggest regular-season crowd (47,345) in Busch Stadium history. An inning earlier, Cincinnati had tied the game off hard-throwing righty Trevor Rosenthal.
Both Rosenthal and Boggs have been thrust into new late-inning roles as Motte's elbow heals, and neither transition has gone all that smoothly.
"Whenever you lose a guy like that, it's tough on everybody," Boggs said. "At the same time, we're professionals and we have a job to do. This team has shown time and time again that when it loses big pieces that people are going to show up. I think our bullpen is going to do that."
Much of that onus is on Rosenthal and Boggs, the two directly affected by Motte's absence. Boggs left Spring Training knowing he'd be the closer. Rosenthal, after making only 19 appearances as a rookie last season, was given the reins on Boggs' former eighth-inning duties.
But Rosenthal couldn't preserve an eighth-inning, one-run lead in Arizona last week, and he lost another chance for a hold on Monday. After a one-out single and errant 98-mph that plunked Todd Frazier, Rosenthal lost an eight-pitch battle to Xavier Paul, who tied the game at 4 with an RBI single.
"You have an opportunity to step up for a lot of these guys to step up and fill some shoes," Rosenthal said. "That's what we're all looking to do. I need to be a little bit sharper than that."
Boggs said the same, describing this appearance as the "worst outing of my career." Boggs, too, blew a save against the D-backs last week. He entered Monday not in a save spot, but with the opportunity to push a tie game deeper.
Instead, the Reds sent 15 batters to the plate in the frame, seven of which scored off Boggs. The first came off an RBI single from Brandon Phillips, who had been vehemently booed by fans during the pregame ceremonies.
"The atmosphere here was nice," said Phillips, who had earlier connected for a solo homer. "I loved everything that they did here. They had the legends out there. They did the tribute for Stan the Man. It was beautiful. When it came to the game, I had some key situations to get done and I did it."
In all, Boggs allowed two hits and walked four (two intentional) while retiring just one batter.
"I'm not going to hide from this. There are no excuses. I was bad today," Boggs said. "But I expect to be a part of a lot of good ones. My mindset won't change. I'll show up tomorrow ready to do whatever they ask me to do."
For now, it appears as if manager Mike Matheny will continue to ask Boggs to close games. Rosenthal seemed the natural backup closer choice, but with his struggles in the eighth, he's likely off the list of options for now.
If the Cardinals do want to push someone else into that late-inning mix, it could be Edward Mujica, who also has extensive setup experience, or Joe Kelly.
"Whenever you have a loss this fresh, nobody is too happy with anything right now," Matheny said. "Those guys know that they can pitch better than they did. I know that they realize that they have to do something different. We all do. We just have to figure out what that is and make the adjustments.
"We always keep the door open, but right now you have to look at the fact that those guys are there for a reason," he added. "They've earned that spot and not to make any knee-jerk reactions. But we always evaluate every situation when we get to it. We need to convince them to do exactly what they did before -- just get outs and don't let yourself fall into the trap of making it any different than what it has been in the past."
In the first 26 relief innings this season, the Cardinals' bullpen has allowed 19 runs (16 earned). Sixteen of those runs have scored when the 'pen was trying to hold a lead.
Monday's blown save cost starter Jaime Garcia the win in an outing where he matched his career high with 10 strikeouts. Garcia threw first-pitch strikes to 21 of the 29 batters he faced.
"You can see the confidence in him," third baseman David Freese said of Garcia. "He's taking it to the hitter. He arguably has the nastiest stuff in the league. I think every hitter that faces him can attest to that."
Long before the 'pen implosion, the Cardinals built up a lead with substantial assistance from Shin-Soo Choo, who had an adventure in center field. In the first inning, Yadier Molina lined a ball to deep center that bounced in and then out of Choo's glove for an error. Two runs scored.
Molina again exposed Choo when, in the sixth, another of his line drives hit off Choo's glove to give St. Louis a 4-2 lead. In between, Molina delivered a fourth-inning RBI single.
That was one of only four hits the Cardinals would have against Reds starter Mat Latos.
Jenifer Langosch is a reporter for MLB.com. Read her blog, By Gosh, It's Langosch, and follow her on Twitter @LangoschMLB. This story was not subject to the approval of Major League Baseball or its clubs.