Quick start, wind help Brewers spoil Cubs' opener
Maldonado drives in three during four-run first; Estrada works seven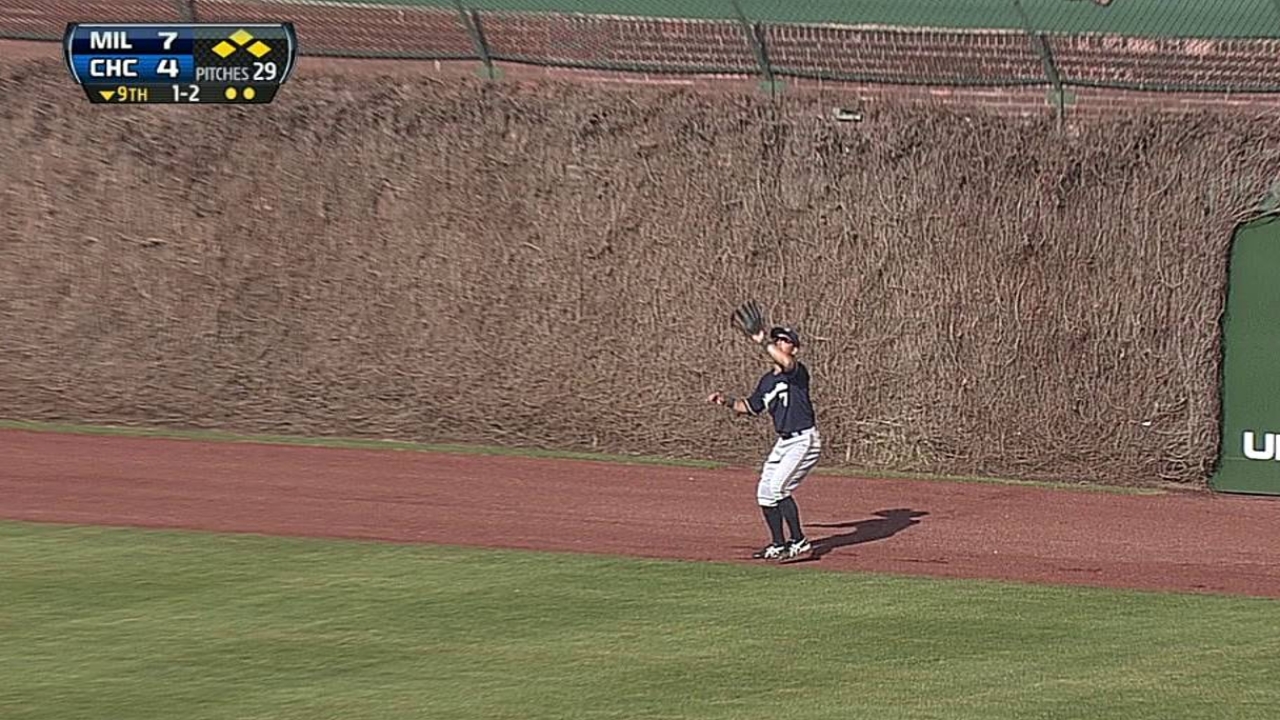 CHICAGO -- Ryan Braun said the Brewers just needed a win. Considering all of the things that had gone wrong during a dismal opening homestand, they also needed a break, and they got one in the bottom of the ninth inning Monday when the Cubs' Starlin Castro lifted Jim Henderson's 30th pitch pitch in the air to right-center field.
Castro represented the winning run. Sold-out Wrigley Field began to roar.
"With the wind blowing today, I wasn't sure where the flags were going at that point," said Henderson, the Brewers' new closer after John Axford was removed from the role. "It was either going to be way out, or in [right fielder Norichika Aoki's] glove."
Aoki squeezed the final out of a tense, 7-4 Brewers victory that spoiled the Cubs' home opener for 40,083 fans. The Brewers snapped a five-game losing streak by sending the rival Cubs to their fourth straight loss.
After shaking hands with teammates, Henderson forgot to look up and check those flags. Had he done so, he would have seen them blowing in from right field.
For most of the afternoon, they had been blowing out.
"It started shifting throughout the game," Braun said. "We were fortunate in the ninth that it was blowing in. [Castro] hit that ball well."
Brewers manager Ron Roenicke could have done without the nail-biting finish, considering he had just removed Axford from the closer's role in the morning and then watched his team score four runs in the first inning and extend the lead to 7-2 entering the bottom of the ninth.
The day should have been about the Brewers offense, revitalized by Braun's return from three days sidelined by a stiff neck. Braun, leadoff man Aoki and fill-in first baseman Martin Maldonado each had three hits. When Aoki finally made an out in the ninth inning, it snapped his streak of reaching safely in eight consecutive plate appearances over two games. Maldonado led the way with three RBIs, all of them on a bases-clearing double in Milwaukee's four-run first inning.
And the day should have been about right-hander Marco Estrada, who became the first Brewers starter to work past the sixth inning. He held the Cubs to two runs on five hits in seven innings, with only one walk and six strikeouts. He also contributed with the bat, delivering an RBI double in a two-run seventh inning that gave the Brewers a seemingly safe, five-run lead.
"I still remember how good Estrada pitched, and I don't want to think about any of this other stuff," Roenicke said.
But it was impossible to ignore the bottom of the ninth, which began with three successive singles against Brewers reliever Brandon Kintzler, cutting the Cubs' deficit to 7-3. Suddenly, Roenicke found himself in a save situation and called for Henderson, the team's pick to temporarily take over for Axford.
Henderson allowed one run when a Nate Schierholtz single ticked off the glove of leaping third baseman Yuniesky Betancourt. Pinch-hitter Steve Clevenger struck out, but another pinch-hitter, Scott Hairston, hit a bouncer that snuck under Maldonado's glove for an error that loaded the bases.
Henderson struck out Dave Sappelt on eight pitches to set up another eight-pitch showdown with Castro, who fouled off four two-strike pitches before hitting a fastball in the air. Earlier in the game, with the wind blowing out, Castro had hit flies in the same general direction. Both struck the wall, one for a triple and another for a double.
What if the wind hadn't shifted in the ninth?
"Probably off the wall," Roenicke said. "Some things went our way, and that was good."
"That's probably the loudest I've ever pitched out there," Henderson said.
Conditions were much different when Cubs starter Edwin Jackson threw his first pitch with a 24-mph wind howling out to right field. The order of the day was to keep the ball down, and Estrada mostly did so, aside from Welington Castillo's two-run home run in the second inning, which turned around Brewers center fielder Carlos Gomez before finding the basket above the Wrigley Field ivy.
"When I went out early to check the temperature, I saw the flags blowing in and I was like, 'All right, cool. Hopefully it doesn't change,'" Estrada said. "Then when I went out to warm up, I saw them blowing straight out and I just kept telling myself to leave the pitches down, especially the changeup. As long as I don't leave balls up, should be OK."
He was OK, in part because he worked all day with a comfortable lead.
Estrada had Jackson to thank for that after the Cubs right-hander had trouble finding the strike zone in a 33-pitch, nine-batter first inning. Aoki led off with a single, the first of four Brewers hits in the inning, and Jackson did his part with three walks, including back-to-back free passes to Jonathan Lucroy, loading the bases, and Alex Gonzalez, forcing home the Brewers' first run. Lucroy earned his walk on the ninth pitch of his plate appearance, and Gonzalez took six pitches more.
Maldonado needed one pitch to break the game open. He hit Jackson's first fastball with the wind to right field, where it one-hopped the wall. All three Brewers baserunners scored.
In the second inning, Braun made it 5-0 with a long double to right-center. He played for the first time since developing a stiff neck during batting practice on Friday and went 3-for-4 with two doubles, a run scored and an RBI.
"It's just nice to win," Braun said. "We needed to win."
Adam McCalvy is a reporter for MLB.com. Read his blog, Brew Beat, and follow him on Twitter at @AdamMcCalvy. This story was not subject to the approval of Major League Baseball or its clubs.